The Story of... 'West End Girls' by Pet Shop Boys
12 October 2018, 16:23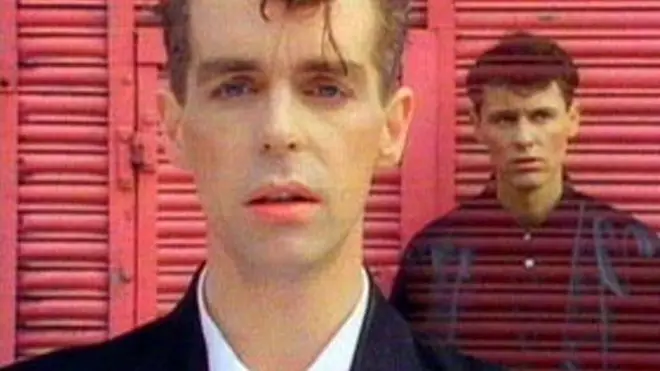 'West End Girls' is one of the most iconic songs of its era.
Its dark mood and synthpop sound will forever make it one of the most memorable songs of the 1980s, and instantly catapulted the Pet Shop Boys into the limelight.
But what is the song about and how was it made? Here are all the facts you need to know:
'West End Girls' meaning and inspiration: What is the song about?

via GIPHY

Neil Tennant started to write the song while staying at his cousin's house in Nottingham and watching a gangster film starring James Cagney.

Just when he was about to head to sleep, he came up with the lines: "Sometimes you're better off dead, there's a gun in your hand and it's pointing at your head". The lyrics were inspired by TS Eliot's poem 'The Waste Land', particularly its different narrative voices and mysterious references.

Tennant later said of 'The Waste Land': "What I like about it is, it's the different voices, almost a sort of collage. All the different voices and languages coming in and I've always found that very powerful. So on 'West End Girls' it's different voices. The line 'Just you wait till I get you home' is a direct quotation."

The song's lyrics are about class, and inner-city pressure. Tennant later said that some listeners thoughts the song was about prostitutes, but was actually, "about rough boys getting a bit of posh."

The lyric 'From Lake Geneva to the Finland Station', refers to the train route taken by Vladimir Lenin while being smuggled by the Germans to Russia during World War I. It is assumed that the lyric was inspired by the book To the Finland Station by Edmund Wilson.

It originally sounded totally different

Pet Shop Boys - West End Girls (Original Bobby Orlando Mix)

In 1983, Neil Tennant met producer Bobby Orlando, while working in New York to interview Sting for Smash Hits magazine.

After listening to some of their demos, Orlando offered to produce for the duo's debut album.

In 1983 to '84, the duo recorded 12 songs with Orlando in New York, including 'West End Girls'.

Orlando played most of the instruments on 'West End Girls', including the jazz riff at the end of the song. Chris Lowe played one chord and the bassline.

It also included a drum part taken from Michael Jackson's 'Billie Jean', and an arrangement which Tennant called "Barry White chords".

Orlando loved the song's production, and had hoped to make a rap record in a British accent.

There was a forgotten lyric about Stalin

The Bobby Orlando-produced version of the single included another line: "All your stopping, stalling and starting/Who do you think you are, Joe Stalin?".

However, it was was removed for the more famous 1985 version.

It wasn't a hit at first, and was totally reworked

In April 1984, 'West End Girls' was released, and become a club hit in Los Angeles and San Francisco, but was only available in the United Kingdom as a 12" import.

In March 1985, after long negotiations, Pet Shop Boys ended their deal with Orlando, and hired manager Tom Watkins, who signed them with EMI.

They then re-recorded 'West End Girls' with producer Stephen Hague, and re-released it in late 1985. It topping the charts in both the UK and the US.

Where was the video filmed?

Pet Shop Boys - West End Girls

The video was directed by Andy Morahan and Eric Watson, and shows the duo around London.

The video was filmed at:

- Wentworth Street in Petticoat Lane Market
- Waterloo Station
- a No 42 red double-decker bus to Aldgate
- Tower Bridge
- Westminster Palace Clock Tower
- the South Bank
- Leicester Square

Who has covered 'West End Girls'?

Flight of the Conchords - Inner City Pressure

In 1993, East 17 covered the song, taking it to number 11 in the UK chart.

It was also parodied by Flight of the Conchords for the song 'Inner City Pressure'.