International Kissing Day: The 7 greatest music video kisses ever 💋
12 April 2019, 12:51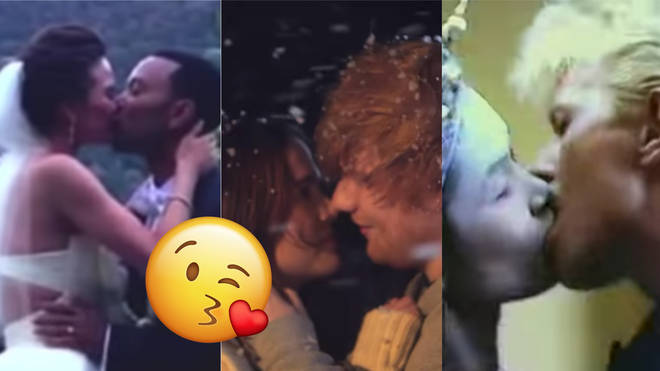 It's International Kissing Day! (Well, either on April 13 or July 6, there's two apparently...)
To celebrate the occasion, we've had a look back through the music video vault and picked out some of the sauciest snogs in pop history, when the artists themselves puckered up, all in the name of sweet music:
Celine Dion - 'It's All Coming Back to Me Now'

Picture: Columbia/YouTube

We totally forgot this happened. Celine starred in this mini-movie to go along with her Jim Steinman-penned power ballad.

And a video like this wouldn't be complete with an outrageous kiss or two between Celine and her motorbike-loving co-star.

David Bowie - 'China Girl'

Picture: EMI/YouTube

This video was so risqué at the time that it was banned in New Zealand and other countries for many years.

In it, David Bowie shares several smooches with New Zealand model Geeling Ng, which Bowie said a "very simple, very direct" statement against racism.

She was a 23-year-old cook at The Bayswater Brasserie in Sydney, with no acting experience when she auditioned for the role. After her appearance in the video, the two reportedly had a brief affair.

Ed Sheeran - 'Perfect'

Picture: Asylum/Atlantic/YouTube

Ed Sheeran filmed in one of the most romantic music videos ever for 'Perfect', all with the backdrop of a ski holiday, naturally.

The video culminated with a cute smooch between Ed and actress Zoey Deutsch.

Matt Cardle and Mel C - 'Loving You'

Picture: Absolute/YouTube

Former X Factor winner Matt Cardle teamed up with Spice Girls legend Mel C for this underrated gem.

Not only that, but they went the whole hog and had a rather passionate snog in the music video. Blimey.

Madonna - 'Justify My Love'

Picture: Warner Bros/YouTube

Madonna has pushed the boundaries so many times during her career, including her video for 'Justify My Love'.

In it, she is seen getting romantic with both her boyfriend at the time, model Tony Ward, and female model Wallis Franken.

The video was banned for many years, with Madonna saying at the time: "Why is it that people are willing to go and watch a movie about someone getting blown to bits for no reason at all, and nobody wants to see two girls kissing and two men snuggling?"

John Legend - 'All of Me'

Picture: Columbia/YouTube

The one kiss on this list that probably didn't result in an argument, John enjoyed a passionate embrace in the shower with his wife Chrissy Teigen in this moving black-and-white video.

Robbie Williams and Nicole Kidman - 'Somethin' Stupid'

Robbie and Nicole.

Picture: Chrysalis/YouTube

Robbie has had his fair share of kisses in his music videos, from Darryl Hannah in 'Feel' to wife Ayda Field in 'Bodies'.

But here was the sauciest, as he and Hollywood star Nicole Kidman got very intimate indeed for the music video for his festive single in 2001.