REO Speedwagon's 10 greatest songs, ranked
12 October 2022, 15:49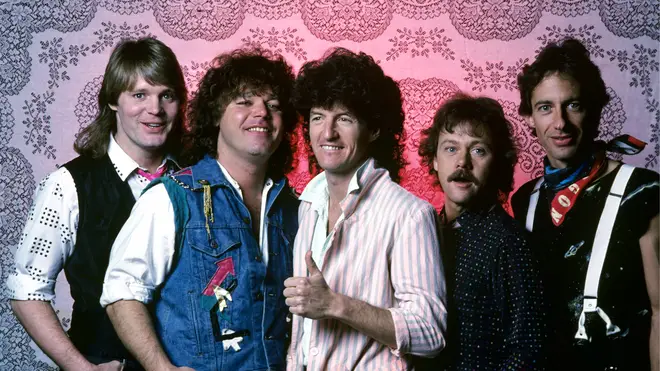 REO Speedwagon emerged as one of the greatest bands when it came to '80s rock power ballads.
Led by the distinctive vocals from singer Kevin Cronin, REO Speedwagon scored several massive hits around the world with their brand of soft (and sometimes hard) rock tunes.
Here are their very best songs to make for the ultimate REO playlist:
In Your Letter

REO Speedwagon - In Your Letter

The boys went down a surprising route for this single, taking on a '50s doo-wop sound.

Gary Richrath was inspired to write the song based on a real life incident. Kevin Cronin later revealed that at the end of a tour, fellow band member Neal Doughty came home to find a letter from his wife on the kitchen table, informing him that she had left him for another man.

The other man turned out to be the person who supplied the band with their "illegal substances."

Doughty's response to the letter was "I'm really gonna miss that guy."

Time for Me To Fly

REO Speedwagon - Time for Me to Fly (Official Music Video)

Released in 1978 and later covered by Dolly Parton, singer Kevin Cronin took 10 years to write it.

The song had been turned down by the band's producer on their previous album, but after some tweaks, it became a hit single.

Roll with the Changes

REO Speedwagon - Roll with the Changes (Color Version)

This was the lead single and first track from the band's amazingly-titled album You Can Tune a Piano, but You Can't Tuna Fish.

It was the band's seventh album but this was their first substantial hit single.

In My Dreams

REO Speedwagon - In My Dreams (Official Video)

This song followed the tried and tested soft rock ballad formula, and gave the band another top 10 hit in the States in 1987.

It was taken from their 12th studio album Life as We Know It.

Don't Let Him Go

One of several hit singles from the band's 1980 Hi-Infidelity album, singer Kevin Cronin said that the song is based on the experiences of all the band members at the time.

He said that is a plea to all their girlfriends to have patience with them.

Take it on the Run

REO Speedwagon - Take It on the Run (Video Version)

Written by guitarist Gary Richrath, this 1981 track was a top five hit in the US.

"As soon as I heard it, I knew it could be awesome," said singer Kevin Cronin. "This really grabbed me by the nuts.

"So, the two of us then developed it together. The opening line is so special: 'Heard it from a friend, who heard it from a friend…'. Somehow, it captures the imagination and hooks you in."

Keep the Fire Burnin'

REO Speedwagon - Keep The Fire Burnin' (Video)

This track was the only hit single to be taken from their 1982 album Good Trouble.

It is also the only track from the album to feature Kevin Cronin on keyboards, despite being the band's lead singer and acoustic/rhythm guitarist.

One Lonely Night

REO Speedwagon - One Lonely Night

This sentimental rock ballad was the third single from their 1984 album Wheels Are Turnin'.

The stop motion-heavy video has a comedic medieval setting, complete with Kevin Cronin playing a wizard. What's not to love?

Can't Fight This Feeling

REO Speedwagon - Can't Fight This Feeling (Official HD Video)

Perhaps the 'Wagon's most famous song, this epic power ballad reached number one in the US in 1985.

Cronin said that the inspiration for the song was the hurt he felt when he became attracted to a woman who was part of his friendship group.

He that this woman was "going out with my friend, so I kept it to myself. There was a group of us who would hang out together... and she was always there. Eventually, she and I were becoming friends, but there was no hanky-panky going on. The more I got to know her, the more I liked her, but I couldn't say anything about it."

In 2019, Bastille recorded a cover version for that year's John Lewis Christmas advert, giving it a new lease of life.

Keep on Loving You

REO Speedwagon - Keep on Loving You (Video Version)

Written by Kevin Cronin and released in 1980, this power ballad standard reached number one in the US.

Cronin said that he wrote it as a more traditional love ballad, but the band developed it into the power ballad we all know and love, which in turn inspired a large proportion of their future singles.

He said: "The guys in the band looked at me like I was from another planet. They were like, 'What are you...?' because we were all bringing in songs for this record we were going to make and they looked at me like I was crazy.

"And I'm like, 'Dude, this song really means a lot to me.' [And they said] 'So, dude, that's not an REO Speedwagon song.' And I kind of was like, 'You know what? I'm the main songwriter for REO Speedwagon, so if I write a song, it's an REO Speedwagon song. It's the band's job to turn it into an REO Speedwagon song.'

"I was so passionate about this song. Everyone kind of got it and sure enough, Gary [Richrath] went over, plugged in his guitar and started playing power chords to this little love song I wrote.

"The next thing we knew, it was a number one record and everyone was calling it a power ballad and acted like we had this strategy for success that made this song happen when really it was just an accident."