Smokey Robinson's 10 greatest songs, ranked
17 February 2020, 14:34 | Updated: 14 August 2023, 14:36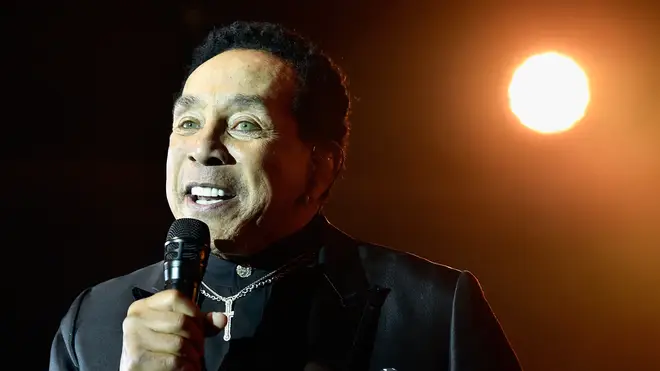 Smokey Robinson is without doubt one of the most successful and talented songwriters of all time.
From his time as leader of The Miracles, to his solo career and his songwriting powers at Motown, there really is only one Smokey.
To celebrate Smokey turning 80 in 2020, we've ranked just 10 of his greatest ever songs (not counting the many he wrote for other artists!).
One Heartbeat

Smokey Robinson - One Heartbeat (Official Music Video)

This song featured on Smokey's 1987 album of the same name, and reached number 10 in the US charts.

The song was used in the opening credits of the 1987 romcom Cross My Heart starring Martin Short and Annette O'Toole.

'Cruisin''

Smokey Robinson - Cruisin - 1979 (Audio HQ)

Despite apparently recording this song while he had a cold, Smokey scored a big solo hit with this track in 1979.

He co-wrote it with fellow Miracles member Marv Tarplin. It was later covered by R&B artist D'Angelo, and also by Gwyneth Paltrow and Huey Lewis for the movie Duets in 2000.

Shop Around

The Miracles - Shop Around

Co-written by Smokey and Motown founder Berry Gordy, this gave the Miracles - and Motown - one of their first big hits in 1960.

Pop duo Captain and Tennille later scored a big hit with a cover in 1976.

Ooh Baby Baby

Written by Smokey and fellow Miracle Pete Moore, this slow number gave The Miracles a top 20 hit in the US in 1965.

In it, Smokey laments at the fact that he cheated on his woman, and begs for her to get over his mistakes and forgive him. It was later a big hit for Linda Ronstadt in 1978.

I Second that Emotion

Smokey Robinson & The Miracles I Second That Emotion

Smokey and The Miracles first recorded this song, which was also a hit for The Supremes, The Temptations, and even '80s synthpop band Japan.

One morning in 1967, Smokey and Al Cleveland were shopping at a Detroit department store, when Smokey found a set of pearls for his wife, Claudette.

"They're beautiful." he said to the salesperson. "I sure hope she likes them." Cleveland added "I second that emotion." Both songwriters laughed at Cleveland's words, having meant to say "I second that motion." The two were immediately inspired to write a song using the incorrect phrase.

Just to See Her

Smokey Robinson - Just To See Her (Official Music Video)

Unlike most of his hits, Smokey didn't write this single from 1987. It was co-written by Jimmy George and Lou Pardini, and reached number eight in the US.

Smokey finally won his first career Grammy Award for Best Male R&B Vocal Performance the following year.

You've Really Got a Hold on Me

Smokey Robinson & The Miracles You Really Got A Hold On Me Shindig 1964)

This was a 1962 hit for The Miracles, selling over a million copies. Smokey wrote the track while in his hotel room in New York, having been inspired by Sam Cooke's 'Bring it on Home to Me'.

It was famously covered by The Beatles on their second album With the Beatles, with Smokey saying at the time that he was a fan of their version.

The Tracks of My Tears

Smokey Robinson & the Miracles The Tracks of My Tears lyrics

This ballad gave The Miracles a worldwide hit in 1965, though it took another four years before it reached the UK.

Smokey later said of the song: "'Tracks of My Tears' was actually started by Marv Tarplin, who is a young cat who plays guitar for our act. So he had this musical thing and we worked around with it, and it became 'Tracks of My Tears'."

"Tarplin's guitar licks at the song's intro are among the most famous in pop music history."

Tears of a Clown

Smokey Robinson & The Miracles - Tears Of A Clown (1970) HD 0815007

Smokey wrote this track with Stevie Wonder and Hank Cosby, and was originally released by The Miracles in 1967. It wasn't until three years later however that it became a surprise number one in the UK.

Stevie brought his and Cosby's instrumental track to the 1966 Motown Christmas party, as he could not come up with the lyrics. He hoped to see what Smokey could come up with.

Smokey, who pointed out the song "sounded like a circus," provided lyrics that fitted his vision and ended up singing lead vocals.

Being With You

Smokey Robinson - Being With You (Official Video)

Smokey scored a huge comeback single in 1981, when this track from his album of the same name reached number 1 in the UK and 2 in the US.

Ironically, it was kept off number one in the US by Kim Carnes' 'Bette Davis Eyes'. He had written actually written 'Being With You' with Carnes in mind, but his producer convinced him to keep it for himself.