The 25 greatest Motown songs of all time, ranked
10 October 2023, 16:29 | Updated: 6 November 2023, 14:49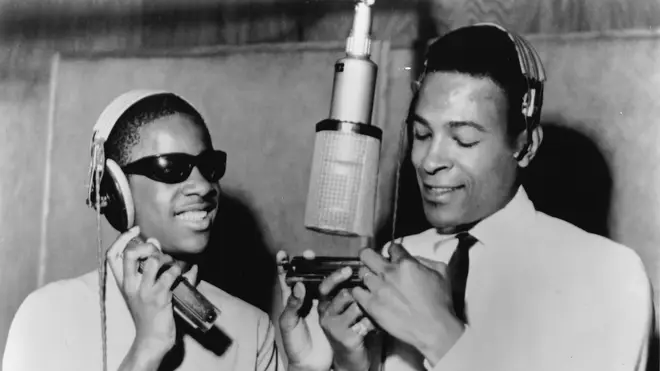 Motown celebrates its 60th anniversary in 2019, having been launched as Tamla Records by Berry Gordy back in 1959.
For several decades, it was one of the leading record labels in the world, scoring countless hits and launching the careers of icons such as Stevie Wonder, Marvin Gaye, Diana Ross and Michael Jackson.
To celebrate the big milestone and the release of the Hitsville USA documentary, here are 25 of Motown's very best songs:
The Four Tops - 'Baby I Need Your Loving'

Four Tops - Baby I Need Your Loving (1966) HQ 0815007

This 1964 track was written and produced by Motown's main production team of Holland–Dozier–Holland.

It also became the Four Tops' first Motown single, and their first pop Top 20 hit, with Levi Stubbs taking on lead vocals.

Smokey Robinson and the Miracles - 'Tracks of My Tears'

Smokey Robinson & the Miracles The Tracks of My Tears lyrics

This ballad gave The Miracles a worldwide hit in 1965, though it took another four years before it reached the UK.

Smokey later said of the song: "'Tracks of My Tears' was actually started by Marv Tarplin, who is a young cat who plays guitar for our act. So he had this musical thing and we worked around with it, and it became 'Tracks of My Tears'."

"Tarplin's guitar licks at the song's intro are among the most famous in pop music history."

Mary Wells - 'My Guy'

This song was written and produced by Smokey Robinson, and is about a woman's rejection of a sexual advance and affirming her fidelity to her boyfriend. Good on her.

Mary Wells became Motown's first leading female star with the song, reaching number one in the US in 1964.

Stevie Wonder - 'Higher Ground'

This funk tune was taken from Stevie's iconic 1973 album Innervisions. Wonder wrote and recorded the song in a three-hour burst of pure creativity in May 1973. We wish we had that kind of power!

Speaking out its inspiration, Stevie later told The New York Times: "I would like to believe in reincarnation. I would like to believe that there is another life. I think that sometimes your consciousness can happen on this earth a second time around. For me, I wrote 'Higher Ground' even before the accident [a car crash].

"But something must have been telling me that something was going to happen to make me aware of a lot of things and to get myself together. This is like my second chance for life, to do something or to do more, and to value the fact that I am alive."

The Temptations - 'Ball of Confusion'

Temptations "Ball Of Confusion"

This was an example of the various psychedelic soul records that Norman Whitfield wrote and produced for the Temptations.

The song attacked the Vietnam War, Richard Nixon's government and drug addiction, making it one of the few protest records from Motown.

Tina Turner later recorded a cover version in 1982, which in part helped her '80s comeback with the Private Dancer album two years later.

Boyz II Men - 'End of the Road'

Boyz II Men - End Of The Road (Official Music Video)

Yes, this 1992 ballad was actually a Motown record, and one of the last huge hits for the long-running label.

The song was a ridiculously massive hit, spending a record-breaking 13 weeks at number one in the US.

Jimmy Ruffin - 'What Becomes of the Brokenhearted?'

Jimmy Ruffin - What Becomes of the Brokenhearted (HQ)

Composers William Weatherspoon, Paul Riser and James Dean (not that one) had originally written this song for The Spinners.

However, Jimmy Ruffin, older brother of Temptations lead singer David Ruffin, persuaded Dean to let him record it instead, because the song's anguished lyrics about a man lost in heartbreak resonated with him personally.

The song was a hit all around the world in 1966, reaching a peak of number 4 in the UK after it was re-released in 1974.

Marvin Gaye - 'What's Going On'

Marvin Gaye What's Going On Live 1972

This song was inspired by a police brutality incident witnessed by Renaldo 'Obie' Benson, a member of the Four Tops. The incident occurred during a protest held by anti-war activists in what was later dubbed 'Bloody Thursday'.

The song marked Gaye's departure from the traditional Motown Sound, towards far more personal material.

When Berry Gordy first heard the song, he turned down Gaye's request to release it, telling Gaye he felt it was "the worst thing I ever heard in my life".

Gaye responded by refusing to record any material unless the song was released. Eventually Gordy relented, and it became one of Gaye's best-selling songs ever.

The Supremes - 'You Can't Hurry Love'

The Supremes - You Can't Hurry Love (Official Lyric Video)

This song speaks of a memory of a mother's words of encouragement, telling her daughter that with patience she will find that special someone one day.

Written and produced Holland–Dozier–Holland, it became one of the signature Supremes songs, and was their seventh number-one hit.

16 years later, Phil Collins of all people scored an international number one hit with a cover version.

Stevie Wonder - 'Sir Duke'

Stevie Wonder - Sir Duke [HD]

This funk anthem was written in tribute to jazz legend Duke Ellington, who had died in 1974. The lyrics also refer to Count Basie, Glenn Miller, Louis Armstrong and Ella Fitzgerald.

Stevie later said: "I knew the title from the beginning but wanted it to be about the musicians who did something for us. So soon they are forgotten. I wanted to show my appreciation."

Stevie Wonder - 'Living for the City'

Stevie Wonder - Living For The City (1974) | LIVE

This was one of the first soul music songs to deal explicitly with systemic racism, and to use everyday sounds of the street like traffic, voices and sirens, which were combined with the music recorded in the studio.

The song tells of a young kid from Mississippi who moves to New York City. In Mississippi, he dealt with many hardships, but was surrounded by caring people. In New York City, he is quickly taken advantage of and is caught with drugs. His dreams are destroyed when he is sentenced to 10 years in jail.

Edwin Starr - 'War'

Edwin Starr - War (Original Video - 1969)

This song was written by Norman Whitfield and Barrett Strong for Motown in 1969, with the anti-Vietnam War protest message being first recorded by The Temptations.

After Motown began receiving requests to release it as a single, Whitfield re-recorded the song with Edwin Starr as the vocalist.

His version reached number one, and was one of the most popular protest songs ever recorded.

The Supremes - 'You Keep Me Hanging On'

The Supremes-You Keep Me Hangin' On

Another Holland–Dozier–Holland composition, this gave the Supremes yet another hit in 1966.

It has since become hits for various other artists of different genres, including Vanilla Fudge, Kim Wilde and Reba McIntyre.

The Temptations - 'My Girl'

The Temptations - My Girl

Written and produced by the Miracles members Smokey Robinson and Ronald White, this song became the Temptations' first US number one hit.

Robinson's inspiration for the song was his wife, Miracles member Claudette Rogers Robinson.

In 2018, it was selected for preservation in the National Recording Registry by the Library of Congress as being "culturally, historically, or artistically significant."

Lionel Richie - 'Hello'

One of Lionel's biggest ever hits, this song went to number one in both the UK and US in 1984.

Richie initially felt that the song was "corny" but "by the time I finished the verse, I fell in love with the song again". And you've got to love that music video!

Rick James - 'Super Freak'

Rick James - Super Freak (Original Video)

This became Rick James' signature song after it was a huge hit in 1981. This was despite the fact that James was not particularly happy with the song, but wanted to have something on the album that "white folks could dance to."

It also featured Temptations members on backing vocals, and was later famously sampled on MC Hammer's 'U Can't Touch This'.

Marvin Gaye - 'Let's Get It On'

Marvin Gaye - Lets get it on

Co-written with producer Ed Townsend, this was originally conceived as a religious theme, as Townsend had just completed a stint in rehab.

Gaye and Townsend later collaborated on new lyrics, and Gaye transformed the song into an emotional tune about love and sex.

The song became the biggest selling Motown hit in the US at the time, selling over two-million copies within the first six weeks.

Marvin Gaye and Tammi Terrell - 'Ain't No Mountain High Enough'

Ain't No Mountain High Enough (extra HQ) - Marvin Gaye & Tammi Terrell

This classic duet was written by Ashford and Simpson before joining Motown. Dusty Springfield wanted to record the song, but the duo declined.

Tammi Terrell was apparently nervous and intimidated during the recording sessions, mainly because she did not rehearse the song's lyrics.

Terrell later recorded her vocals alone with producers Harvey Fuqua and Johnny Bristol, who added Gaye's vocals on another day. Despite this, it became one of the greatest duets of all time.

The Temptations - 'Papa Was a Rollin' Stone'

The Temptations Papa Was A Rolling Stone 1972 Single Version

Written by Norman Whitfield and Barrett Strong in 1971, this was actually first recorded by Motown act The Undisputed Truth.

However, the most famous version was by The Temptations, who transformed it into a 12-minute epic, and remains one of the greatest soul anthems of all time.

The song details the story of the singer's unreliable father, who was a philanderer. When he dies, the mother opens up about him, telling the kids about his laziness and womanizing ways.

The Four Tops - 'Reach Out (I'll Be There)'

Four Tops - Reach Out (I'll Be There) (1967) HD 0815007

Written and produced by Holland–Dozier–Holland, this anthem song is one of the best known Motown songs of the 1960s, and is considered The Four Tops' signature song.

It was a huge success, reaching number one in both the UK and US in 1966.

Martha Reeves and the Vandellas - 'Dancing in the Street'

MARTHA and THE VANDELLAS - Dancing In The Street (1964)

This anthem song was written by William 'Mickey' Stevenson, Ivy Jo Hunter and Marvin Gaye, and celebrated having a good time in whatever city the listener lived in.

The idea came to Stevenson after watching people on the streets of Detroit cool off in the summer, using water from opened fire hydrants. While doing this, they appeared to be dancing in the water.

The song was originally intended for Kim Weston, but she passed on the song and it eventually fell to Martha Reeves.

Lionel Richie - 'All Night Long (All Night)'

Lionel Richie - All Night Long (All Night) (Official Music Video)

In this Caribbean-influenced song, Richie admitted that 'African' lyrics, such as 'Tom bo li de say de moi ya' and 'Jambo jumbo', were in fact made-up gibberish. He described these portions as a "wonderful joke", after he discovered that he lacked the time to hire a translator.

Richie said: "What I try to write about are real events. There will always be an easy like Sunday morning. There will always be an endless love. There will always be an all night long."

Also, a young Richard Marx recorded backing vocals for this song!

The Jackson 5 - 'I Want You Back'

The Jackson 5 "I Want You Back" on The Ed Sullivan Show

This was the first single by the Jackson 5, and the song that first introduced Michael Jackson to the world.

Originally considered for Gladys Knight & the Pips and later for Diana Ross, it was initially called 'I Wanna Be Free'.

Although Gladys Knight had been the first to mention the Jacksons to Berry Gordy, and Bobby Taylor first brought them to Motown, the label credited Diana Ross with discovering them.

Stevie Wonder - 'Superstition'

Stevie Wonder - Superstition (1974)

Arguably Stevie's most famous song, it is also one of the most popular and successful funk tunes of all time.

It was originally intended to be released by British guitarist Jeff Beck first, but Motown's Berry Gordy convinced Stevie to bring it out as he knew it would be a huge hit. He was right!

Marvin Gaye - 'I Heard it Through the Grapevine'

Marvin Gaye - I Heard It Through The Grapevine (A capella)

Written by Norman Whitfield and Barrett Strong in 1966, it was first released by Gladys Knight & the Pips, and first recorded by The Miracles.

However, it was the Marvin Gaye version in 1968 that became the best-loved. Berry Gordy finally agreed to its release as a single in October 1968, and it topped the charts around the world.

It received new love in 1986, after it was used in a famous Levi's commercial featuring a certain Nick Kamen and a certain laundrette.