Huey Lewis facts: Singer's age, songs, wife, children and career explained
14 August 2023, 14:33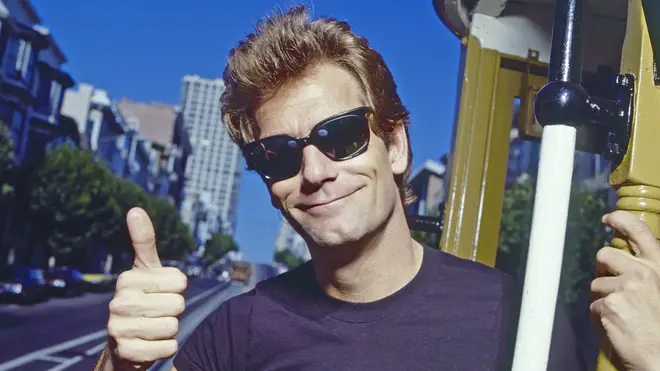 Huey Lewis was one of the most successful rock singers of the 1980s.
Legendary musician Huey Lewis is also a songwriter and actor who has been rocking the world with his band Huey Lewis and the News for over four decades.
He is best known for his hit songs like 'The Power of Love', 'Hip to Be Square', 'I Want a New Drug', and 'Heart and Soul', as well as his contribution to the soundtrack of the iconic movie Back to the Future.
Here we explore the life and career of Huey Lewis, from his early days as a harmonica player in Europe to his recent struggle with hearing loss and his comeback album Weather.
How old is Huey Lewis?

Back to the Future The Musical: Backstage tour with Marty and Doc!

Huey Lewis was born on July 5, 1950, and celebrated his 73rd birthday in 2023.

He was born in New York City. His birth name is Hugh Anthony Cregg III.

His parents were Hugh Anthony Cregg Jr, an Irish-American doctor, and Maria Magdalena Barcinska, a Polish immigrant.

His parents divorced when he was 13 years old.

His mother had an affair with Beat Generation poet Lew Welch, who became his stepfather. Huey has credited Welch with inspiring him in his early teenage years.

How did Huey Lewis get his start in music?

Huey Lewis in 1984. Picture: Getty

Huey Lewis got his start in music as a teenager, when he became fascinated with the harmonica and the blues.

He learned to play the harmonica by listening to records and practising for hours. He also joined a band called The Rumours, which played covers of songs by The Rolling Stones, The Beatles, and other rock groups.

He dropped out of college in 1971 and joined a Bay Area band called Clover, which included keyboardist Sean Hopper, who would later become a member of Huey Lewis and the News.

Clover moved to England in 1976 and became part of the pub rock scene. They also backed up Elvis Costello on his debut album My Aim Is True. Lewis played the harmonica under the name Huey Harp.

Clover disbanded in 1978 and Lewis returned to San Francisco. He formed a new band with Hopper and some other musicians, and they called themselves Huey Lewis and the American Express.

They changed their name to Huey Lewis and the News in 1980, after signing with Chrysalis Records. They released their self-titled debut album in 1980, which was a modest success.

Their breakthrough came in 1983, with their third album Sports, which spawned four top-ten hits and sold over 10 million copies in the US.

What are Huey Lewis' most famous songs?

Huey Lewis & The News - The Power Of Love (Official Video)

Among his biggest hits include:

'The Power of Love': This is the song that Huey Lewis wrote for the movie Back to the Future, starring Michael J Fox. It was a huge hit in 1985, reaching number one on the Billboard Hot 100 chart and earning an Oscar nomination for Best Original Song.
'I Want a New Drug': This is another hit song from Huey Lewis's album Sports, released in 1983. It is a rock song with a funky groove and humorous lyrics about looking for a drug that can make him feel good without any side effects.
'Hip to Be Square': This is a song from Huey Lewis's album Fore!, released in 1986. It is a fun and upbeat song that celebrates being comfortable with oneself and not following the trends. It was also featured in the movie American Psycho, where Christian Bale's character Patrick Bateman murders one of his colleagues while listening to the song.
'Do You Believe in Love': This is one of Huey Lewis's earliest hits, from his album Picture This, released in 1982. The song was written by Robert John 'Mutt' Lange, who later became famous for producing albums for artists like AC/DC, Def Leppard, and Shania Twain.

Is Huey Lewis married and does he have children?

Huey Lewis and Sidney Conroy in 1986. Picture: Getty

Huey Lewis has been married only once in his life.

He married Sidney Conroy, a former model and actress, in 1983. They had two children together, a son named Austin and a daughter named Kelly.

However, their marriage did not last long and they divorced in 1989. Lewis and Conroy remained friends after their separation and Lewis said they were "still pals".

Huey Lewis has not remarried since his divorce from Conroy. He has kept his personal life private and has not been linked to any other romantic partners.

What are Huey Lewis's health problems?

Huey Lewis in 2023. Picture: Getty

Huey Lewis has been suffering from a serious health issue called Ménière's disease.

This is a condition that affects the inner ear and causes hearing loss, vertigo, tinnitus, and a feeling of fullness or pressure in the ear.

Lewis first experienced hearing loss in his right ear in 1987, but he was able to continue his musical career by relying on his left ear.

However, in 2018, he lost hearing in his left ear as well, making it impossible for him to perform live or record new music.

He described the sound as "cacophony" and said he could not find pitch or hear music anymore.

The cause of Ménière's disease is unknown, and there is no cure for it. The symptoms can vary from person to person and can change over time. Some treatments that may help reduce the severity or frequency of the attacks include medication, diet, lifestyle changes, hearing aids, and surgery.

Lewis has been coping with his condition with the support of his family, friends, and fans. He said he was depressed and suicidal at first, but he realized that there are many people worse off than him and that he still has a lot to be grateful for.

He also said he hopes to recover his hearing someday and return to the stage.