When a 17-year-old Taylor Swift and Def Leppard teamed up for unlikely concert, and it was perfect
4 July 2023, 15:17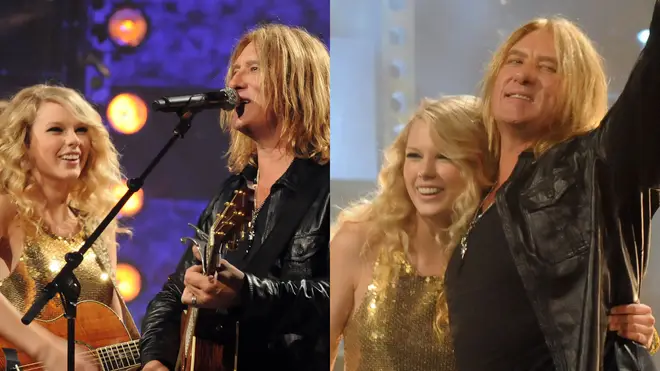 In 2008, Taylor Swift was emerging as one of country music's most exciting young stars.
Not many people could have predicted the meteoric rise that Taylor Swift would go on to have over the next decade. Fast forward just a few years, and Taylor was arguably the biggest popstar on the planet.
But back in the summer of 2008, Taylor had released just one album, her self-titled country-pop debut. It wasn't until November of that year that she brought out her mainstream breakthrough Fearless, which contained the hits 'Love Story' and 'You Belong With Me'.
As part of her promotional tour for that album, and perhaps to show that she was not a one trick pony, Taylor decided to take part in a unique concert event.
The concert was the CMT Crossroads event. The series was broadcast on CMT, and paired country music artists with musicians from other music genres such as alternative rock, pop, R&B, rock and soul.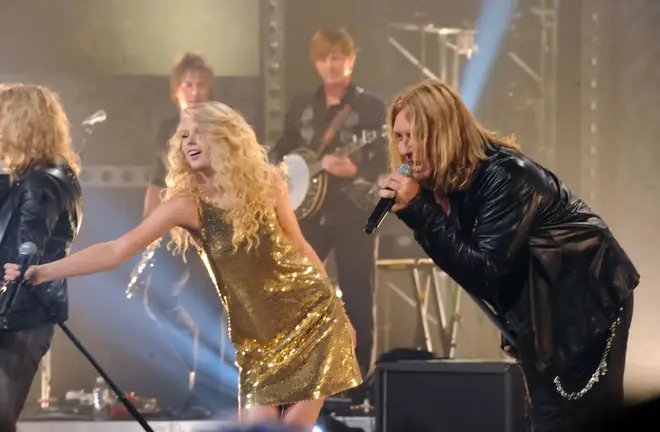 They had run for six years by 2008, and saw the likes of Ryan Adams with Elton John, Sugarland with Bon Jovi, Reba McEntire with Kelly Clarkson, and Kenny Rogers with Lionel Richie.
With Taylor Swift taking part in the next event, she teamed up with none other than British stadium rock heroes Def Leppard.
It may have seemed quite the odd collaboration at the time. But if anyone was going to make it work, it was Taylor.
"Every time I've seen Crossroads on CMT I've always thought, 'If I ever get to do one of those, it HAS to be with Def Leppard!,' so this is really a dream come true for me," Taylor said at the time. "I have been screaming the words to Def Leppard songs for years… so it's amazing that I'm going to get to share a stage with them this year!"
"How cool is this?! Country's hottest young star wanting to work with us!!" Def Leppard's Joe Elliot added.
When love and hate collide Def Leppard & Taylor Swift
The show aired on November 7, 2008, bringing together the seasoned rockers and the emerging country-pop sensation for a one-night-only musical extravaganza. The unique blend of styles and generations promised an unforgettable experience for fans of both artists.
Filmed at the Acuff Theatre in Nashville, the performance saw the artists taking on each of their songs, one at a time. This included Def Leppard's 'Photograph', 'Pour Some Sugar on Me' and 'When Love and Hate Collide', as well as Taylor's 'Love Story', 'Teardrops on My Guitar' and 'Our Song'.
The night was a rousing success, and was arguably one of the many reasons that turned Taylor Swift into a mainstream international star, no doubt helping her confidence along the way up.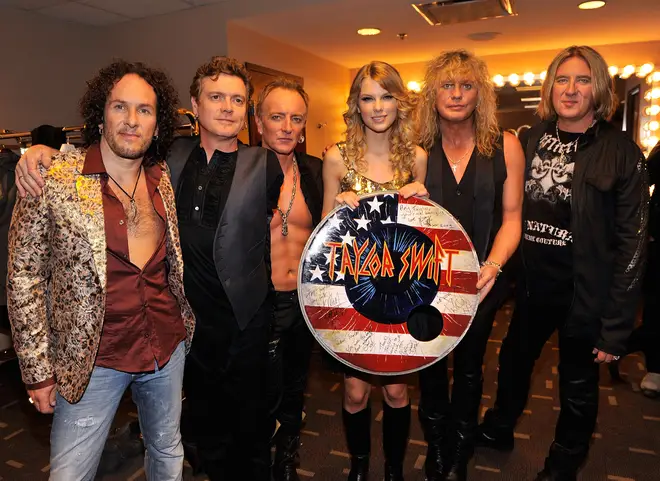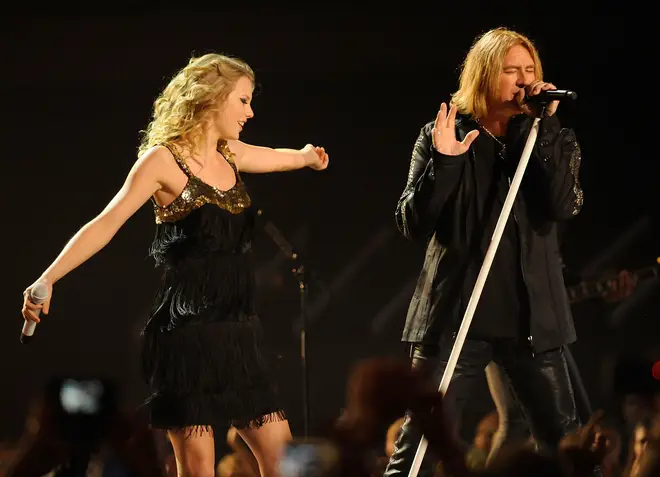 Talking about the show to Rolling Stone 10 years on, Joe Elliot said: "Well, she was already pretty big, so the conquer the world was something that was either gonna happen or wasn't. In fairness, she really did go out, full bore, and conquer the world.
"The whole thing came together because somebody walked into our dressing room with a laptop. He goes, 'It's Taylor Swift, she's doing this interview, and she said there was only band that she would ever do a Crossroads with, and it was Def Leppard.'
"We went, 'Wow, OK, get in touch with her, see what she thinks.' Lo and behold, couple of months go by and, all of a sudden, we're doing this show. We've always been that poke-noses-out-of-joint kind of band. I loved the idea of something that's gonna either piss people off or they go, good for you for doing something different.
CMT Crossroads with Taylor Swift & Def Leppard
"If you're gonna do collaborations, I don't see the point in us doing a song with Bon Jovi. Do you know what I mean? It's like, I'd prefer the idea of Jon doing a song with like, Tom Waits. Us doing something with Loudon Wainwright III or Leonard Cohen. Somebody completely off the wall. Or Elvis Costello and Motorhead. Can you imagine what that would sound like?"
He added: "Getting hooked in with Taylor was great. She was 17 years old. We were more than willing to do this. We got a new record just out. It was a bit of fun. It was a four-day project. It was two days of rehearsals. It was two shows and everybody did their homework. We turned up knowing all the chords, knowing all the lyrics. There weren't really any difficulties.
"There were a couple of moments where we sat down, me and Taylor sat down, and she says, 'I can't sing that line,' 'cause it was a bit too risqué, in ['Pour Some Sugar on Me'] So we'd swap things around.
"And the fact that I was actually singing from the male point of view in some of her stuff, like in 'Love Story'. As you say, I'm not going to sing something and half-ass it. I'm going to give it my all.
"Because it doesn't matter. It's a one-off project and you've got to sell yourself in the right light. It makes no difference to me whether it's a Ramones song or a Taylor Swift. I'm gonna do it the best I can."
Taylor and Def Leppard teamed up once more at the 2009 CMT Awards, at which she won a couple of awards for Fearless.