Bon Jovi's 10 greatest songs ever, ranked
11 January 2023, 16:19 | Updated: 11 January 2023, 17:03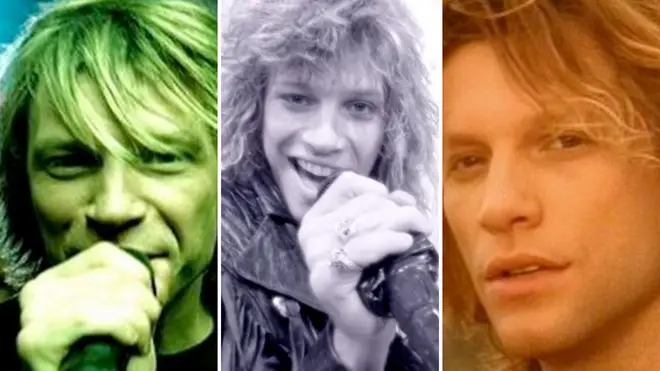 Bon Jovi are one of the world's most successful bands of all time.
Formed in 1983 in New Jersey, Bon Jovi are currently made up of singer Jon Bon Jovi, keyboardist David Bryan, drummer Tico Torres, guitarist Phil X, and bassist Hugh McDonald.
Original bassist Alec John Such quit the band in 1994 (and died in 2022), and longtime guitarist Richie Sambora left in 2013.
They started out as a stadium rock and glam metal band - complete with big hair - but by the mid-1990s had matured into a pop rock band with hard rock elements.
Here are the group's greatest songs to kick off your Bon Jovi journey:
Runaway

This track was originally recorded back in 1981 for the Power Station Demos at the very beginning of Jon Bon Jovi's career, featuring him alongside session musicians.

While not recorded with the rest of the band that would become legendary Bon Jovi's lineup, it was the song that started it all.

In 1983, a local radio station held a contest to search for the best unsigned band. After the song won the contest, it became a hit in the summer of 1983.

I'll Be There for You

Bon Jovi - I'll Be There For You

Taken from their 1988 album New Jersey, this soft rock number topped the US charts a year later.

It was an indication of the direction Bon Jovi were taking as they slowly moved from their stadium rock anthems to power ballads.

Something for the Pain

Bon Jovi - Something For The Pain

Released as a single from their These Days album in 1995, this wasn't a hit in the US but was a top 10 success in the UK.

The video features actors impersonating Eddie Vedder, Snoop Dogg, Dr Dre, Courtney Love, and Scott Weiland.

Bed of Roses

Bon Jovi - Bed Of Roses (Official Music Video)

Jon Bon Jovi wrote this song in a hotel room while suffering from a hangover, with the lyrics reflecting his feelings at the time.

The emotive power ballad offered fans a more mature sound to their previous glam metal output, and became a live favourite.

Keep the Faith

Bon Jovi - Keep The Faith (Official Music Video)

This was the lead single from Bon Jovi's album of the same name in 1992.

It soon became a live staple and was top five hit in the UK.

Wanted Dead or Alive

Bon Jovi - Wanted Dead Or Alive (Official Music Video)

For Bon Jovi's iconic Slippery When Wet album in 1986, the band went country rock for this track.

The song pays homage to Jon's Old West heroes, and how he identifies with them as being hated and loved at the same time.

He later revealed that he got the inspiration for the song when he could not sleep while riding in a tour bus. The "lifestyle of every rock band" was similar to the outlaws, as each was, "a young band of thieves, riding into town, stealing the money, the girls, and the booze before the sun came up."

It's My Life

Bon Jovi - It's My Life (Official Music Video)

Perhaps Bon Jovi's last truly big hit single, this 2000 track harked back to their stadium rock bangers of the '80s.

Co-written with pop supremo Max Martin and featuring Richie Sambora's famous talkbox, it gave the band a top three hit in the UK.

You Give Love a Bad Name

Bon Jovi - You Give Love A Bad Name (Official Music Video)

This was the lead single from Slippery When Wet, and it's impossible not to feel pumped when you hear those opening lines.

It was actually originally written for Bonnie Tyler under the title 'If You Were a Woman (And I Was a Man)' with different lyrics, from legendary producer Jim Steinman.

Not satisfied with its success, Desmond Child re-wrote the song with Jon Bon Jovi and Richie Sambora, and hey presto.

Always

Bon Jovi - Always (Official Music Video)

One of Bon Jovi's most successful songs, this was one of the greatest power ballads and rock songs of the 1990s.

The song was originally written by Jon Bon Jovi for the soundtrack to the 1993 film Romeo Is Bleeding (referenced in the song), starring Gary Oldman as a corrupt cop.

However, after being unimpressed by a preview screening of the movie - which ended up being a critical and box office flop, he decided not to lend 'Always' to the producers. He said: "The script was great: the movie wasn't."

Livin' on a Prayer

Bon Jovi - Livin' On A Prayer

It could only be one song. Weddings, house parties and '80s cheese nights wouldn't be complete without it.

Explaining what the song was about, Jon said: "It deals with the way that two kids – Tommy and Gina – face life's struggles, and how their love and ambitions get them through the hard times.

"It's working class and it's real… I wanted to incorporate the movie element, and tell a story about people I knew. So instead of doing what I did on 'Runaway', where the girl didn't have a name, I gave them names, which gave them an identity... Tommy and Gina aren't two specific people; they represent a lifestyle."

The song became the band's signature song, has sold million of copies, and has just under a billion views on YouTube as of 2023.