Jon Bon Jovi facts: Singer's age, wife, children, songs and net worth revealed
2 October 2020, 14:03 | Updated: 8 February 2022, 17:26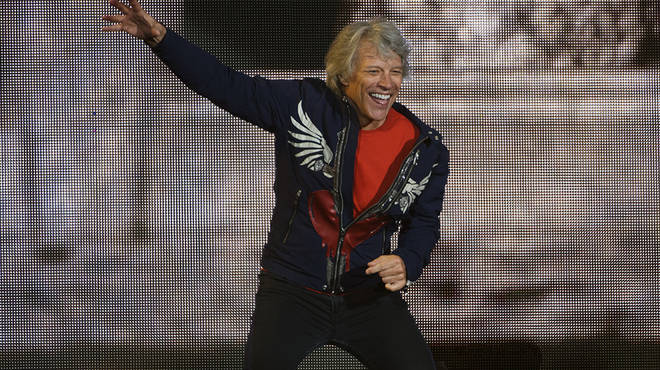 With Bon Jovi back with a new album, here's all the biggest facts about frontman Jon Bon Jovi, including his height and real name.
Jon Bon Jovi is one of the biggest singer-songwriters of recent times and his namesake band is back with a new album, Bon Jovi: 2020.
Jon Bon Jovi and Prince Harry to record charity single for upcoming Invictus Games 2020
Here's everything you need to know about him including his real name, net worth and his age:
Who is Jon Bon Jovi?

Jon Bon Jovi is an American singer-songwriter and actor.

He is best known as the founder and frontman of legendary group Bon Jovi, which was formed in 1983.

Bon Jovi has released 14 albums with his band, selling over 130 million albums worldwide. He has also released two solo albums.

In the 1990s, Bon Jovi started an acting career, famously appearing on TV shows Sex and the City, Ally McBeal and The West Wing.

Among Bon Jovi's biggest songs include 'Livin' on a Prayer', 'Always' and 'It's My Life'.

How old is Jon Bon Jovi and what is his real name?

Jon Bon Jovi was born on March 2, 1962. He celebrated his 58th birthday in 2020.

Full name John Francis Bongiovi Jr, he was born in Perth Amboy, New Jersey. He is the son of two former Marines, barber John Francis Bongiovi Sr and Playboy Bunny turned florist Carol.

He has two brothers, Anthony and Matthew.

His father was of Sicilian and Slovak ancestry, and his mother is of German and Russian descent.

Is Jon Bon Jovi married?

Jon Bon Jovi and wife Dorothea. Picture: Getty

In 1989, Jon Bon Jovi married his high school sweetheart, Dorothea Hurley in Las Vegas.

The couple has four children: daughter Stephanie Rose (born 1993), and three sons, Jesse James Louis (born 1995), Jacob Hurley (born 2002) and Romeo Jon (born 2004).

What is Jon Bon Jovi's net worth?

As you can probably imagine, Jovi is one of the richest rockstars in the world with a staggering estimated net worth of £318million.

What is Jon Bon Jovi's height in feet?

The 58 year old is five foot and nine inches tall.