Jon Bon Jovi and wife Dorothea's 40-year romance, and their secret to long-lasting love
11 April 2023, 12:36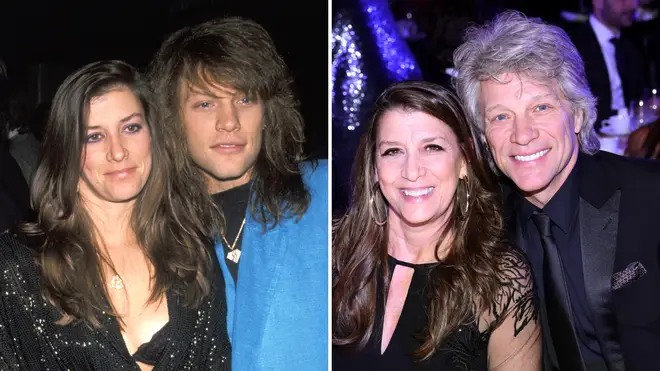 Jon Bon Jovi is known for his rock anthems and power ballads (and big hair at times), but he's also half one of showbiz's greatest romance stories.
The Bon Jovi frontman has been with his partner Dorothea for over 40 years, and they celebrated their 30th wedding anniversary in 2019.
The couple's story is one of the most heartwarming in the entertainment industry, and in 2020 he spoke in depth about his long-lasting relationship and how they have only closer over time.
Who is Jon Bon Jovi's wife and when did they first meet?

Jon and Dorothea. Picture: Getty

Dorthea Hurley was born in New Jersey to her parents Donald and Dorothy.

She got her name after her parents mixed her mother's name with a close family friend who had died of cancer before Dorothea's birth.

She went to Sayreville War Memorial High School, in Parlin, New Jersey. She met Jon Bon Jovi while they were both in school. They apparently first met when Jon tried to cheat on his test by looking at her work!

However, at the time she was dating Jon's best friend, Bobby. The two were just friends for a couple of years.

The pair didn't start a relationship until they were in their 20s.

Dorothea was a junior karate champion in her youth, and later became a karate instructor. She has also co-run the JBJ Soul Kitchen Restaurant chain, which encourages customers to pre-purchase meals for the homeless.

How many children do they have?

Prince William meets Jon Bon Jovi and wife Dorothea (right) with children (L-R) Jacob, Stephanie and Romeo in 2013. Picture: Getty

Jon and Dorothea have four kids together: daughter Stephanie Rose (born 1993), and three sons, Jesse James Louis (born 1995), Jacob Hurley (born 2002) and Romeo Jon (born 2004).

Jacob, known as Jake - is a model and announced his engagement to Stranger Things star Millie Bobby Brown in 2023.

When did they marry?

Jon Bon Jovi and Wife Dorothea Hurley in the early days. Picture: Getty

During a stop in Los Angeles on The New Jersey Syndicate Tour in 1989, Jon Bon Jovi secretly travelled to Las Vegas to marry Dorothea.

What is their secret to their long relationship?

Jon Bon Jovi & Wife Dorothea Open Up About Marriage, The JBJ Soul Foundation, & More | PeopleTV

"Mutual respect," Jon told People. "Having grown up together and grown together. And we really like each other. We want to hang out."

Dorothea said: "I always said I was good at spotting potential too. I have a gift."

He continued: "We work hard at it, but we enjoy each other and we never fell for the trappings of what celebrity can do.

"We've witnessed that happen over the years to people that were close to us and people that we knew from afar. It's just what I do, it's not who I am. I write songs. I happen to be very good at performing them. That's it."