Richie Sambora facts: Bon Jovi guitarist's age, wife, children and career explained
11 January 2023, 17:02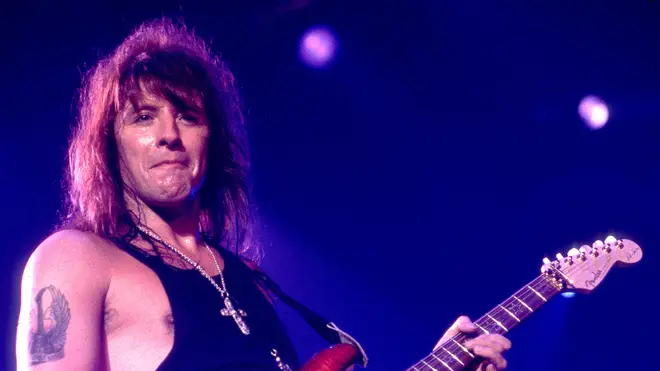 Richie Sambora was one of the main reasons behind Bon Jovi's successes in the 1980s and 1990s.
The American rock guitarist is a hugely influential singer, songwriter and producer, best known as the lead guitarist of Bon Jovi from 1983 to 2013.
Alongside lead singer Jon Bon Jovi, Richie formed a songwriting duo for the band. He has also released three solo albums, and was also in the duo RSO alongside former partner Orianthi.
How old is Richie Sambora?

Richie Sambora with Cher in 1991. Picture: Getty

Richie Sambora was born on July 11, 1959. He celebrated his 63rd birthday in 2022.

He was born in Perth Amboy, New Jersey, and was the son of parents Joan (née Sienila), a secretary, and Adam C Sambora, a factory foreman.

He is of Polish descent, and was a skilled basketball player before focusing on music.

He began playing the guitar at the age of 12, following the death of Jimi Hendrix in 1970.

When did Richie Sambora join Bon Jovi?

Bon Jovi in 1987 (Richie second from the right). Picture: Getty

Sambora joined Bon Jovi in 1983, replacing the band's original lead guitarist Dave Sabo, who went on to form Skid Row.

Alec John Such had been playing in a band with Sambora, and joined Bon Jovi while Sambora was away auditioning for Kiss.

When Sambora returned home, Such invited him to see the band. He was impressed with what he saw, and soon approached Jon Bon Jovi backstage and "gave him a verbal résumé".

He soon received a phone call inviting him to rehearse with the band. When Jon arrived and heard the band with Sambora, he hired him on the spot.

When and why did he quit the band?

Bon Jovi - Always (Official Music Video)

Richie Sambora left Bon Jovi in 2013, just before a concert in Calgary.

Since then, he has only played with Bon Jovi at their Rock and Roll Hall of Fame Induction in 2018.

In 2016, Richie explained that his reason for leaving the band was so he could give his family more of his attention.

"I really needed to take some time to be with my daughter," he stated. "She needed me and I needed her, actually.

When was he married to Heather Locklear and does he have kids?

Heather Locklear and Richie Sambora. Picture: Getty

Richie Sambora married Hollywood actress Heather Locklear in Paris on December 17, 1994.

Their daughter Ava Elizabeth was born on October 4, 1997.

However, Locklear filed for divorce in 2006, citing irreconcilable differences.

The pair remain on good terms, and had joint custody of their child.