Elton John facts: Singer's age, husband, children, parents, net worth and real name revealed
4 June 2022, 22:04 | Updated: 17 March 2023, 12:15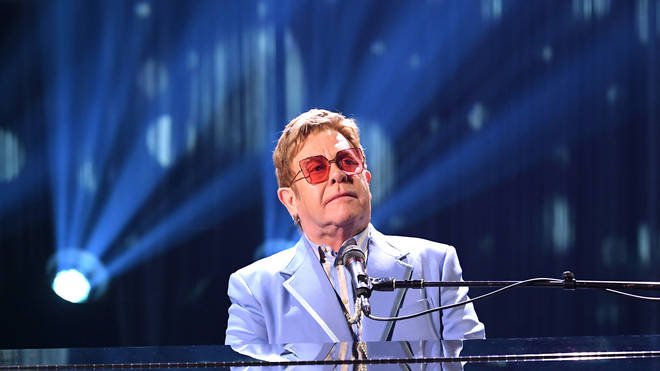 Sir Elton John is a real icon of popular music, and is one of the most successful artists of all time.
Sir Elton John has sold over 300 million records worldwide and has collaborated with lyricist Bernie Taupin since 1967 on over 30 albums.
His tribute single to Princess Diana, 'Candle in the Wind 1997', sold over 33 million copies worldwide and is the best-selling single in the history of the charts.
But how old is Sir Elton and how big is his family? Here's all the important facts about the legendary singer-songwriter:
How old is Elton John and where is he from?

Elton John was born Reginald Kenneth Dwight, on March 25, 1947. He celebrated his 75th birthday in 2022.

He was born in Pinner, Middlesex, and was the eldest child of Stanley Dwight (1925–1991) and only child of Sheila Eileen (née Harris, 1925–2017).

Elton and was raised in a council house in Pinner by his maternal grandparents.

When he was 14, his parents divorced. His father married again, and had further children.

His mother married a local painter, Fred Farebrother, who was a caring and supportive stepfather whom Elton affectionately called 'Derf'.

Elton later chose his stage name in homage to two members of his early band Bluesology: saxophonist Elton Dean and singer Long John Baldry.

He legally changed his name to Elton Hercules John in 1972.

Who is Elton John's husband and how many children does he have?

Elton and David with their sons in 2015. Picture: Getty

Elton John officially came out as bisexual in a 1976 interview with Rolling Stone, and in 1992 he told the magazine that he was "quite comfortable about being gay".

In 1993, Elton began a relationship with filmmaker David Furnish, a former advertising executive from Toronto.

On December 21, 2005 (the day the Civil Partnership Act began), Elton and David were one of the first couples to have a civil partnership in the UK, held at the Windsor Guildhall.

When gay marriage became legal in the UK in 2014, Elton and David married in Windsor.

They have two sons: Zachary Jackson Levon Furnish-John (born via surrogacy in December 2010) and Elijah Joseph Daniel Furnish-John (born in January 2013 via the same surrogate).

Was Elton John married before?

Elton John and Renate Blauel's Wedding. Picture: Getty

Back in the late 1960s, Elton was engaged to his first lover, secretary Linda Woodrow, who is referenced in the song 'Someone Saved My Life Tonight'.

However, Elton ended the relationship two weeks before their intended wedding, after being advised to do so by Bernie Taupin.

Elton then married German recording engineer Renate Blauel in February 1984. Blauel later said she attempted suicide during their honeymoon in St-Tropez after Elton told her that he wanted to end their relationship.

Their marriage ended with a divorce in 1988. Elton later said: "She was the classiest woman I've ever met, but it wasn't meant to be. I was living a lie."

In 2020, Blauel sued Elton for writing about their relationship in his 2019 book Me.

What is Elton John's net worth?

Elton John has an estimated net worth of around $500 million (£370m).