Who is Elton John's ex-fiancé Linda Hannon and where is she now?
10 June 2020, 15:15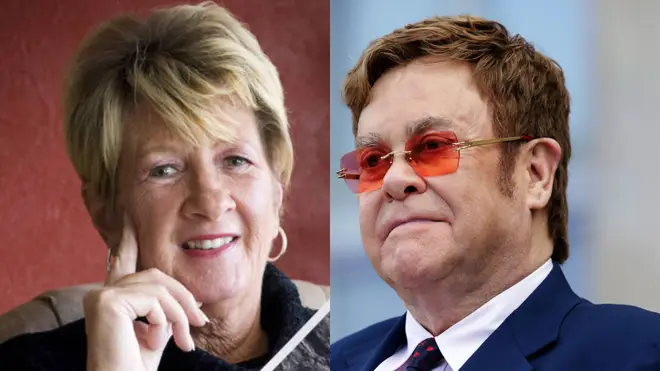 Elton John called off his wedding to fiancé Linda Hannon just before finding worldwide fame.
Whilst his relationship to ex-wife Renate Blauel was portrayed heavily in the award-winning biopic Rocketman, Elton John's ex-fiancé Linda Hannon is rarely talked about.
Years later, Elton has since come out as a gay man, and has been happily married to his longtime partner David Furnish.
But when did Elton and Linda get engaged, how did they break up and what is she doing now? Here's all the facts:
Who is Linda Hannon and how did she meet Elton John?

Linda Hannon met Elton John - then known as Reg Dwight - in a club in Sheffield in 1968.

Picture: Getty

Linda Hannon, 76, is a divorced mum-of-three who is originally from Sheffield.

Elton John met Linda in 1968 he approached her table in a club in her home town.

The singer, who was still unknown and called Reg Dwight, was new to the area.

"Was there an instant spark? I don't know, but he had never been to Sheffield before so I offered to show him around," she tells the Daily Mirror.

"It quickly became romantic when he asked me to visit him London.

"I went to stay with him at his mother's place. He was an absolute mummy's boy but I was three years older and more worldly wise.

"He was definitely a virgin. He was very affectionate."

Linda left Sheffield and moved to North London, moving into a flat with Elton and his songwriting partner Bernie Taupin and recalling they had little money.

"We had furniture on hire purchase. We didn't have much money. I paid for everything. We went everywhere by bus.

"We were happy, or so I thought. I don't think Reg actually proposed, we just discussed getting married and talked about wedding plans.

"I went out and bought my own ring. Reg was absent. I still have the ring, it's a garnet, which is my birthstone, with diamonds around it," she says.

Why did Elton and ex-fiancé Linda Hannon spilt up?

Elton John pictured in London, November 1973. Picture: Getty

Linda Hannon maintains it was a shock when her wedding to Elton John didn't go ahead.

Linda says: "We were a month away from the wedding when Elton drunkenly woke me up and told me it was off.

"Then he called his stepfather to come and get him. He walked out and that was it. I was so shocked. I loved him very much, and I thought he loved me."

Linda, who still has her engagement ring added: "John Baldry and Bernie [Taupin] took Reg out for drinks at the Bag O' Nails club in Soho and got him roaring drunk.

Linda says Bernie Taupin persuaded Elton to call off the wedding. Pictured, Bernie and Elton. Picture: Getty

"They told him to call off the wedding, insisting he was going to ruin two lives, his own and mine."

Linda recalls: "The register office was booked. And his mum had ordered the cake.

"We weren't planning a huge affair. It was going to be family, a few close friends."

After Elton broke up with Linda, all contact was severed.

"Reg and I have never been in communication since he woke me up to say he was leaving," she says.


Where is Linda Hannon now?

Elton John opens up about 'wasting' his life on years of drug use

Linda Hannon and Elton John broke up just months before his hit 'Your Song' propelled him into the limelight.

Elton has gone on to find worldwide success and is now worth an eye-watering £300 million, whereas Linda has lives a much more down-to-earth lifestyle.

Now 76, Linda is divorced and the mum of three kids.

She lives in Dallas, Texas and works as a Doctor's Office Manager for an estimated £35,000 a year.

Speaking to the Daily Mirror in 2019, Linda reflected on how different her and Elton's lives now are.

"I read somewhere that Elton paid me off. I've never received a dime from him," she says.

"If we'd married, maybe I wouldn't be sitting here in Dallas, still working as a doctors' office manager."

However in June 2020, Linda revealed that Elton had generously helped pay for her knee operation after she fell on financial hard times during the coronavirus pandemic.

David Furnish, Elijah Furnish-John, Zachary Furnish-John, and Sir Elton John attend the 23rd Annual Elton John AIDS Foundation Academy Awards Viewing Party on February 22, 2015 in Los Angeles, California. Picture: Getty

The Daily Mirror reached out to Elton's representatives on behalf of Linda and the 'Your Song' singer said he would be delighted to help his ex, who inspired his 1975 hit 'Someone Saved My Life'.

A source said: "When Elton heard about Linda's plight, he didn't hesitate for a second to help out.

"He remembers how good she was 50 years ago, when he and Bernie needed the support, and is really pleased to be able to help her in her hour of need."

Linda has since revealed she was "so touched" by the gesture and "thrilled" he could help.