Princess Diana's cherished friendships with George, Freddie, Bowie and more in pictures
31 August 2023, 09:02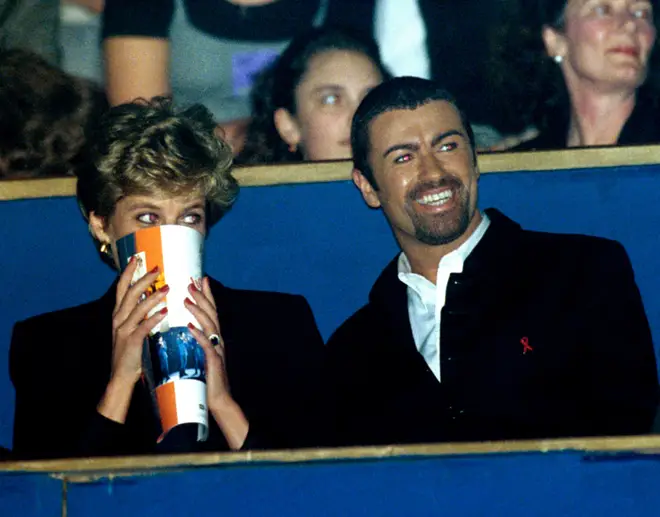 Princess Diana had numerous close friendships with musical stars including George Michael, Freddie Mercury and Elton John that included lots of tears, laughter and even some sneaking around in disguises...
Determined not to shut herself away behind the walls of Kensington Palace, fun-loving Diana became close with many musical stars in her private life and her warm-hearted openness had a lasting impression on many of them.
Drawn together through their worldwide fame and their shared experience of being in the public eye, Diana's friendship's with George Michael, Elton John, Freddie Mercury and others became important parts of her life.
Read on to find out about Diana's close relationship with musical royalty...
Princess Diana and George Michael

George Michael cherished his friendship with the Princess, saying how good she was able to make him feel about himself.

"Diana was the only person that I knew who made me feel like an ordinary person," he said.

Princess Diana and George Michael at the Concert of Hope for World AIDS day at Wembley in 1993.

Picture: PA images

In an interview quoted in the book George Michael: Freedom, The Ultimate Tribute 1963-2016, the star said he and the Princess: "Clicked in way that was a little bit intangible, and it probably had more to do with our upbringing than anything else."

Speaking to the Mirror in 2016 George said: "I thought she was so great not to be consumed by everything that had happened to her and to keep giving and giving.

"I thought she was a really great person - the Elvis of compassion."

George spoke of his grief at her death, adding that he arrived crying at her funeral in Westminster Abbey.

Wham's greatest music videos: Andrew Ridgeley breaks down his biggest hits | Smooth's Video Rewind

"I bawled my eyes out at the service," said George.

"I had forgotten my hanky and I was really streaming. I was one of the few people in that part of Westminster Abbey that was really blubbering and I remember thinking: 'God, this is going to be really embarrassing.'"

Princess Diana and Elton John

Diana and Elton John had a famously close relationship and often worked together on projects to combat AIDS.

Elton told his biographer, Philip Norman, about his first encounter with the Princess in 1981, when he arrived to play at Windsor Castle for Prince Andrew's 21st birthday party.

"When I arrived, there was no one there but the dance band and Princess Diana. We danced the Charleston alone on the floor for 20 minutes."

The pair went on to have a blossoming friendship, however they had a falling out for five months in 1997 after a book - whose proceeds were going to Elton John's Aids Foundation - was published called Rock and Royalty, featuring photos of the princess and her boys.

After the death of their mutual friend Gianni Versace, Diana reached out to reconcile with Elton - just six weeks before her own tragic death.

Speaking on Lorraine in 2018 Elton said: "She was very much loved. She was a controversial figure in some respects, but not to me.

Ed Sheeran covers Elton John's 'Candle in the Wind'

"We had our fallings out, but we reconciled in the end. It was an extraordinary summer.

"Gianni Versace was murdered [on July 15, 1997], and then Diana rang me up and we reconciled.

"And six weeks later, I'm in the same house, and she's dead. It was an extraordinary and mesmerising summer, and I just couldn't believe what was going on."

Elton re-wrote Candle In The Wind in her honour and played it at her funeral.

The moving song went on to become the best-selling single of all time, with 33 million units sold to date and selling more than 650,000 copies in the first 24 hours of its release.

Princess Diana and David Bowie

The moment Princess Diana met K.D. Lang, George Michael, Mick Hucknall and David Bowie in a backstage lineup in 1993 has gone down as a moment in rock royalty history.

Princess Diana and David Bowie in 1993.

Picture: PA images

The photos - and video below - were taken before they all played on stage at the Concert of Hope event at Wembley for World AIDS day.

George Michael, David Bowie at "Concert of Hope" backstage. Wembley Arena, 01.12.1993

David Bowie was the host of the evening and rumours said that he and Diana got on like a house on fire.

Princess Diana was Britain's Patron of the National AIDS Trust and the televised concert was performed in front of a packed crowd of 12,000 on the night.

Princess Diana and Freddie Mercury

While Freddie Mercury and Princess Diana's friendship wasn't caught on camera, a wonderful story of Diana sneaking out on the town with the Queen frontman has come to light.

Photo of Freddie MERCURY and QUEEN. Picture: Getty

Rami Malek, who starred as Freddie in Bohemian Rhapsody, said he heard the tale about Diana and Freddie when he was researching his role.

Speaking to People he said: "There was one moment that I hear he [Freddie Mercury] took Princess Diana and disguised her as a man and took her into a bar, just so they could have their own fun moment without anybody else being aware.

"Now, I don't know if that's true, this might be an urban legend," he said.

However actress Cleo Rocos elaborated on the story in her memoir Kenny and Me: Bananas Forever published in 2013, revealed the pair would watch Golden Girls together, and claiming she was present when Freddie took Diana out in disguise.

"Diana was in full mischief mode.

Queen's greatest music videos: Brian May breaks down band's biggest hits | Smooth's Video Rewind

"Freddie said, 'Go on, let the girl have some fun.' […] Scrutinising her in the half light, we decided that the most famous icon of the modern world might just – just – pass for a rather eccentrically dressed gay male model…

"We inched through the leather throngs and thongs, until finally we reached the bar. We were nudging each other like naughty schoolchildren.

"Diana and Freddie were giggling, but she did order a white wine and a beer. Once the transaction was completed, we looked at one another, united in our triumphant quest. We did it!"

Supposedly they only stayed in bar for 20 minutes for fear of being recognised - but imagine bumping into those two on a night out!

Princess Diana and Liza Minelli

Liza Minelli has previously spoken of her close relationship with the Princess and how fortunate she felt to have her friendship

"I was lucky enough to count Princess Di as a friend," she said

"I was first introduced to her when she came backstage after a concert I did in London.

"Then we'd bump into each other at premieres or events where she'd be the guest of honour.

"We'd fall into conversation then we'd meet for tea… My instinct was to protect her.

"We talked about everything under the sun. She loved music."

"All my life, I've had people bowing and scraping. I haven't encouraged it, that's just how it's been" she added.

"Well, Princess Di got pretty used to people bowing and scraping.

"So it was a relief for both of us that we could just be ourselves around each other."

Princess Diana and John Travolta

John Travolta and Princess Diana dance together at the White House in 1985.

Picture: PA images

A round-up of Diana's wonderful celebrity moments wouldn't be complete without a mention of her iconic dance with John Travolta in 1985.

The pair were at the White House at a dinner hosted by Ronald and Nancy Regan and danced together to the Saturday Night Fever soundtrack.

HQ Lady Diana dances with John Travolta exclusive interview

Speaking of the event in later years John said: "I put my hand in the middle of her back, brought her hand down so that it wouldn't be so high and gave her the confidence that we would do just fine."

"She was charming, adorable and down to earth."

In an interview with Good Morning America in 2016, he was asked if there was a part of the Eighties he would bring back.

"Yes, I danced with Princess Diana in 1986, I believe," he joked.

"That was one of the highlights of my life, so that's probably the best moment of the Eighties."