When Freddie Mercury acted like a giddy kid next to his hero Montserrat Caballé during 1987 interview
14 July 2023, 13:50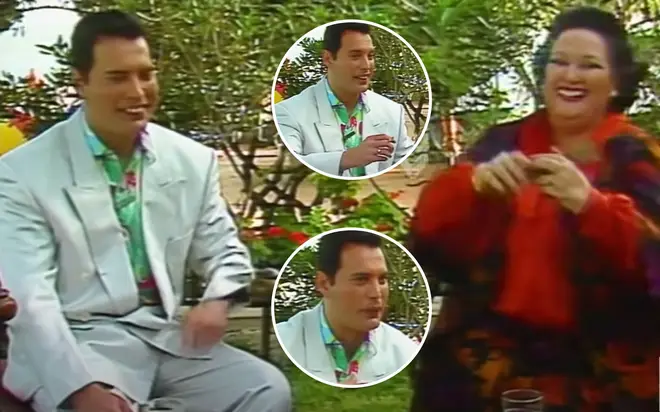 Freddie Mercury was seemingly never phased.
As one of, if not the greatest frontman in rock music history, the Queen singer was more than comfortable facing thousands of people night after night.
Not only would he perform to crowds of thousands, he would be able to entertain and control an audience like no other.
We're all aware of his "ay-oh" routine, which he'd frequently perform to an audience to get them on his side, something he did at Live Aid which went down in history for instance.
But Freddie Mercury wanted to be much more than just an entertainer in the realm of rock music - he had a passion for the arts and the opera that he wanted to explore.
His unmatchable three-octave vocal range meant he possessed a talent that went far beyond the expectations of what a rock singer could reach, incorporating operatic elements into Queen's sound.
So in 1986, he set out to achieve his ambitions in opera, by collaborating with his idol and inspiration: the legendary Montserrat Caballé.
The outcome was 'Barcelona', which saw Freddie sing alongside one of the world's most respected opera singer, and he completely held his own throughout the duet.
As the pair promoted the song in 1987 however, Freddie seemed giddy with excitement and sat beside Caballé, in a rare and adorable moment where he couldn't believe his fortunes being next to his hero.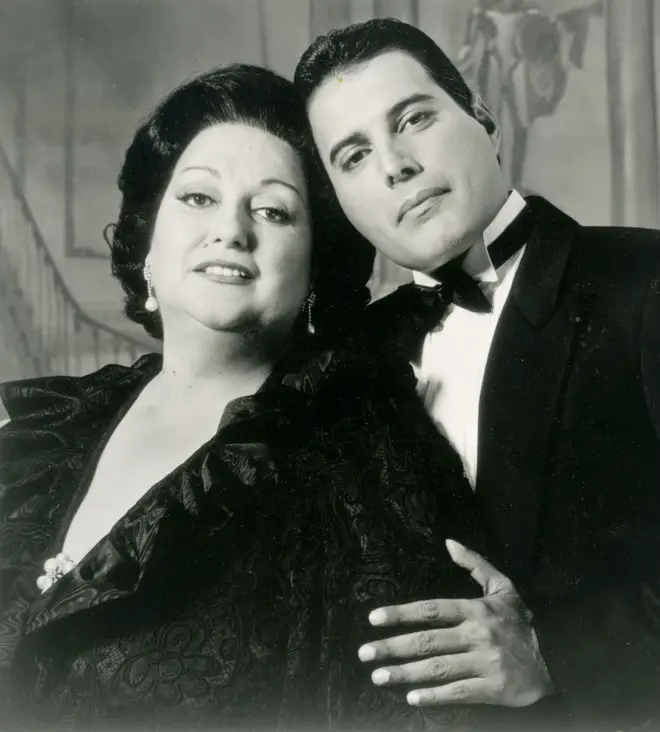 Although the pair had met each other the previous year, and had worked together on the gorgeous 'Barcelona' which they were now discussing, Freddie was clearly in awe of Caballé.
Though the interview got off to an excellent start for Freddie, as the interviewer asked Caballé if she'd heard of Freddie before they worked together, or if she liked his music.
She replied in Spanish: "I knew his music from a long time ago. My children are truly fans of him and his music too."
"At home his music and his voice have always been heard, so his style and his vital melody were quite familiar to me."
"I was very impressed when he offered me this great opportunity," she added, proving that she was as much of a fan of Freddie as he was of hers.
Despite not necessarily knowing precisely what she was saying, talking in her native language, Freddie could clearly pick up on the fact she was complimenting him.
Freddie Mercury y Montserrat Caballé ENTREVISTA ÍNTEGRA 1987 SUBTITULADA
Hearing his hero talk about him in such a manner must've been a joyous moment for Freddie, given that he was petrified about proving his worth as a singer next to such an opera icon.
Ahead of the duet coming to fruition, Freddie even doubted it would work, believing it would be a "complete disaster" for a series of reasons.
As he dragged on his cigarette whilst Caballé spoke and sat next to him, it was lovely to see Freddie smiling from the side of his mouth as though he couldn't contain his happiness.
When asked about the collaboration coming together after he revealed in an earlier interview she was his favourite singer, Freddie replied: "It was like a dream come true."
"Of course, I wondered if our voices would match, or whether she would accept. Then the rumour went round the record company and friends or whatever, and she said yes."
"Then I came to Barcelona to see her for the first time and played her a few tunes, and she liked it. Now she's a rock 'n' roller!"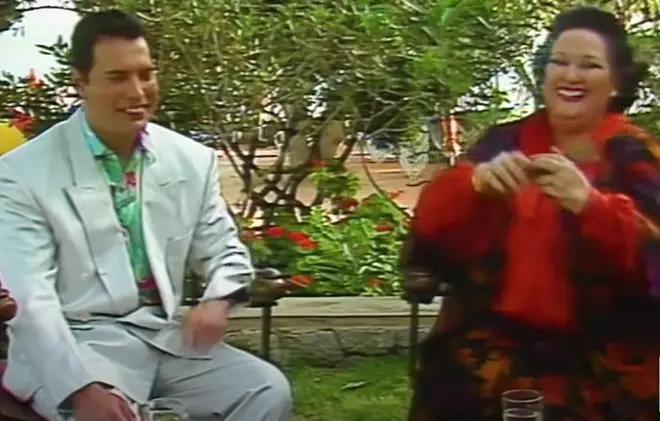 He was clearly at ease alongside Caballé (or Montse as he lovingly refers to her during the interview) as they laughed and joked throughout the entire duration.
The interviewer then asked Freddie: "Before the rehearsals started, what is it that worried you the most?"
"Well, nothing," he replied. "I just wanted to make sure that everything turned out right. So I took a lot of time and pain over it."
"It was the first time I'd written something for her voice. Before I was used to writing for my voice, so I really do try to sing high to imitate her voice and see if we matched."
Caballé interrupts: "It did very well!" which is arguably all the praise Freddie needed to prove that 'Barcelona' was anything but a failure.
Given his excitable nature around the legendary Montserrat Caballé, having a go at opera for real was one of the best decisions he could've made.