"Ay-Oh!" How Freddie Mercury became the master of winning over a crowd
17 September 2021, 17:45 | Updated: 23 November 2021, 10:32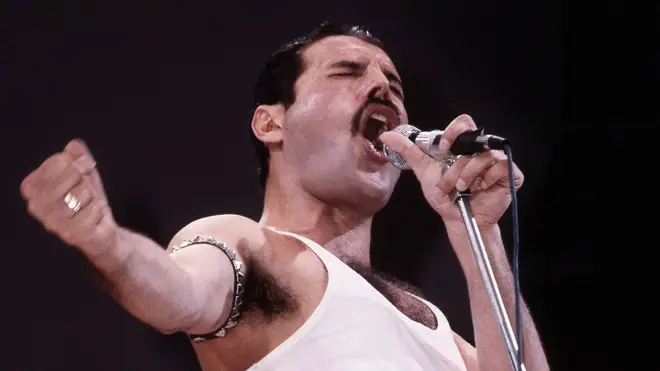 It's the improvised callout to the crowd that later came to define almost every legendary Queen concert.
What started as an improvised interaction with the crowd at a Queen concert in Montreal during 1978, "Ay-Oh!" became a hallmark of their most momentous performances.
Who can forget their 20-minute set at Live Aid in 1985, when Freddie Mercury had the entire 80,000 strong crowd inside Wembley Stadium within the palm of his hand?
As Queen continue a deep-dive into the key moments that defined their greatness, they've revealed the latest episode of Queen: The Greatest that focuses on how "Ay-Oh!" came to be.
It was a seemingly simple moment of genius which proved that Freddie was the ultimate showman and master of winning over the crowd.
Queen: Ay-Oh (Episode 27)
The iconic audience improvisation was born from Freddie's willingness to engage, and entertain the crowd. He knew that making each and every gig feel unique to the audience would always win them over.
"That's the part of my role, I have to win them over, otherwise it's not a successful gig.  It's my job to make sure that I win them over and make them feel that they've had a good time." said Freddie when asked about his relationship with Queen audiences.
"I'm very frivolous, and I like to enjoy myself, and what better way to do it than on stage in front of 300,000 people. I just cook on stage, that's just my nature.  That's not what I'm like in real life, my character's built up of all kinds of ingredients and this is one element of me."
"On stage, that's my job and I don't like to go on stage, sitting on a stool and do a show. I'm very volatile, in that way, and I like to actually put a song across in the way it is. It's all part of showbiz and theatre, that's another side of me." he went on to say.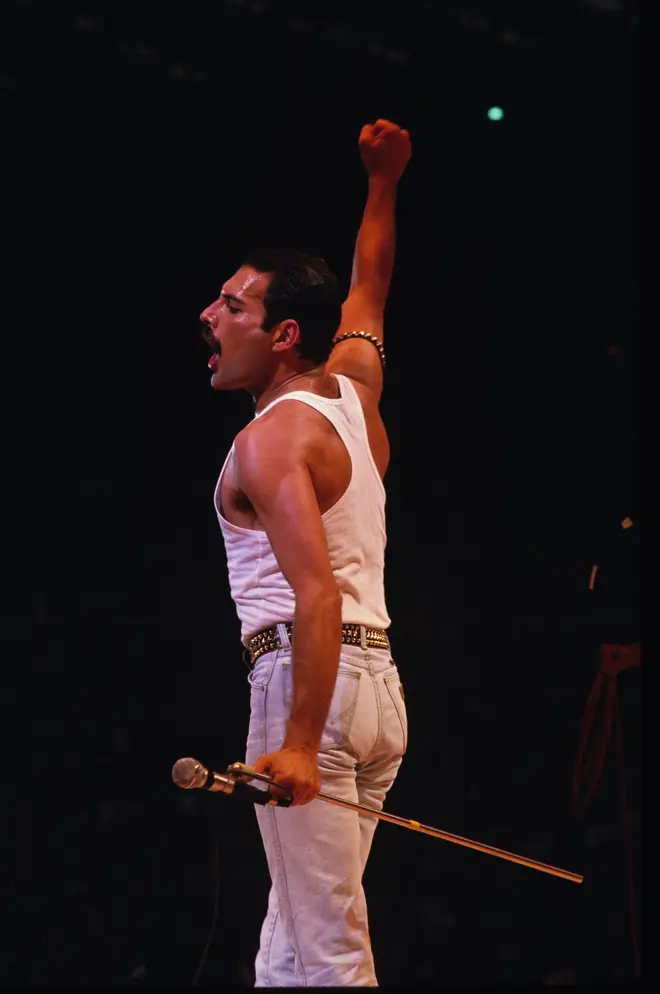 As much as "Ay-Oh!" became a way of relating to the audience, it was equally as much about Freddie's exuberant persona being able to enthrall that many people at one time.
In the clip from the band's show at the Milton Keynes Bowl in 1982, Freddie is just having a good time playing up to the crowd, and they absolutely loved it.
The crowds continued to grow throughout the 1970s and into the 1980s, but Freddie still managed to make every single person watching the band feel involved in the show.
Nothing encapsulates the Queen frontman's mastery more than their Live Aid performance which became a highlight of the global benefit event and went down in music history as one of the greatest ever performances, which was later immortalised by Rami Malek in Queen's blockbuster biopic Bohemian Rhapsody.
Queen - Ay Oh! - Live at Knebworth 1986/08/09 [Live Magic Audio]
Throughout Queen's Magic Tour in 1986, which was the band's last tour together with all four original members, "Ay-Oh!" became a moment the crowd waited for, and truly savoured.
Even during Freddie's final performance with Queen at Knebworth, he commanded the mammoth 120,000 people crowd in the same way he would an audience a tenth of the size.
Sadly, Knebworth was the last time a crowd would experience Freddie's classic call and response.
But "Ay-Oh!" only strengthened claims that he was the greatest frontman in rock music at time, if not, in rock music history.