Queen: This side-by-side Live Aid comparison with Freddie Mercury and Rami Malek is incredible
13 July 2020, 17:10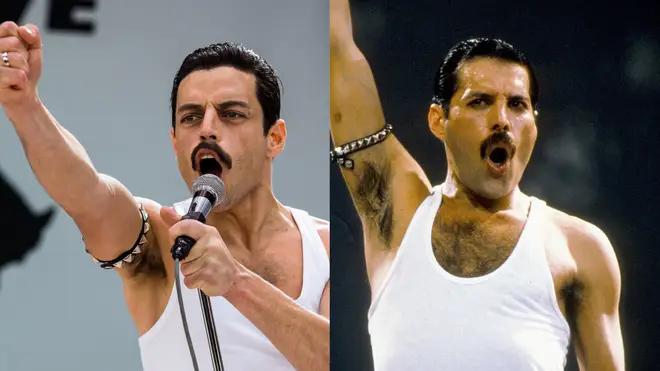 A brilliant video shows how the Bohemian Rhapsody film's cast recreated Queen's iconic Live Aid performance shot-for-shot.
Bohemian Rhapsody was a huge success at the box office, and there can be no denial that the film's climax at Live Aid is utterly stunning.
Rami Malek portrays Freddie Mercury in the movie, which features a shot-for-shot remake of Queen's unforgettable 20-minute set at the 1985 fundraiser at the old Wembley Stadium.
Various YouTube videos have shown just how much of an impressive job director Bryan Singer pulled off, by placing the original performance side-by-side with the movie version. Watch the video below:
BOHEMIAN RHAPSODY MOVIE 2018 [ LIVE AID COMPLETE SONGS Side by Side with the QUEEN LIVE AID 1985 ]
The Bohemian Rhapsody cast have revealed that they filmed a full run-through of Queen's Live Aid performance, which might be released as a standalone film.
The four-piece played a six-song set at Live Aid: 'Bohemian Rhapsody', Radio Ga Ga', 'Hammer to Fall', 'Crazy Little Thing Called Love', 'We Will Rock You' and 'We Are the Champions'.
Speaking to Collider, Rami Malek and co-stars Gwylim Lee, Ben Hardy, and Joseph Mazzello revealed that a full-length version of the Live Aid show might get a release.
"We did the entire concert together," Malek said. "That's when we felt at our best. You need to go from one song to the next to have that same adrenaline rush that they had.
"We had an audience of Queen fans out there recreating that iconic concert and it's an adrenaline rush like you could never imagine."
Gwilym Lee - who plays Brian May - added: "We'd studied that footage endlessly in the lead-up to filming. I remember every time watching it just being mesmerised by the whole thing but particularly Freddie's ability to engage 70,000 people at once.
"I remember the buzz of watching that footage on my little computer screen, studying, and then being on set that was perfectly replicated.
"Looking around and seeing everybody in full costume and make-up, seeing the incredible attention to detail… it was quite a surreal moment."
Malek added: "We're going to get to see it soon and then you will too."