Freddie Mercury facts: Queen singer's age, teeth, real name, relationships and more explained
23 November 2021, 10:41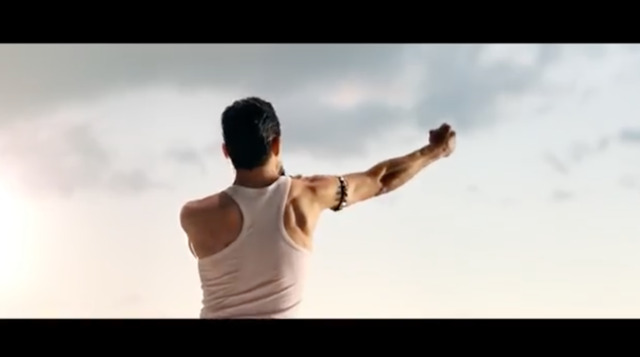 Relive the magic of Freddie Mercury in the final trailer for 'Bohemian Rhapsody'
Freddie Mercury was undoubtedly one of - if not the - greatest frontman of all time.
Freddie Mercury helped make Queen one of the biggest ever rock bands, and he is regarded as one of the greatest singers in the history of rock music.
He was particularly known for his flamboyant stage style, and his impressive four-octave vocal range. Freddie also broke down barriers and shook up the normal conventions of a rock frontman, thanks to his theatrical image and artistic direction of the band.
After writing music for years, he formed Queen in 1970 with guitarist Brian May and drummer Roger Taylor. Freddie wrote many classic hits for Queen, including 'Killer Queen', 'Bohemian Rhapsody', 'Somebody to Love', 'We Are the Champions', 'Don't Stop Me Now', and 'Crazy Little Thing Called Love'.
Queen Full Concert Live Aid 1985 FullHD
After being diagnosed with Aids, Freddie continued to record with Queen, and after his death in 1991, a tribute concert was held at Wembley Stadium. His life and career with Queen was dramatised in the 2018 biopic Bohemian Rhapsody starring Rami Malek.
Freddie was posthumously inducted into the Rock and Roll Hall of Fame in 2001, the Songwriters Hall of Fame in 2003, and the UK Music Hall of Fame in 2004.
What were Freddie Mercury's biggest songs?

Freddie Mercury & Montserrat Caballé - Barcelona (Original David Mallet Video 1987)

Outside of his work with Queen, Freddie Mercury recorded some solo material, including two solo albums and several singles.

His two solo albums were Mr. Bad Guy (1985) and Barcelona (1988). In 1993, a remix of 'Living on My Own', posthumously reached number one in the UK.

Barcelona was recorded with Spanish soprano Montserrat Caballé, and combined elements of popular music and opera. The title title track was a hit worldwide and received massive airplay as the official anthem of the 1992 Summer Olympics.

Where and when was Freddie Mercury born?

Freddie Mercury was born Farrokh Bulsara in Stone Town in the British protectorate of the Sultanate of Zanzibar, East Africa (now part of Tanzania) on September 5, 1946.

Who were Freddie Mercury's parents?

Brian May and Freddie Mercury's mother Jer Bulsara in 2011. Picture: Getty

His parents, Bomi (1908–2003) and Jer Bulsara (1922–2016), were Parsis from the Gujarat region of the then-province of Bombay Presidency in British India.

The Bulsara family moved to Zanzibar so that his father could continue his job as a cashier at the British Colonial Office. He also had a younger sister, Kashmira.

Aged 17, Freddie and his family fled Zanzibar for safety reasons due to the 1964 Zanzibar Revolution, in which thousands of Arabs and Indians were killed. The family moved into a small house at 22 Gladstone Avenue, Feltham, Middlesex, England.

How many teeth did Freddie Mercury have?

Picture: Getty

Freddie had four extra teeth in his upper jaw, creating an overbite that Freddie was apparently never comfortable with.

However, he never considered fixing them, because he believed that his four extra teeth were creating the special sound of his powerful voice.

When and how did Freddie Mercury die?

According to his partner Jim Hutton, Freddie Mercury was diagnosed with AIDS in late April 1987.

After the conclusion of his work with Queen in June 1991, he retired to his home in Kensington. His former partner, Mary Austin, made regular visits to his home to look after him.

On November 22 1991, Freddie called Queen's manager Jim Beach to discuss a public statement. The next day the following announcement was made: "Following the enormous conjecture in the press over the last two weeks, I wish to confirm that I have been tested HIV positive and have AIDS.

"I felt it correct to keep this information private to date to protect the privacy of those around me. However, the time has come now for my friends and fans around the world to know the truth and I hope that everyone will join with me, my doctors and all those worldwide in the fight against this terrible disease.

Queen - These Are The Days Of Our Lives (Official Video)

"My privacy has always been very special to me and I am famous for my lack of interviews. Please understand this policy will continue."

The following day (November 24, 1991), Freddie Mercury died at the age of 45 at his home in Kensington. The official cause of death was bronchial pneumonia resulting from AIDS.

His close friend, Dave Clark of The Dave Clark Five, was with him at his bedside when he died.

What was Freddie Mercury's vocal range?

Picture: Getty

While Freddie's speaking voice fell in the baritone range, he delivered most songs in the tenor range.

His known vocal range extended from bass low F (F2) to soprano high F (F6). He could also get up to tenor high F (F5).

Biographer David Bret described his voice as "escalating within a few bars from a deep, throaty rock-growl to tender, vibrant tenor, then on to a high-pitched, perfect coloratura, pure and crystalline in the upper reaches."

Spanish soprano Montserrat Caballé, with whom Freddie recorded an album, said that "the difference between Freddie and almost all the other rock stars was that he was selling the voice".

Did Freddie Mercury have a wife?

Picture: Getty

In the early 1970s, Freddie had a long-term relationship with Mary Austin, a friend who he met through Brian May.

He lived with Austin for several years in West Kensington, but by the mid-1970s, he had an affair with a male American record executive at Elektra Records.

In December 1976, Freddie told Austin of his sexuality, ending their romantic relationship. He moved out of their flat, and bought Austin a place of her own nearby. They remained close friends for the rest of his life.

By 1985, Freddie was in a long-term relationship with Irish-born hairdresser Jim Hutton (1949–2010), who he referred to as his husband.

Hutton, who also tested HIV-positive in 1990, lived with Freddie for the last seven years of his life, and nursed him during his illness. He was also present at his bedside when he died.

What was Freddie Mercury's net worth?

At the time of his death, Freddie Mercury is said to have had a net worth of around £36 million ($50 million) (adjusted for inflation), according to Celebrity Net Worth.