Who is Mary Austin? Meet the woman Freddie Mercury asked to marry
28 June 2022, 15:47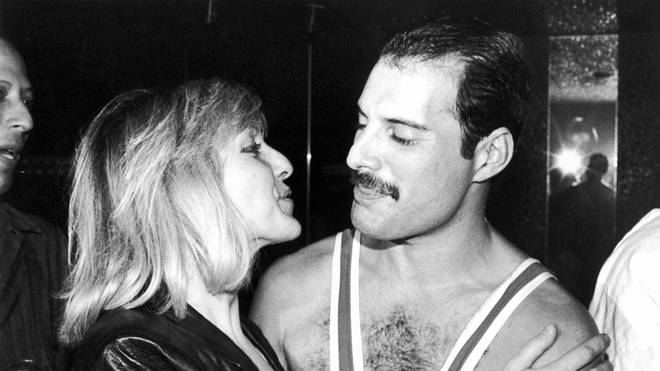 She was the one woman who Freddie Mercury truly loved.
Mary Austin may have been quite different from the flamboyant frontman of Queen, but she was one of the most important people in his life.
The softly spoken working-class girl was brought up by her deaf parents, and remained by Freddie Mercury's side until his death in 1991.
Mary is one of the main characters in the movie Bohemian Rhapsody, in which she is played by actress Lucy Boynton.
The real-life Mary Austin still lives in the West London mansion where Freddie died from an AIDS-related illness in 1991. It was only last year that she finally took down tributes to the late singer.
Who is Mary Austin?

Freddie Mercury and Mary Austin in 1977. Picture: Getty

Freddie Mercury and Mary Austin were so close, that at one stage Freddie asked her to marry him, and he also left her half of his £75million estate, including the £25million Georgian mansion in Kensington.

They did in fact date, and although they split up as romantic partners, they remained very close friends.

Freddie once said: "All my lovers asked me why they couldn't replace Mary, but it's simply impossible. The only friend I've got is Mary, and I don't want anybody else. To me, she was my common-law wife. To me, it was a marriage."

"We believe in each other. That's enough for me. I couldn't fall in love with a man the same way as I have with Mary."

While Mary was not involved in making the new film starring Rami Malek as Freddie, she is said to have given her approval.

How did Freddie Mercury meet Mary Austin?

Freddie first met Mary in 1969, five years after moving to England.

Aged 24 at the time, he had just finished art college, and a 19-year-old Mary was working in a West London fashion boutique, and love soon blossomed.

They soon shared a small flat near Kensington Market, where Freddie had a clothes stall with Queen drummer Roger Taylor.

When did Freddie Mercury and Mary Austin split up?

Picture: Getty

While there had been rumours about Freddie's sexuality, the constant presence of Mary meant his sexuality was not seriously questioned for some time.

He dedicated the song 'Love Of My Life' to her, and proposed in 1973.

Mary said: "I was speechless. I remember thinking, 'I don't understand what's going on'. It wasn't what I'd expected at all."

However, Freddie could not ignore his attraction to men and started having affairs.

He is said to have told her that he was bisexual in 1976. Mary later said: "I'll never forget that moment. I remember saying to him, 'No Freddie, I don't think you are bisexual. I think you are gay'."

They soon broke up and she soon moved into a nearby flat, and Freddie started hosting wild parties. However, Mary remained close, and even worked for his management company.

How much money did he leave her?

Freddie signed a will in September 1991, that gave half of his vast wealth to Mary and the rest to his parents and sister.

Most of his friends, including lover Jim Hutton, were given £500,000 each or a house.

Mary was Freddie's bedside holding his hand when he passed away at the age of 45.

She later carried out his wish to secretly scatter his ashes. While there have been various rumours about where she took the ashes, such as Kensal Green Cemetery or the cherry tree in his garden, she has never revealed the whereabouts.

Where is Mary Austin now?

Mary Austin in 2005. Picture: Getty

Mary chose not to marry painter Piers Cameron, the father of her two children, Jamie and Richard, and divorced her husband Nick Holford.

She later explained: "I lost my family, really, when Freddie died. He was everything to me, apart from my sons. He was like no one I had met before."

Mary, now 67, is said to live a private life behind the spiked walls of the London mansion, where fans still make regular visits to pay their respects.