Taylor Swift facts: Singer's age, boyfriend, parents, biggest songs and career explained
15 June 2023, 13:07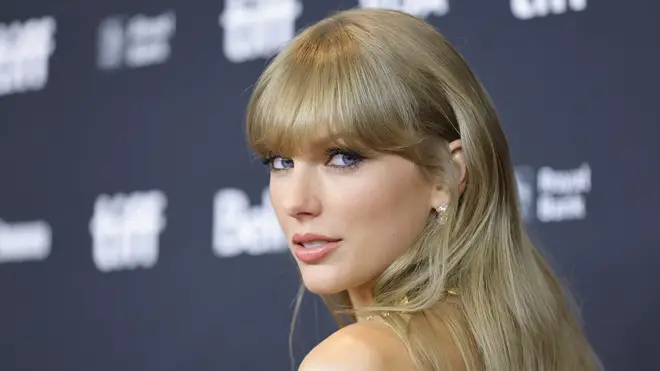 Taylor Swift is undoubtedly one of the biggest and most successful entertainers in the world today.
Taylor Swift embarked on her musical journey at a young age, writing songs that captured the hearts of listeners with her heartfelt storytelling.
From her breakthrough in country music to her meteoric rise as a global pop sensation, Taylor's career has showcased her artistic growth and her ability to connect with fans on a personal level.
Beyond the charts, Taylor Swift has become a powerful advocate for self-expression and female empowerment, using her platform to inspire and uplift a generation of young women.
She has sold over 200 million records, and is one of the best-selling musicians of all time, as well as being the most streamed woman on Spotify, and the only act to have five albums open with over one million copies sold in the US.
How old is Taylor Swift and where was she born?

Taylor Swift in 2006. Picture: Getty

Taylor Swift was born on December 13, 1989. She celebrated her 33rd birthday in 2022.

She was born in Reading, Pennsylvania, in the US. Her parents are Scott Kingsley Swift and Andrea Swift. Her father worked as a financial advisor, while her mother was a marketing executive.

Taylor has often spoken of her close bond with her parents and their influence on her life and career.

Taylor Swift and her parents Scott and Andrea in 2013. Picture: Getty

Taylor also has a younger brother named Austin Swift. He was born in 1992, and like his sister, is also involved in the entertainment industry. He had a career in acting and has appeared in several films, including We Summon the Darkness.

He also produced the music video for her song 'I Bet You Think About Me' with Chris Stapleton.

Taylor was named after the singer-songwriter, James Taylor.

Who is Taylor Swift's boyfriend and who has she dated before?

Taylor Swift and her ex-boyfriend Joe Alwyn in 2020. Picture: Getty

As of summer 2023, Taylor Swift is said to be dating Matty Healy, the lead singer of English band The 1975.

The pair have been friends for years and reportedly decided to give romance a try after her breakup with Joe Alwyn.

Among her other past relationships include:

Joe Jonas (July 2008 - October 2008): Swift and Jonas dated for about three months and broke up over a 25-second phone call. She wrote songs like 'Forever & Always', 'Last Kiss', 'Better Than Revenge' and 'Mr. Perfectly Fine' about him.
Lucas Till (March 2009 - April 2009): Till co-starred with Swift in her music video for 'You Belong With Me' and dated her for a short while.
Taylor Lautner (August 2009 - December 2009): Swift and Lautner met on the set of Valentine's Day. They dated for a few months, and she allegedly wrote 'Back to December' as an apology to him.
John Mayer (November 2009 - February 2010): Swift and Mayer collaborated on the song 'Half of My Heart' and had a brief romance. After a messy breakup, she wrote 'Dear John' as a letter to him.

John Mayer and Taylor Swift in 2009. Picture: Getty

Jake Gyllenhaal (October 2010 - January 2011): Swift and Gyllenhaal had a short romance that ended abruptly. She wrote several songs about him, including 'All Too Well', 'We Are Never Ever Getting Back Together', 'The Last Time', 'I Almost Do' and 'The Moment I Knew'.
Conor Kennedy (July 2012 - October 2012): Swift and Kennedy, the grandson of Robert F Kennedy, had a summer romance fling that reportedly ended due to distance and busy schedules. She wrote 'Begin Again', 'Everything Has Changed' and 'Starlight' about him.

Taylor Swift with Calvin Harris in 2015. Picture: Getty

Harry Styles (December 2012 - January 2013): Swift and Styles dated for a month. She wrote songs like 'I Knew You Were Trouble', 'Style', 'Out of the Woods', 'Wildest Dreams' and 'Two Ghosts'.
Calvin Harris (March 2015 - June 2016): Taylor dated the Scottish DJ for over a year. They fell out over their collaboration 'This Is What You Came For'. She wrote songs like 'I Did Something Bad', 'Getaway Car', 'Dancing With Our Hands Tied' and 'Call It What You Want' about him.
Tom Hiddleston (June 2016 - September 2016): Taylor dated the British actor in a relationship that was highly publicized at the time. She wrote songs like 'Gorgeous', 'King of My Heart', 'So It Goes' and 'Ready For It?' about him.
Joe Alwyn (May 2016 - May 2023): Her longest relationship lasted for seven years, but remained low-key throughout. She wrote songs like 'Delicate', 'Lover', 'London Boy', 'Cornelia Street', 'Invisible String', 'Willow' and others about him.

How did Taylor Swift get her start in music?

Taylor Swift - Tim McGraw

Taylor Swift began her music career at a young age, showing an interest in singing and songwriting when she was a child.

She performed at various local events and sang the national anthem at a basketball game when she was 11. She also learned to play the guitar and wrote her own songs when she was 12.

Taylor was inspired by country music artists such as Shania Twain and the Dixie Chicks, and she wanted to pursue a career in Nashville, the country music capital. When she was 13, her family moved to Hendersonville, Tennessee, so that she could be closer to the music industry.

She caught the attention of Scott Borchetta, the founder of Big Machine Records, after performing at The Bluebird Café in Nashville. She signed a contract with his label and released her first single, 'Tim McGraw', in 2006.

What are Taylor Swift's most famous songs?

Taylor Swift - We Are Never Ever Getting Back Together

As of summer 2023, Taylor Swift has released 13 studio albums and has had many hit songs to her name, including:

Look What You Made Me Do (2017): The lead single from Reputation, this song marked a darker and edgier turn for Taylor, as she declared her old self dead and took aim at her enemies and critics.
Wildest Dreams (2015): The fifth single from 1989, this song is a dreamy synth-pop ballad that depicts a doomed romance that Taylor wants to remember in the best possible way.
Bad Blood (2015): The fourth single from 1989, this song is a fiery pop-rock anthem that features rapper Kendrick Lamar on the remix. It was widely speculated to be about Taylor's feud with fellow pop star Katy Perry.
Shake It Off (2014): The lead single from 1989, this song is an upbeat dance-pop track that showcases Taylor's ability to shrug off the haters and the rumours and have fun.
Blank Space (2014): The second single from 1989, this song is a satirical pop song that plays with Taylor's media image as a serial dater and a supposed heartbreaker. It was one of her biggest hits, topping the Billboard Hot 100 for seven weeks.

Taylor Swift - You Belong With Me

We Are Never Ever Getting Back Together (2012): The lead single from Red, this song is a catchy pop-rock tune that expresses Taylor's frustration with an ex who keeps coming back to her. It was her first song to reach number one on the Billboard Hot 100.
Mean (2010): The third single from Speak Now, this song is a defiant country-pop song that addresses Taylor's critics and bullies, especially a music blogger who harshly criticized her vocal performance at the 2010 Grammy Awards.
You Belong With Me (2008): The third single from Fearless, this song is a pop-rock song that tells the story of a girl who has a crush on her friend who is dating someone else. It was one of Swift's breakthrough hits, reaching number two on the Billboard Hot 100.
Love Story (2008): The lead single from Fearless, this song is a romantic country-pop song that reimagines the story of Romeo and Juliet with a happy ending. It was Taylor's first international hit, reaching number one in several countries and becoming one of the best-selling singles of all time.
Cardigan (2020): The lead single from Folklore, this song is an indie-folk song that explores a nostalgic and complicated love triangle from the perspective of a woman who feels betrayed by her lover. It debuted at number one on the Billboard Hot 100, making Taylor the first artist to debut at number one on both the Hot 100 and the Billboard 200 albums chart simultaneously.
Anti-Hero (2022): The lead single from Midnights, this song is an electro-pop song that celebrates Taylor's rebellious side and her freedom from expectations. It became her third number-one debut on the Billboard Hot 100 in less than two years.

What is Taylor Swift's net worth?

According to various sources, Taylor Swift's net worth is estimated to be between $400 million and $740 million as of 2023.

She is one of the most successful singers in the world, having sold over 200 million albums, and she also has a sprawling real estate portfolio and owns two Dassault private jets.

How tall is Taylor Swift?

Taylor Swift's height is reported to be about 5ft 10in (178 cm), making her one of the tallest female singers in the music industry.

She used to be insecure about her height when she was younger, but now she embraces it and wears heels confidently. She also doesn't mind dating people who are shorter than her.

She has also joked about being a "beautiful giraffe" and being taller than her friends and some of her boyfriends. She has also compared herself to an elf from The Hobbit.

"I didn't like being tall when I would walk up to a group of girls, and they were all a head shorter than me," the singer once told Girl's Life.

"When I can put on a pair of four-inch-heels and walk into a room and be taller than everybody else, now I look at it as a good thing," she said.