Songs with a boy's name in the title: A handy list
20 April 2022, 13:50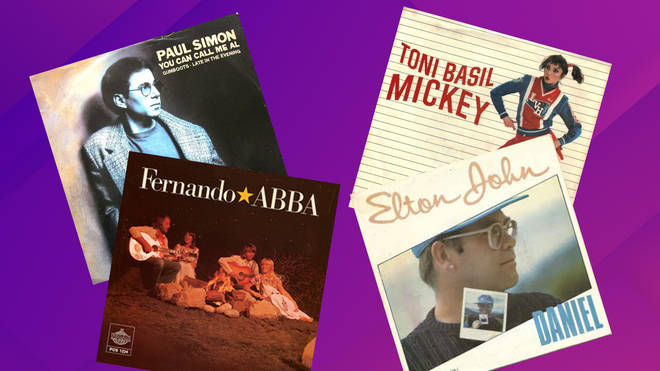 There have been many songs over the years dedicated to men or boys, but how many of them have actually got a boy's anme in the title?
Whether you're looking for a song dedicated to a certain someone (or yourself), or simply need to complete the latest 30-Day Song Challenge, here's a handy list for you all.
And if you're looking for girl's names, head here!
Christopher Cross - 'Arthur's Theme'

Dionne Warwick / Cilla Black - 'Alfie'

Blink-182 - 'Adam's Song'

Lady Gaga - 'Alejandro'

Brotherhood of Man - 'Angelo'

Jim Croce - 'Bad, Bad, Leroy Brown'

Michael Jackson - 'Ben'

Paper Lace - 'Billy Don't Be a Hero'

Rednex - 'Cotton Eye Joe'

Elton John - 'Daniel'

Robbie Williams - 'David's Song'

Taylor Swift - 'Dear John'

Blondie - 'Denis'

ABBA - 'Fernando'

Sister Sledge - 'Frankie'

Robert Palmer - 'Johnny and Mary'

Jimi Hendrix - 'Hey Joe'

The Beatles - 'Hey Jude'

Ray Charles - 'Hit the Road Jack'

Sham 69 - 'Hurry Up Harry'

Pearl Jam - 'Jeremy'

Rick Springfield - 'Jessie's Girl'

Jilted John - 'Jilted John'

David Bowie - 'John, I'm Only Dancing'

Chuck Berry - 'Johnny B Goode'

Fine Young Cannibals - 'Johnny Come Home'

John Leyton - 'Johnny Remember Me'

Rolling Stones - 'Jumpin' Jack Flash'

The Kingsmen - 'Louie Louie'

Modern Talking - 'Brother Louie'

XTC - 'Making Plans for Nigel'

Cat Stevens - 'Matthew and Son'

Toni Basil - 'Mickey'

Elvis Costello - 'Oliver's Army'

Bernard Cribbins - 'Right Said Fred'

Elton John - 'Song for Guy'

Eminem - 'Stan'

James Taylor - 'Sweet Baby James'

Rod Stewart - 'The Killing of Georgie'

Suzanne Vega - 'Tom's Diner'

Don McLean - 'Vincent'

REM - 'What's the Frequency, Kenneth?'

Busted - 'Who's David?'

The Hoosiers - 'Worried About Ray'

Paul Simon - 'You Can Call Me Al'

Jim Croce - 'You Don't Mess Around with Jim'