The 10 greatest trip-hop bands of all time
22 February 2023, 11:52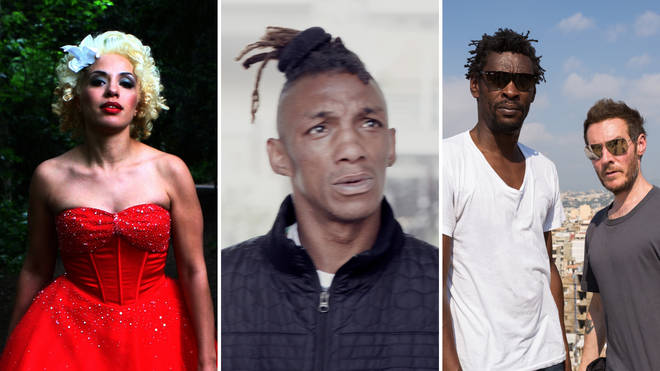 Trip-hop emerged in the 1990s as a leading force of downtempo electronic music.
Originating largely in Bristol in the early 1990s, trip-hop has been described as a psychedelic mix of hip-hop and electronica, with slower tempos and an atmospheric style. It also uses elements of jazz, soul, funk, reggae, R&B, and other genres, as well as often sampling film soundtracks and other sources.
Trip-hop was first coined by Mixmag, and it soon had commercial success by the second half of the decade.
From its pioneers of the '90s to the artists they influenced, here are the greatest trip-hop artists:
Morcheeba

Formed in the mid-1990s with singer Skye Edwards and brothers Paul and Ross Godfrey, Morcheeba emerged with sublime influences of rock, folk and downtempo, becoming a leading force in the trip-hop movement, starting with 1996's Who Can You Trust?

They have released 10 studio albums since 1995, with the latest being 2021's Blackest Blue.

Although they have moved on to other genres since their early trip-hop days, they still must be counted as one of the genre's greatest acts.

Sneaker Pimps

Formed in Hartlepool in 1994, Sneaker Pimps' debut album, Becoming X was a seminal trip-hop LP in 1996.

Best known for the single '6 Underground', the band takes its name from an article the Beastie Boys published in their Grand Royal magazine about a man they hired to track down classic sneakers.

The band was created by electronic musician Liam Howe and guitarist Chris Corner, and then later recruited singer Kelli Ali (then known as Kelli Dayton).

After a long hiatus, the group returned with Howe and Corner in 2016, and they finally started releasing new music in 2021.

Little Dragon

Swedish band Little Dragon hail from Gothenburg, having formed in 1996.

The band currently consists of singer Yukimi Nagano, Erik Bodin (drums), Fredrik Wallin (bass) and Håkan Wirenstrand (keyboards).

Their first release was the incredible single 'Twice' in 2006, and they brought out their debut album a year later.

Nagano was in her first year in high school when she met seniors Wallin and Bodin. The three of them would meet up after school to jam and play records, and their band name was inspired by the 'Little Dragon' nickname Nagano earned due to the "fuming tantrums" she used to throw while in the studio.

UNKLE

UNKLE was founded in 1992 by James Lavelle.

In 1997, Lavelle brought in DJ Shadow to work on his debut album, which was released a year later. The album featured collaborations with the likes of Thom Yorke (Radiohead), Mark Hollis (Talk Talk), Mike D (Beastie Boys), Badly Drawn Boy and Richard Ashcroft (The Verve).

UNKLE as an outfit still exists today, though Lavelle has featured various incarnations of the collective, hiring a wide range of guest musicians and producers along the way.

His most recent studio album release with 2017's The Road: Part 1.

Martina Topley-Bird

English singer and multi-instrumentalist Martina Topley-Bird first found fame when she featured on Tricky's debut album, Maxinquaye in 1995.

She also worked with him on his subsequent albums Nearly God and Pre-Millennium Tension, and then in 2003, she released her debut solo album Quixotic. The album was a critical hit and earned her a Mercury Prize nomination.

She has since worked with the likes of Gorillaz, Diplo and Massive Attack among others, and her track 'Sandpaper Kisses' has been covered Stephen Marley and sampled by The Weeknd.

Lamb

Electronic music duo Lamb formed in 1996 in Manchester, and consist of producer Andy Barlow and singer-songwriter Lou Rhodes. Rhodes' distinctive vocals gave them a uniquely beautiful sound, and no doubt inspired the likes of The Knife and Goldfrapp.

Their brand of trip-hop is also influenced drum and bass and jazz, and are best known for their singles 'Górecki' and 'Gabriel'.

Despite a hiatus in the 2000s, they have continued to release music, with their most recent being 2019's The Secret of Letting Go.

DJ Shadow

Speaking of DJ Shadow...

Joshua Davis is an American DJ, songwriter and record producer, known for his famous alter ego. His debut studio album, Endtroducing..... was released in 1996.

DJ Shadow's music often involves manipulating samples, bringing in rare pieces of music and sound clips, from all kinds of genres, particularly on his early albums.

His most recent LP was the double album Our Pathetic Age in 2021.

Portishead

Portishead - named after the place in Somerset, formed in 1991 in Bristol. Comprising of singer Beth Gibbons, producer Geoff Barrow, and musician Adrian Utley, engineer Dave McDonald is also sometimes credited as the fourth member.

Their 1994 album Dummy brought together hip-hop production with emotive vocals from Gibbons, creating a particularly atmospheric and cinematic sound. It was one of the albums that defined trip-hop as a growing genre.

Portishead themselves have disliked being associated with the genre, and would later move away from the sound on later albums.

Tricky

British artist Tricky was raised in Bristol, and began his career as an early member of Massive Attack.

He soon began a solo career with his debut album, Maxinquaye, in 1995. It instantly won him huge critical acclaim, and he released four more studio albums before the end of the decade. His most recent album was 2020's Fall to Pieces.

Tricky is considered a pioneer of trip-hop, with his style known for being often dark in tone, and blending cultural influences and genres, such as hip-hop, rock and reggae.

Massive Attack

Trip-hop pioneers Massive Attack formed in 1988 in Bristol, led by Robert '3D' Del Naja, Adrian 'Tricky' Thaws, Andrew 'Mushroom' Vowles and Grant 'Daddy G' Marshall.

Their debut album Blue Lines was released in 1991, with the single 'Unfinished Sympathy' considered one of the greatest songs of all time, let alone trip-hop.

1998's Mezzanine - containing the classic track 'Teardrop') and 2003's 100th Window were also UK number ones.

They have won various awards of the years, and have sold over 13 million copies worldwide.

Like Portishead, they have never been a massive fan of the 'trip hop' label. Daddy G said in 2006: "We used to hate that terminology [trip-hop] so bad. You know, as far we were concerned, Massive Attack music was unique, so to put it in a box was to pigeonhole it and to say, 'Right, we know where you guys are coming from."