Jelly Roll facts: Country singer's age, real name, songs, wife and career explained
6 November 2023, 16:08 | Updated: 8 November 2023, 18:19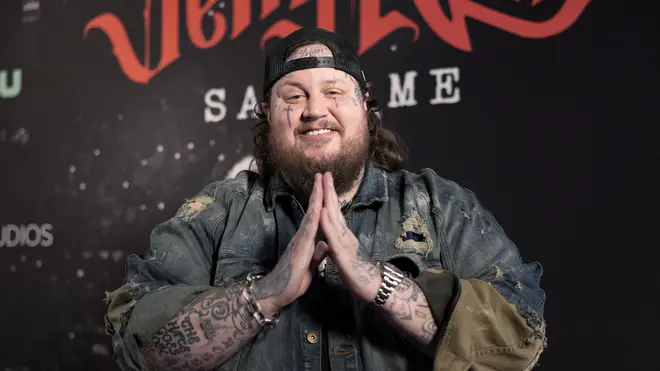 Jelly Roll is a rapper and singer/songwriter who has overcome many challenges and obstacles in his life to become a successful and versatile artist.
He started rapping at a young age, influenced by Southern hip-hop legends like Three 6 Mafia, UGK, and 8Ball & MJG.
He sold his mixtapes out of his car and collaborated with other underground rappers like Lil Wyte and Haystak. However, he also faced legal troubles, drug addiction, and personal issues that threatened to derail his career.
Here we look at Jelly Roll's life story, from his humble beginnings to his rise to fame, and his transition from hip-hop to country music.
How old is Jelly Roll and where was he born?

Jelly Roll was born on December 4, 1986. He was born in Nashville, Tennessee, USA, and grew up in the Antioch neighbourhood.

His real name is Jason DeFord. He said his stage name came from his mother. She gave it to him when he was a young and "chubby kid," and it has stuck ever since.

His father, Buddy DeFord, was known for being a salesman and a prominent liberal who instilled in Jelly Roll the importance of battling racism. Buddy was not only Jelly Roll's father but also his best friend and continued to guide him until he passed away in 2019, after a battle with leukaemia.

Jelly Roll's mother faced the challenges of divorce and raising three children on her own, but she was instrumental in fostering Jelly Roll's love for music.

As for siblings, Jelly Roll has two brothers, Scott DeFord and Roger DeFord, and a sister, Shelby DeFord.

How did Jelly Roll get into country music?

Jelly Roll. Picture: Getty

Jelly Roll transitioned into country music by incorporating elements of country, blues, and rock into his music.

He began his career as a rapper in the hip-hop scene but later started experimenting with different genres. Jelly Roll's musical style evolved over the years, allowing him to blend his rap background with country influences.

His ability to fuse various musical styles, heartfelt lyrics, and authentic storytelling contributed to his acceptance in the country music community. Jelly Roll's crossover appeal and unique sound helped him connect with a broader audience, allowing him to gain recognition in the country music industry.

Through his versatility and genuine approach to music, he successfully made a name for himself in both the hip-hop and country music scenes.

Was Jelly Roll in prison?

Jelly Roll has been open about his past struggles with addiction and legal issues. He has mentioned in interviews and his music that he spent time in prison.

However, the specific details about the duration and exact periods of his incarceration are not widely disclosed in the public domain.

Jelly Roll has used his experiences, including his time in prison, as inspiration for his music, often addressing themes of redemption, struggle, and personal growth in his songs.

What are Jelly Roll's most famous songs?

Jelly Roll - Bottle And Mary Jane - Official Music Video

Some of his most well-known songs include:

"Save Me" - This song became one of Jelly Roll's most popular tracks, showcasing his emotional depth and powerful storytelling.
"Ridin' All Alone" - Known for its soulful vibe and heartfelt lyrics, this song resonated with many listeners.
"Nothing Left At All" - Another emotionally charged track that garnered attention for its raw and honest lyrics.
"Wheels Fall Off" - This song highlights Jelly Roll's ability to blend rap and country influences, capturing the struggles he faced in life.
"I Need You" - A collaboration with artist Struggle Jennings, this song combines their talents and storytelling abilities.
"Can't You See" - A cover of the classic Marshall Tucker Band song, Jelly Roll's rendition showcased his musical versatility and gained popularity among fans.

Who is Jelly Roll's wife and does he have kids?

Jelly Roll with daughter Bailee and wife Bunnie. Picture: Getty

Jelly Roll's wife is Bunnie DeFord, also known as Bunnie XO. She is a model, influencer, and entrepreneur who has over 1.5 million followers on Instagram.

She met Jelly Roll while he was on tour in Las Vegas, and they fell in love and got married. She has been very supportive of Jelly Roll's music career and often appears in his music videos and concerts. She also has a YouTube channel where she posts vlogs, pranks, and challenges with Jelly Roll and their family.

Jelly Roll has two children from previous relationships: Noah and Bailee. Noah was born in 2016 and is also a musician. Bailee was born in 2008.

Family Time- Noah Buddy DeFord and Bailee Ann DeFord! She's so happy to be a big sister! I've seen it all and nothing compares to this!

Posted by Jelly Roll on Friday, August 26, 2016