Ward Thomas interview: British sisters on how big family changes inspired new album
3 March 2023, 09:30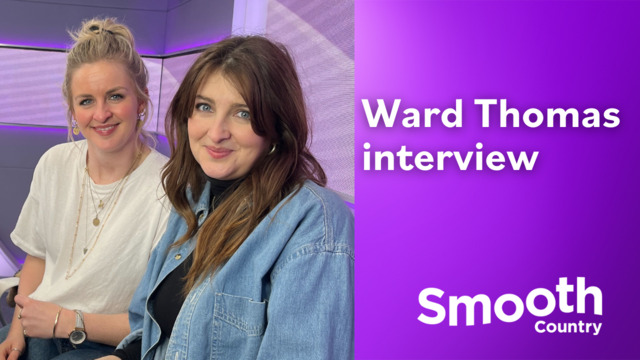 Ward Thomas interview: Duo talk starting families and how they fell in love with country music
Ward Thomas have established themselves as one of the leading British country artists of the last decade.
The British duo - consisting of twin sisters Catherine and Lizzy Ward Thomas - hail from Petersfield, Hampshire, and are back with their fifth studio album in 2023.
Music in the Madness is released on March 10, and features the singles 'Loved by You', 'Next to You' and the album's title track.
Catherine got married last year, and is now pregnant with her first child. The duo spoke to Smooth Country's Eamonn Kelly about how such big changes helped inspire their new music.
Watch the full interview above.
Talking about the album's final track 'Flower Crowns', Catherine said: "We always save the last track on the album for a very sentimental moment. And that song, I got married in May...
"And it's very much about when you have a very close relationship with your sister and one of them is getting married, it's a huge transition.
"I mean, it hasn't really changed anything, really, in hindsight, but before, the lead up was very much like, we're going to have a different family name. Now it's all very different. And we've obviously been flower girls many a times in other people's weddings, as the two sweet little girls dressed in little white dresses."
Lizzy added: "And as twin sisters, you just have your whole life, like, from when you're just born into this world. You're literally linked from day one. So that song was all about the kind of, transition period.
"Making the album Music in The Madness has actually been one of our favourite processes, because the world is going crazy and a lot has been going on in the last three years. Quite a lot. And so that's why we named this album Music In The Madness, because a lot of the songs followed a similar theme and it's just all about finding the light and the music in the chaos, and so that's what it's all about."
Ward Thomas - Music In The Madness - Official Video
The duo also spoke of how they first discovered their love of country music as two sisters growing up in rural Hampshire.
Lizzy explained: "We grew up in a very rural background, so I think we were kind of naturally surrounded by the countryside animals or random kind of farm animals, and it just sat with us naturally."
"It's a storytelling thing as well," Catherine added. "We would love to go to the pub and bring a guitar and force all of the locals to listen to us. So it's always nice to sing this kind of songs that promote that authentic and joining in.
"Like the amount of times we've had a drunken country road sing along at the pub. So it's very much become a natural. It became natural from an early age and we didn't really consciously know that that's where we wanted to go. It was just when we started writing, they sounded very country and we felt like we belonged in it."
Ward Thomas will head out on tour in March to support their new album. Get tickets here.