Adam Ant facts: Singer's age, wife, children, songs and career revealed
26 December 2022, 18:52 | Updated: 27 December 2022, 13:24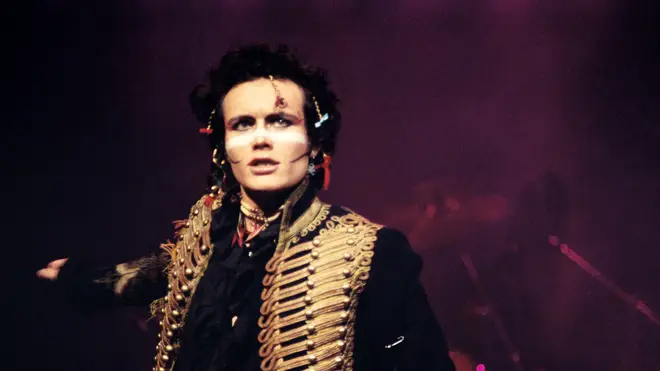 Adam Ant was one of the biggest popstars at the turn of the 1980s.
The English singer emerged as the lead singer of new wave group Adam and the Ants, and later as a solo artist.
He scored 10 UK top 10 hits from 1980 to 1983, including three UK number one singles: 'Stand and Deliver', 'Prince Charming' and 'Goody Two Shoes'.
From 1977 to 1982 he performed with Adam and the Ants. After approaching producer Malcolm McLaren to manage his band, McLaren instead took his backing band to form the group Bow Wow Wow. Adam started again with new members, and found huge success with his second album Kings of the Wild Frontier in 1980.
In 1982, he quit the group for a solo career, keeping only Marco Pirroni as a bandmember and co-songwriter.
By the end of the decade, his popularity had waned, and he later focused on an acting career, performing on stage and in film and TV roles.
Since 2010, Adam Ant has continued to perform live and release music. His most recent album was 2013's Adam Ant Is the Blueblack Hussar in Marrying the Gunner's Daughter.
How old is Adam Ant and what is his real name?

Adam Ant performing in 2016. Picture: Getty

Born Stuart Leslie Goddard, Adam Ant was born on November 3, 1954. He celebrated his 68th birthday in 2022.

He was born in Marylebone, London, and was the only child of parents Leslie Alfred Goddard and Betty Kathleen Smith.

His father had been in the Royal Air Force and worked as a chauffeur, while his mother was an embroiderer for Norman Hartnell.

His parents divorced when Adam was seven, and his mother supported him by working as a cleaner, and briefly employed by Paul McCartney.

Why and when did he choose the name Adam Ant?

Adam Ant in 1981. Picture: Getty

Adam Ant has said that the idea of his stage persona and name came about after watching the Sex Pistols play their first gig in 1975.

"After seeing the Pistols, I wanted to do something different, be someone else, but couldn't work out what and who," he said.

He renamed himself Adam Ant, because "I really knew I wanted to be Adam, because Adam was the first man. Ant I chose because, if there's a nuclear explosion, the ants will survive".

Is Adam Ant married and does he have children?

Adam & The Ants - Stand And Deliver (Video)

Adam Ant married Carol Mills in 1975, while they were still students at Hornsey College of Art.

They divorced in 1982.

He previously dated actresses Amanda Donohoe between 1977 and 1981, Jamie Lee Curtis in 1983 and Heather Graham in the early 1990s.

In 1997, Adam married Lorraine Gibson, a 25-year-old PR assistant for Vivienne Westwood.

A year later, the couple had a daughter, Lily Caitlin Goddard. The couple divorced in 2002.

What are Adam Ant's biggest songs?

Adam & The Ants - Prince Charming

Among Adam Ant's most famous songs are:

Prince Charming
Stand and Deliver
Antmusic
Ant Rap
Kings of the Wild Frontier
Goody Two Shoes
Friend or Foe