Aretha Franklin: Elton John, Adele and Barbra Streisand lead tributes to the Queen of Soul
16 August 2018, 15:37 | Updated: 16 August 2018, 17:14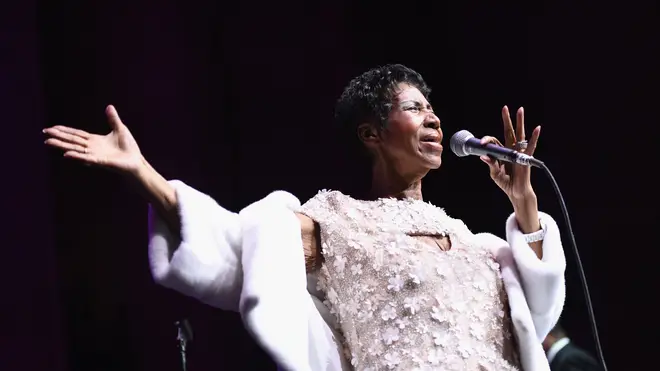 Sir Elton John and Barbra Streisand are among the stars to have paid tribute to the Queen of Soul.
Aretha Franklin passed away today (August 16) at the age of 76 at her home in Detroit.
Many of her famous fans from stage and screen have paid their respects online shortly after the sad news was announced.
8 of Aretha Franklin's greatest ever songs
Sir Elton John led the tributes on Instagram, writing: "The loss of Aretha Franklin is a blow for everybody who loves real music.
"Music from the heart, the soul and the church. Her voice was unique, her piano playing underrated... I adored her and worshipped her talent. God bless her. My condolences to all her family and friends."
Clive Davis, who was Aretha's longtime friend and producer, wrote: "I'm absolutely devastated by Aretha's passing.
"She was truly one of a kind. She was more than the Queen of Soul. She was a national treasure to be cherished by every generation throughout the world.
"Apart from our long professional relationship, Aretha was my friend.  Her loss is deeply profound and my heart is full of sadness.
Carole King, who wrote Aretha's classic track 'Natural Woman', tweeted: "What a life. What a legacy!".
Annie Lennox said: "She has reigned supreme. and will always be held in the highest firmament of stars as the most exceptional vocalist, performer and recording artist the world has ever been privileged to witness.
"Superlatives are often used to describe astonishing artists, but in my view even superlatives seem insufficient."
5 of Aretha Franklin's greatest ever live performances, from 'Nessun Dorma' to 'Natural Woman'
Adele also posted about how much of a huge fan she was of Aretha, writing: "I can't remember a day of my life without Aretha Franklin's voice and music filling up my heart with so much joy and sadness. Absolutely heartbroken she's gone, what a woman. Thank you for everything, the melodies and the movements."
Barbra Streisand also posted a photo of the two of them together, saying: "It's difficult to conceive of a world without her. Not only was she a uniquely brilliant singer, but her commitment to civil rights made an indelible impact on the world."
Here are a handful of other heartfelt Aretha tributes from the entertainment world:
Let's all take a moment to give thanks for the beautiful life of Aretha Franklin, the Queen of our souls, who inspired us all for many many years. She will be missed but the memory of her greatness as a musician and a fine human being will live with us forever. Love Paul pic.twitter.com/jW4Gpwfdts

— Paul McCartney (@PaulMcCartney) August 16, 2018
We have lost the greatest singer of our time. As a songwriter, I know personally how meaningful a gifted interpreter of material can be.

No one can replace her.

- Billy Joel pic.twitter.com/7QZQ1IzSD8

— Billy Joel (@billyjoel) August 16, 2018
One of the highlights of my career was singing with #ArethaFranklin at The Tony Awards. It was an out of body experience for me. One of greatest singers of all time. You will be missed by all. https://t.co/L8dIIhyR9Y

— Hugh Jackman (@RealHughJackman) August 16, 2018
Today we have lost one of the greatest. She will always be remembered and admired. Aretha Franklin, rest in peace. We love you.

— Ricky Martin (@ricky_martin) August 16, 2018
Aretha was such a timeless inspiration to me and so many others, the ultimate queen, thank you for the gift of your voice, music and unshakeable soul 🙏🏼 pic.twitter.com/me3FXBY4WZ

— Christina Aguilera (@xtina) August 16, 2018
Thank you for all the music and all those beautiful notes that inspired me growing up and all through my life. Rip my love to her family. Thank you for sharing her with us. ❤️❤️❤️❤️❤️ https://t.co/4nvIHvAJNv

— Cyndi Lauper (@cyndilauper) August 16, 2018