Who is Blobbie Williams? A guide to the Robbie Williams tribute act and X Factor hopeful
30 August 2018, 14:36
As tribute acts go, this one of the most amusing.
Blobbie Williams - aka Tony James - is one of the world's leading Robbie Williams tribute acts, and he makes a triumphant appearance during this year's X Factor, where his famous and thinner counterpart is a judge.
When Robbie came face to face with Blobbie, he told him: "It's like a before and before shot. Since we spoke, you're the reason I haven't eaten a carb in the last three weeks.
"That should have been way more uncomfortable for me but maybe I'm as narcissistic as people say. I love that you make a living impersonating me. I'm a big fan of yours, you're a beautiful man. Now we need Blobbie Sheeran, Blobbie Drake and maybe Blobbie Gaga!"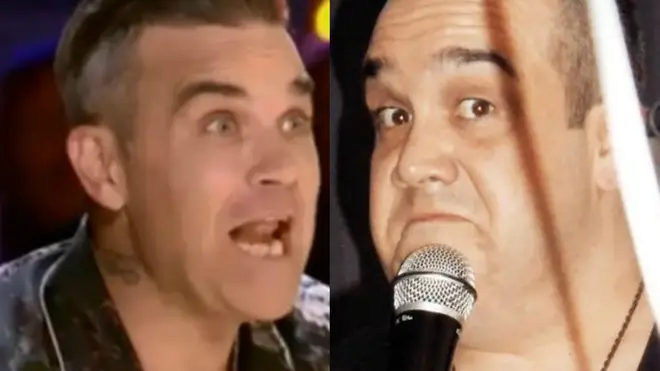 "Blobbie Williams looked eerily like my husband, I'm not going to lie," said Robbie's wife Ayda Field. "It was like looking into the future; if he has a year of pies then this is now my husband, Blobbie."
Tony describes himself as 'the Heavyweight King of Pop and Comedy' and is also member of Take Fat. His recent tour was brilliantly named The Heavier Entertainment Show.
You can also book Blobbie for gigs and events via his official website. Good luck, Tony!