Brian May brings back iconic guitar solo in new mental health charity single with King's Daughters - watch now
18 April 2020, 17:38 | Updated: 18 April 2020, 17:56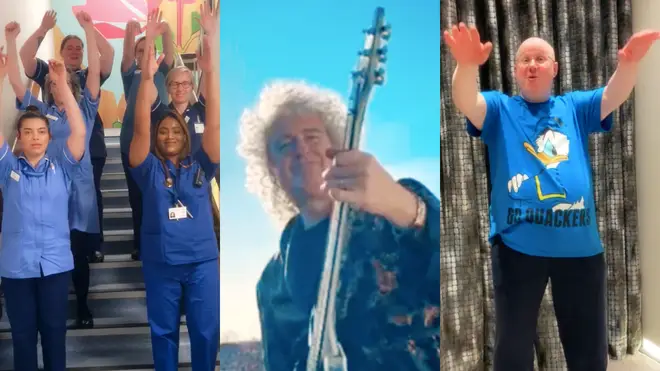 Brian May has teamed up with girlband King's Daughters for a new charity single focusing on helping people's mental health amid the coronavirus pandemic.
The legendary Queen guitarist emulated his iconic 2002 Buckingham Palace guitar solo for the new song with Kings Daughters.
May performed the famous guitar solo of 'God Save The Queen' during Queen Elizabeth II's Golden Jubilee 18 years ago, and he brought back the essence of the routine in a new song intended to help people get through the coronavirus pandemic.
Brian and Kings Daughters recorded 'Get Up', with a video that sees the 72-year-old rock legend on the rooftop of his home in Kensington.
Watch the video below:
GET UP by KINGS DAUGHTERS *feat. Brian May (Official Music Video)
Speaking about the current situation the world is facing, he said: "It's tough and I think we deal with it, most of the time. Then we get odd moments when we really start to feel like caged animals and feel like there's no hope. And that's when you need a bit of music to pick you up."
He added that he 'Get Up' will help "heal" people who feel on their own due to the lockdown that is keeping people at home.
"Music is a great healer. So I'm hoping that this song will be such a thing, you know it'll actually pick people up when they're on the brink."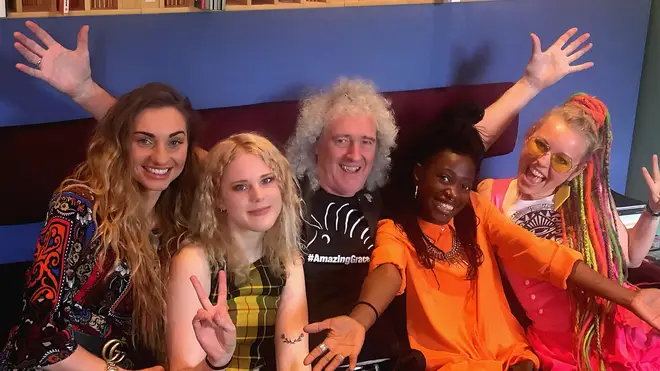 'Get Up' – which was produced by Brian - was released on Wednesday. 10% of each purchase will go to mental health charity Mind.
The video also sees King's Daughters and lead singer Talia Dean, who co-wrote the song with May. Talia was a contestant on The X Factor in 2017.
Brian and King's Daughters invited the world to star in the music video, and within two weeks, people 44 countries had sent in videos of themselves performing the 'Get Up' dance move.
The clip also features a special cameo from Matt Lucas, who recently teamed up with Brian for a duet on Matt's charity song 'Thank You Baked Potato'.
Brian and King's Daughters become the first act to create a music video from lockdown, as they invited the world to 'Get Up' and dance in the video to spread positivity.