Cats movie: Taylor Swift and Andrew Lloyd Webber have written a new song together
25 October 2019, 11:00 | Updated: 25 October 2019, 15:32
Taylor Swift has written a brand new song to be played during the end credits of the upcoming Cats movie adaptation.
The upcoming movie update of the 1981 musical Cats will feature the song 'Beautiful Ghosts', co-written by Taylor and the musical's composer Lord Andrew Lloyd Webber.
You can hear a clip of the song in the behind-the-scenes video above.
'Beautiful Ghosts' will be the only new song that was written especially for the movie, and was composed with the protagonist Victoria (played by Francesca Hayward) in mind.
Also known as the White Cat, the character in the original musical had no solo singing parts.
"When I first read the screenplay and it seems the film is seen through Victoria's eyes, first thing I said was, 'We have to have a song for Victoria,'" Lloyd Webber said.
"It's an incredibly important, central part of the whole film."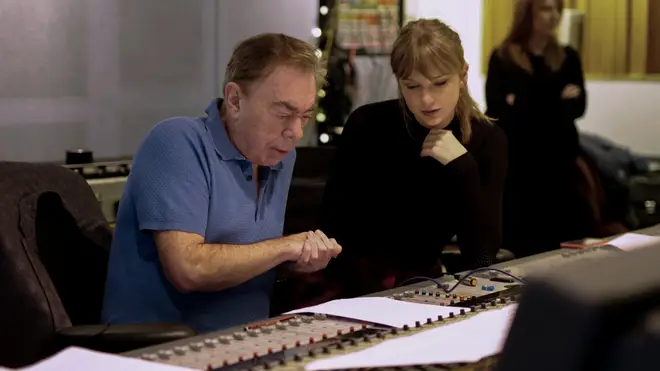 'Beautiful Ghosts' will be sung twice in the film: Once by Hayward, and in a brief reprise by Dame Judi Dench as Old Deuteronomy. Swift's version will then play over the end credits.
The song was mostly written "pretty much over an afternoon", Lloyd Webber told Variety. Taylor visited him during the movie's filming, aiming to practice for her performance of 'Macavity the Mystery Cat', as her character Bombalurina.
But when Lloyd Webber playeda an instrumental of another song he had written on the piano, Taylor came up with lyrics for what would end up as 'Beautiful Ghosts'.
Lloyd Webber praised the pop star, saying: "Taylor got to the essence of what the piece is about. It's not an ordinary lyric."
"What I couldn't believe was the extraordinary beauty of these lyrics that Taylor had written," Cats director Tom Hooper added.
"It was as if someone had come into the film I was in the middle of making and read the script and met the actors and seen the world, and reflected back to me a profound understanding of what we're trying to do with the movie. So, it was utterly thrilling."
Meanwhile, Cats will also star Jennifer Hudson, James Corden, Ian McKellen, Idris Elba, Rebel Wilson, Jason Derulo and others. It will be released at US and UK cinemas on December 20.