National Pet Day: 16 iconic stars and their pet love stories in pictures
11 April 2019, 10:59 | Updated: 11 April 2019, 12:45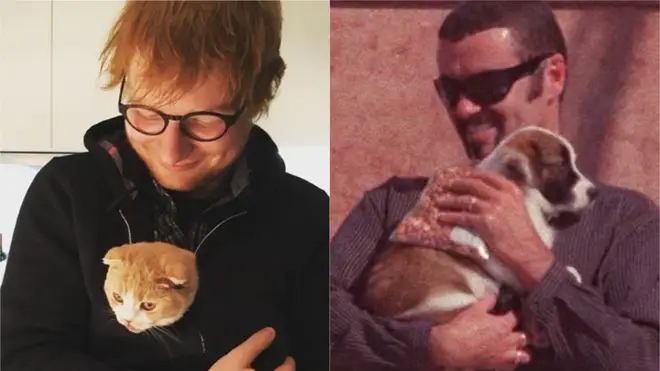 From rescuing stray dogs to puppies given to them by fans, stars have a long and loving history with their four-legged friends.
The celebrate today's (April 11) National Pet Day we bring you the most moving memories, from Freddy Mercury's love of cats to Keith Richards smuggling his beloved puppy through British customs.
Read on for more four-legged love stories of the stars.
Freddie Mercury

Freddie Mercury loved his cats so much that he had seperate bedrooms in his London home for each and would place long-distance calls to them while on tour.

Writing in his memoir of the singer, Freddie Mercury, The Queen star's personal assistant Peter Freestone said: "He'd get to a hotel, we'd dial through, and he really would talk to his cats."

"Mary (Austin) would hold Tom and Jerry in turn up to the receiver to listen to Freddie talking. This continued throughout the years with succeeding feline occupants of his houses."

Over the years Freddie had a total of 10 cats - among them Tiffany, Dorothy, Tom, Jerry, Delilah, Goliath, Lily, Miko, Oscar, and Romeo.

"His cats were his family," Peter confirmed, adding that each would have it's own christmas stocking filled with toys and treats.

Freddie Mercury and His Cats

George Michael

George Michael and his puppy, Pumkin.

Picture: Getty

George Michael spotted with his puppy Pumpkin in the Hollywood Hills, L.A in 1997.

George's last surviving pet, his beloved 15-year-old labrador called Abby, passed away in April 2018.

George's cousin Alex Georgiou, told Heart at the time: "People came from all over the world to see her and they would wait patiently until 4 o'clock for her walk as to not disturb her.

"She loved people and she was so gentle."

George Michael Dog Abby passed away

Sir Elton John

Sir Elton John's cherished cocker spaniel Arthur passed away in March 2018.

The pop icon announced the sad news while on stage in Las Vegas and dedicated his next song 'Don't Let The Sun Go Down On You' to his beloved dog.

Given to Elton on his 56th birthday, Arthur was a regular on red carpets, often seen accompanying Sir Elton to events around town.

Arthur was even rumoured to have been the ring bearer at Elton's wedding to partner David Furnish in 2014.

The Beatles

Both Paul McCartney and John Lennon reportedly owned cats called Jesus - no doubt a tongue in cheek reference to the uproar caused when John said the Beatles were "bigger than Jesus."

Lennon's first cat as a child was called Elvis Presley and later in life he had two pairs of cats, Salt and Pepper and some rescued strays Major and Minor.

Adele

Adele's "little doglet" a dachshund called Louie, was born on the evening Adele went to see Britney Spears live in concert at the O2 arena, resulting in him nearly being called Britney in her honour.

Eventually christened Louie, after Adele heard the hound howling to a Louis Armstrong record, the star has regularly claimed the sausage dog is "the love of her life."

Adele, Louie The Dog & Dangerous Dave

Elvis Presley

Elvis Presley Sings 'Hound Dog' To Hound Dog. Picture: Getty

Is there anything more heartwarming than Elvis pictured serenading a basset hound with the song 'Hound Dog'? No, we thought not.

Taking to the stage on the Steve Allen show in 1956, the superstar crooner was joined on stage by the bowler hat wearing hound. See below for the full video.

ELVIS PRESLEY on THE STEVE ALLEN SHOW 1956 "Hound Dog"

Robbie Williams

One Love Manchester Benefit Concert - Backstage. Picture: Getty

Robbie Williams' dog Wally is a constant companion in the singer's life.

Pictured above backstage at the One Love Manchester Benefit Concert, Wally regularly comes with Robbie to public events including on visits to TV studios across the UK.

Robbie lost his beloved dog Spencer in 2015 and has a menagerie of dogs at the London home he shares with wife Ayda Fields.

Robbie Williams | Vloggie Williams Episode #21

Ed Sheeran

Ed Sheeren's cats Calippo and Dorito have their own instagram account that is regularly updated by the singing star.

Ed's cats even got a mention when he announced to teh world that he was engaged to his now wife Cherry.

Writing on Instagram the 'Shape of You' singer said: "Got myself a fiancé just before new year. We are very happy and in love, and our cats are chuffed as well xx

Sir Rod Stewart

Rod's Dog. Picture: Getty

Rod's love of dogs is no secret.

A dog owner throughout his career, Rod's cavapoo was even given a starring role in a vow renewal ceremony with wife Penny Lancaster at their Essex home in 2017.

The dog Bubbles walked Penny down the aisle to meet Rod under a beech tree in the 45-acre grounds of the couple's home.

"He is the most adorable dog," Penny told Hello! Magazine as she was later pictured on the dance floor with Bubbles.

rod stewart his lovely dog

Michael Bublé

Since meeting his wife Luisana Lopilato, Michael has become a passionate dog lover, becoming heavily involved in charities that assist abandoned dogs.

When the couple would drive the streets of Buenos Aires Luisana would make Michael stop the car when they saw stray dogs: "She'd always say to me: 'Michael, they can't take care of themselves so they need people like us to take care of them,'" he said in 2014.

"'Get the dog, Mike. Come on. Pick him up and put him in the car.'"

Michael is now so involved in dog rescue that he is the part owner of company California-based company Dog for Dog. For every dog treat the firm sells, a similar item is donated to a dog shelter.

Michael Buble on the Paul O'Grady's FOR THE LOVE OF DOGS

Stevie Nicks

Stevie Nicks.

Picture: Getty

Stevie Nicks' beloved Yorkshire Terrier cross, Shulamith, passed away in 2016 after 17 years by the singer's side.

Stevie once described the pooch as her "life-partner puppy" and confirmed that the dog was named after 20th-century German painter of mysticism Sulamith Wulfing.

John Legend

Not satisfied with being a mere dog lover, in 2015 John Legend recorded a music video 'All Of Me' dedicated to the wedding of his two dogs Puddy and Pippa.

English Bulldog Puddy sadly died away in 2018 leading John's wife Chrissy Teigen to post a heartfelt tribute to the dog on her Instagram.

"John and I got Puddy in our first year of dating, when I convinced him half-birthday presents were a real thing.

"10 years ago, on May 30th, I found the dog that would be there for us through every up, down, new house, new city, new tour, new travel.

"He welcomed new pups and loved on new babies and new bellies," she wrote. "He was there for everything," she said.

"We are their entire lives and it is the greatest shame that they can only bless us with a short spark of time in ours.

"I always knew I would lose a piece of me when he left us."

John Legend - All of Me - Dog Wedding Music Video // Omaze

Sir Tom Jones

What's New Pussycats. Picture: Getty

Pictured in 1956, Tom Jones hold two of his beloved siamese cats.

One of them, called Elvis, was a dear companion to the Welsh singer, who became a great success in the USA in the last 1960's.

Jones's 1966 'What's New Pussycat' was nominated for an Academy Award for Best Original song and peaked at number three in the US charts.

Tom Jones - What s new pussycat

Keith Richards

Keith Richards.

Picture: Getty

Keith Richard's most famous pet was a sheltie called Ratbag, given to the star by a well-meaning fan while he was on tour in the USA in 1965.

Keith was immediately smitten and snuck the puppy through the U.K's famously strict customs, bringing him home to live at his farmhouse Redlands in West Sussex.

Steve McQueen

McQueen and his Dog. Picture: Getty

Steve McQueen may have had a tough image, but according to his son he was a softy when it came to dogs.

Speaking to GQ Magazine Chad said: "He's got such an image as a hard ass, but if you saw him with stray dogs and stuff – he was a really sensitive man.

"He'd come home from a bar with a little puppy that somebody had, that'd be our new dog."

Marlon Brando

Marlon Brando At Breakfast. Picture: Getty

Marlon Brando was photographed for Life Magazine in 1949, while staying at his grandmother's house in Van Nuys, California.

The smooth-haired dachshund was called 'Kurtze Beiner,' German for "Short Legs" and was Marlon's companion throughout his stay with his aunt and grandmother, while he was filming The Men in Hollywood.