Commuter sings incredible cover of Lady Gaga's 'Shallow' after prankster films 'finish the lyrics' game
21 February 2020, 17:08 | Updated: 21 February 2020, 17:11
Charlotte Awbery was stopped by Kevin Freshwater for one of his Facebook videos, and he never expected to hear such an amazing talent.
A viral video has shown how Kevin held out a microphone for Charlotte's face, telling her to 'finish the lyrics' to Bradley Cooper and Lady Gaga's duet 'Shallow' from A Star Is Born.
Charlotte quickly obliged and completely nailed the Oscar-winning song, singing the lyrics and impressing the prankster - and now millions of others - with her powerful voice.
Charlotte belted out the lyrics: "I'm off the deep end, watch as I dive in, I'll never meet the ground. Crash through the surface, where they can't hurt us, we're far from the shallow now."
Watch the moment above.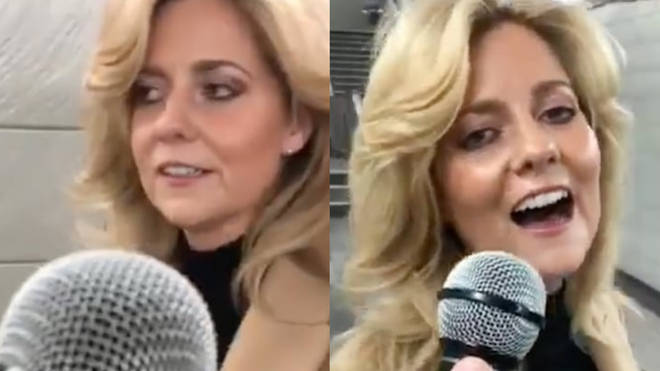 A surprised Kevin - who is an online content creator with over 5 million followers across his socials - said: "Wow. You're brilliant. Are you a singer? Oh my God you're amazing."
Charlotte then smiled and revealed she works as a wedding singer, before continuing her journey to the train with a coffee in her hand.
She has certainly benefitted from the video, with her Instagram followers jumping from 5,000 to over 40,000.
Who is Charlotte Awbery?
Charlotte's Instagram profile features various brilliant covers of tracks such as Prince's 'Purple Rain', Celine Dion's 'Love Is On The Way' and 'Never Enough' from The Greatest Showman.
A recent post sees her perform a stunning cover of 'Somewhere Over The Rainbow'.
There are also a number of videos of Charlotte performing songs on YouTube, such as this cover of Sia's 'Chandelier':
We need a duet with Lady Gaga pronto!