Freya Ridings interview: 'I'm so proud of my Peppa Pig star dad'
4 January 2019, 14:36
Freya Ridings had quite the amazing 2018...
The singer-songwriter from London scored a huge hit with her heartbreaking ballad 'Lost Without You', and she will soon release her long-awaited debut album in May.
Freya recently popped into the studio, where she chatted to Kate Garraway about her fantastic year, including how she first heard her song on Smooth.
"You were the first people to play my song," she told Kate. "It was crazy. It was the first time I had ever heard it on the radio, as well, and I freaked out.
"It was in a car. I was driving back from the airport, and I heard it for the first time. It was quite late at night, and I was like, a bit half asleep. I was a bit jetlagged. I was like, 'That's amazing!' People think I'm cool about it. I'm not. I'm not cool at all."
She added: "It's been a kind of slow-burner. Obviously, Love Island was when it went a bit crazy, but yeah, it's been a sort of snowball effect. Yeah – slow, but amazing."
Speaking about the story behind 'Lost Without You', Freya said it was about a real heartbreak: "I always write from personal experience, but I feel like with that song, it was kind of more of a stream of consciousness of what had actually happened, and it kind of came out fully formed.
"It was a more subconscious story that I just had to let out, because... It's just a way of dealing with it. That was the only way I could deal with it."
Teasing her self-titled debut album, she said: "I think it's a natural progression. Because I wanted the first songs that I put out to be authentically how I wrote them – like, sat at the piano, on my own. Which at the time was kind of a risk. Everyone was like, 'That's not something that anyone is doing or that you should do.'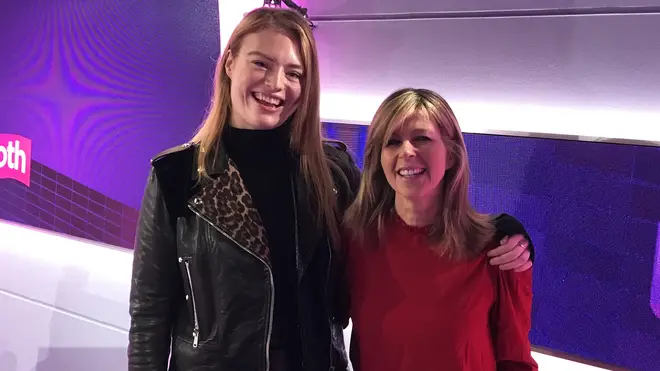 "I was so lucky to find a small indie label that accepted me for who I actually was, and they didn't ask me to change my name or hair or anything. They would just accept you. I think that's part of the reason why people are responding, because it's true. It's literally how I wrote the song.
"But the album, it's so exciting to get the things that I heard in my head when I was writing on my own – like the string parts and the gospel choirs in it. It's like, 'Oh, these things are coming true.' It's so surreal.
Freya also spoke about her famous father, the actor Richard Ridings, who currently voices Daddy Pig in children's favourite Peppa Pig.
Freya Ridings - Lost Without You (Official Video)
She said: "I was about 12 when he started doing the show, and I remember him coming home and being like, 'I'm working on this new cartoon. It's got pigs and a dinosaur.' I was like, 'That just sounds like it's never going to work.'
"But then at the same time, when I saw it, I was suddenly like, 'This is really funny.' And I really enjoyed watching it. As someone who wasn't the target age range, I was like, 'This is great. I'm really proud of my dad.'
"It makes little people so happy. That's just an incredible thing for my dad to do. I'm so proud."
Freya Ridings releases her debut album on May 31.