Rocketman music producer Giles Martin reveals the emotional reaction from Elton John
22 May 2019, 16:19 | Updated: 22 May 2019, 16:22
"Your father would be so proud".
Giles Martin has opened up about taking charge of the music for the long-awaited Elton John movie Rocketman.
The music producer - the son of legendary Beatles producer Sir George Martin - spoke to Smooth Radio about working with Sir Elton on his biopic, and how he went about reimagining some of his classic songs.
Giles told us about the importance of getting Elton's blessing, but also how the 'Rocket Man' star gave him some emotional words of encouragement, having worked with his late father on several occasions in the past.
"The three times I was in a studio with Elton [before Rocketman] was with my dad," he said. "Yeah, there's always emotion.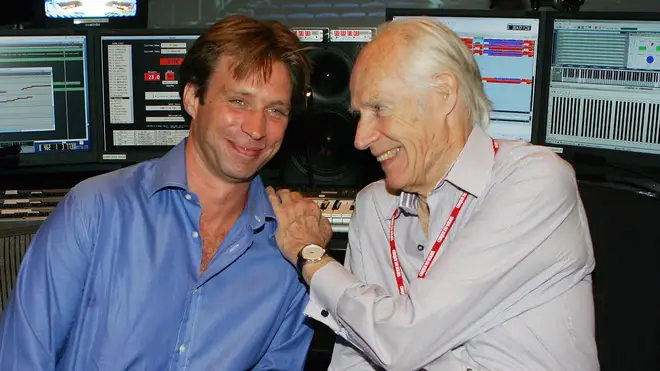 "Any music can get you emotional, with the added resonance that I do obviously think about my dad when I work on these projects, and I hope that he would be proud.
"In fact, actually, Elton phoned up in January and said, 'Listen, I love the music. Your dad would be so proud of what you've done. I'm so grateful.' I was almost in floods of tears."
Talking about how Elton handled the project, he explained: "Dexter [Fletcher, director] and I went to go see him in Vegas in November 2017.
"We sat and had lunch with him and David. Elton just goes, 'Listen, I trust you guys. I'm so happy you're doing it. I'll come to the premiere.'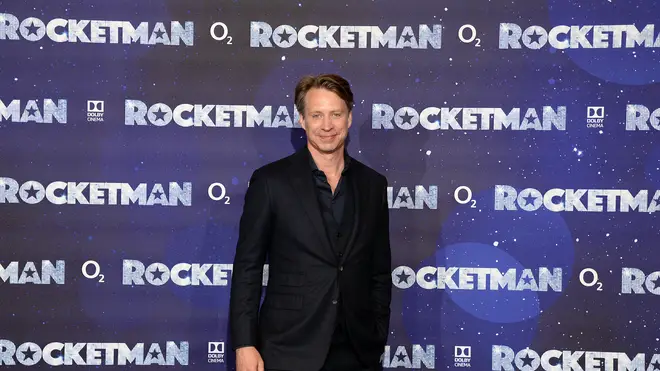 "Then he came onto set – or maybe rehearsals. Before we started shooting, we're rehearsing 'Saturday Night's Alright (For Fighting)', and I was meant to spend an hour and a half with him, going through a modern musical arrangement. I had just done rough stuff.
"He goes, 'Well, Giles, do you want to play me anything?' I go, 'Not really'. He goes, 'Great. I don't want to hear anything. I trust Giles. And Taron can sing – he can do me better than anyone else can. I'm happy. I don't have to hear anything.'
"So he phoned me in January. He actually did phone me and said, 'I've heard stuff, and it's great. I'm really happy.'
"And to me, in all honesty, despite the furore of film and the furore of premieres and wandering around red carpets, that one phone call was the most important thing to me, that an artist can be happy to let me take their work and butcher it and be happy at the end of it, and be moved by the music.
"It's his music, after all. I just borrowed it and gave it back to him."
Following the success of Freddie Mercury biopic Bohemian Rhapsody and now Elton's Rocketman, could we start seeing a new era of musical biopics based on pop legends?
"Yeah, I think it's inevitable," Martin said. "I mean, a lot of people ask me, 'What's next?' And I don't know. But I think you just have to take everything film by film. And I think there has to be a good story.
"I think Elton's story is actually kind of interesting, and the journey he's been on is kind of interesting. I think Elton's story is quite interesting because it's one person. He had a unique relationship with Bernie Taupin.
"And he's such a normal guy that's done extraordinary things and wears extraordinary clothes and all that sort of stuff. It's almost like there's two Eltons all the time. And that makes for quite an interesting story.
"I think it'd be hard with some bands without making it like Spinal Tap. But that said, I love Spinal Tap, so I'd be up for that.
"So I think people can get overwhelmed with the musical biopic type thing. I think you have to think about whether it's a good biopic, and does it have music? That's a music question to be asking, as opposed to 'what a great catalogue'."
But could we see a stage musical version of Rocketman one day?
"It was funny. When we started doing this, and I started working on the musical arrangements for it, it started having a very musical feel to it. Which is kind of intentional.
"Dexter and I watched a lot of old musicals, and we tried to steal things from them, obviously with huge respect. That was generally more the mood we were going through with this movie.
"And a lot of those original films are based on theatre productions or they come from a theatre background, or just in the nature of the way they're filmed. So they have a theatre aspect to them.
"I think Rocketman could be a live show, easily. We will see. I haven't heard any plans yet."
Rocketman is out now at UK cinemas, and its soundtrack is released on Friday (May 24).