Who was Jerry Wexler? Record producer who signed Aretha Franklin and played by Marc Maron in Respect
11 August 2021, 15:13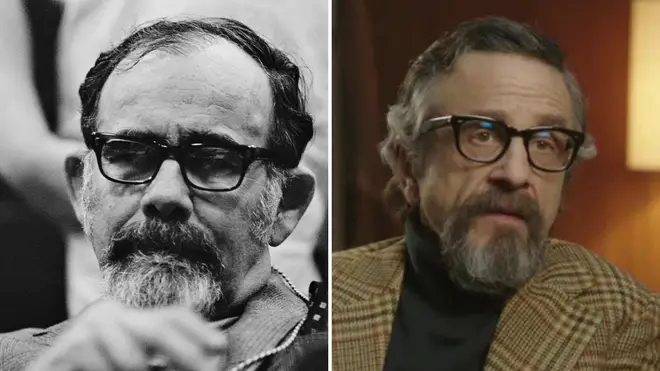 Jerry Wexler was one of the leading figures in music from the 1950s to the 1980s, working with the world's biggest singers and bands.
The late record producer is one of the main characters in the Aretha Franklin biopic Respect, with Marc Maron portraying him.
It's not the first time he has appeared on screen either, as Wexler was played by Richard Schiff in the Ray Charles film Ray.
But who was Jerry Wexler and who did he work with during his career?
Who was Jerry Wexler?

Jerry Wexler with Aretha Franklin in 1969. Picture: Getty

Jerry Wexler was a music journalist who later became a music producer.

He was one of the most prominent record industry professionals from the 1950s to the 1980s, and he even coined the term "rhythm and blues".

Among the acts he signed included Ray Charles, the Allman Brothers, Aretha Franklin, Led Zeppelin, Wilson Pickett, Dire Straits, Dusty Springfield and Bob Dylan.

Wexler himself was inducted to the Rock and Roll Hall of Fame in 1987 and in 2017 to the National Rhythm & Blues Hall of Fame.

He was born in The Bronx, New York City, and was the son of a German Jewish father and a Polish Jewish mother.

Which artists did Jerry Wexler work with?

Jerry Wexler with Wilson Pickett. Picture: Getty

Wexler became a partner in Atlantic Records in 1953, which included recordings with Ray Charles, the Drifters and Ruth Brown.

In the 1960s, he recorded with Wilson Pickett and Aretha Franklin, and oversaw Dusty Springfield's iconic Dusty in Memphis and Lulu's New Routes album.

He worked closely with Stax Records, and helped launch Muscle Shoals Sound Studios and the Muscle Shoals Rhythm Section.

In 1967, he was named Record Executive of the Year for turning Aretha Franklin's career around after several flops. Working with Wexler and Atlantic, Aretha became "the most successful singer in the nation" by 1968.

Marc Maron plays Jerry Wexler in the Aretha Franklin biopic Respect.

Picture: Universal

In 1968, he and Ahmet Ertegun signed Led Zeppelin to Atlantic Records on the recommendation of Dusty Springfield.

Soon after, Atlantic Records was purchased by Warner Bros Records in 1968. In 1975, Wexler moved from Atlantic to its parent Warner Records.

In 1979, Wexler produced Bob Dylan's album, Slow Train Coming.

In 1983, Wexler recorded with George Michael, including an early version of 'Careless Whisper'.

When did Jerry Wexler pass away?

For most of the 1990s, Wexler lived in East Hampton, New York, where he shared a living space with a Chinese family, who helped him with daily functions and kept him company.

Jerry Wexler died at his home in Sarasota, Florida, on August 15, 2008, from congestive heart failure, aged 91.

When asked by a documentary filmmaker several years before his death what he wanted on his tombstone, Wexler replied: "Two words: 'More bass'."