Who is Kate Bush's husband Danny McIntosh?
21 July 2022, 15:19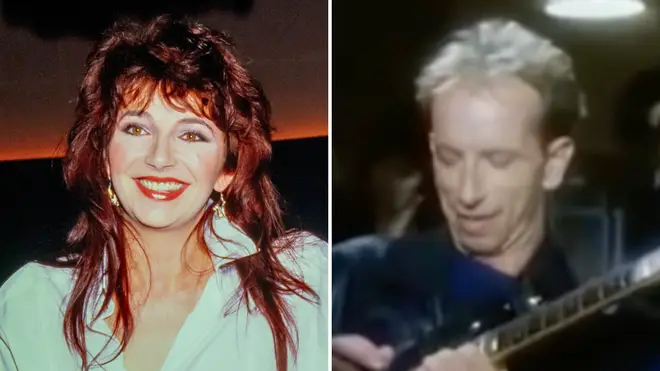 Kate Bush is famous for staying as private as possible, with little known about her personal life in recent years.
While Kate Bush was known to have dated her longtime collaborator Del Palmer for many years, she married her partner Danny McIntosh in the early 1990s, and they are still together 30 years later.
Is Kate Bush married and who is Kate Bush's husband?

Kate Bush and Danny McIntosh Rubberband Girl excerpt

In 1992, Kate Bush and Danny McIntosh tied the knot.

Danny is a guitarist who's appeared on several of Kate's songs in the past.

He was born in London in 1956 and took formal training to play guitar at the age of 10.

After finishing his degree, he soon became the guitarist for bands including Bandit and The Quick.

He also played guitar on albums by Dollar, Deniece Williams and Amii Stewart during the 1980s.

In 1993, he played guitar on Kate Bush's songs 'Rubberband Girl', 'The Red Shoes', 'Constellation Of The Heart', 'Top Of The City', 'The Song Of Solomon', and 'Lily'.

Kate Bush. Picture: Getty

Danny later played guitar on Kate's songs 'An Architect's Dream', 'How To Be Invisible', 'King Of The Mountain', 'Nocturn', 'Pi', 'Sunset', '50 Words For Snow', 'Misty', 'Snowed In At Wheeler Street', 'Snowflake' and 'Wild Man'.

Danny now runs a record label called Independent. He also recorded an album titled Dave.

The pair live together in Devon, in a home they purchased in 2005.

Who is Kate Bush and Dan McIntosh's son Albert?

2002: Kate Bush leaves Royal Academy of Art function

Albert 'Bertie' McIntosh, who was born in 1998, has also appeared in Kate's music.

Appearing on stage at the Hammerstein Apollo in London, Kate praised Bertie for being the inspiration for her later work.

She told the audience: "Without my son Bertie, this would never have happened.

"Without his encouragement and enthusiasm, particularly in the early stages when I was very frightened to commit to pushing the 'go' button, I'm sure I would have backed out.

Kate Bush's son Bertie.

Picture: Rex Shutterstock

"Throughout he has been my chief consultant, my editor, my confidant. In order for him to be part of this, which has always been part of the deal, he has had to work really hard in order to keep his school commitments as well as his commitments to the show."