The Story of... 'Running Up that Hill' by Kate Bush after Stranger Things resurgence
1 July 2022, 10:00 | Updated: 1 July 2022, 10:02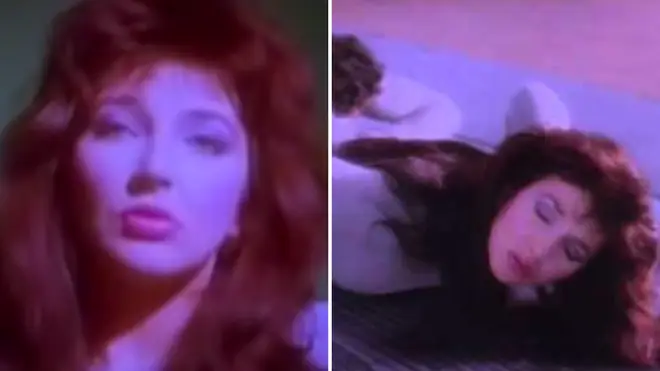 Kate Bush proved that she was a true pop powerhouse when she released the lead single from her fifth album Hounds of Love in 1985.
That song was the ethereal yet catchy 'Running Up that Hill (A Deal with God)', a song which has only grown in popularity over the years.
Thanks to its use in films and TV shows such as The OC and more recently, Stranger Things, it has become one of Kate Bush's signature songs.
Here are all the big facts about the classic song:
When did Kate Bush write the song?

Kate Bush in 1985. Picture: Getty

Kate Bush wrote and produced this song for her 1985 album Hounds of Love, and it was released as that album's lead single.

Executive at her record label EMI were not too sure about releasing the song with its original title of 'A Deal with God', due to any potential negative religious reactions.

Kate relented and changed the title to just 'Running Up that Hill', but the album version of the song is listed as 'Running Up That Hill (A Deal with God)'.

While EMI wanted her to release 'Cloudbusting' as the lead single from the album, Kate persuaded them to release 'Running Up That Hill' first, as it was the first song written for the album, and felt that it was a better representation of Hounds of Love.

What is the song's meaning?

Kate Bush - Running up that Hill 1985

'Running Up that Hill' is about making a deal with God to swap lives with another person.

Kate Bush explained in 1985: "It's about a relationship between a man and a woman. They love each other very much, and the power of the relationship is something that gets in the way. It creates insecurities.

"It's saying if the man could be the woman and the woman the man, if they could make a deal with God, to change places, that they'd understand what it's like to be the other person and perhaps it would clear up misunderstandings. You know, all the little problems; there would be no problem."

Kate also spoke about the song has been misinterpreted, saying: "I was trying to say that, really, a man and a woman can't understand each other because we are a man and a woman. And if we could actually swap each other's roles, if we could actually be in each other's place for a while, I think we'd both be very surprised!

"And I think it would lead to a greater understanding. And really the only way I could think it could be done was either... you know, I thought a deal with the devil, you know. And I thought, 'well, no, why not a deal with God!' You know, because in a way it's so much more powerful the whole idea of asking God to make a deal with you.

"You see, for me it is still called 'Deal With God'. that was its title. But we were told that if we kept this title that it would not be played in any of the religious countries, Italy wouldn't play it, France wouldn't play it, and Australia wouldn't play it! Ireland wouldn't play it, and that generally we might get it blacked purely because it had God in the title."

What happens in the music video?

Kate Bush - Running Up That Hill - Official Music Video

The song's music video features Kate Bush performing an interpretive dance with dancer Michael Hervieu.

It was directed by David Garfath, with the dance routines being choreographed by Diane Grey.

Kate and Hervieu are shown wearing grey Japanese hakamas, and the dance features a repeated gesture suggesting drawing a bow and arrow (the song's cover artwork sees Kate with a real bow and arrow).

The dance is intercut with surreal sequences of Kate and Hervieu searching through crowds of masked strangers. At the end, her partner moves away from her and the two are swept away from each other, down a long hall, by a long line of anonymous figures wearing masks.

MTV declined to show this video, and instead used a playback live performance of the song recorded on the TV show Wogan.

How did it perform in the charts?

Max's Favourite Song (Full Scene) | Kate Bush - Running Up That Hill | Stranger Things | Netflix

'Running Up that Hill' was Kate Bush's most successful 1980s single, entering the UK chart at number 9, and peaking at number 3.

It was also a hit in the US, reaching the top 30.

It returned to the charts in 2022 after being used several times in the latest season of Netflix drama Stranger Things.

Amazingly, the song climbed to number 1 in the UK singles chart following its newfound love.

This finally gave Kate her first number one single since 1978, making it the longest gap between number 1s ever.

It also topped charts and reached Top 10s around the world.

Who has covered the song?

Among the various covers include:

Meg Myers
Placebo - reached number 44 in the UK
Within Temptation