Let Loose are returning but there's a massive twist for the 'Crazy For You' hitmakers
7 September 2023, 11:40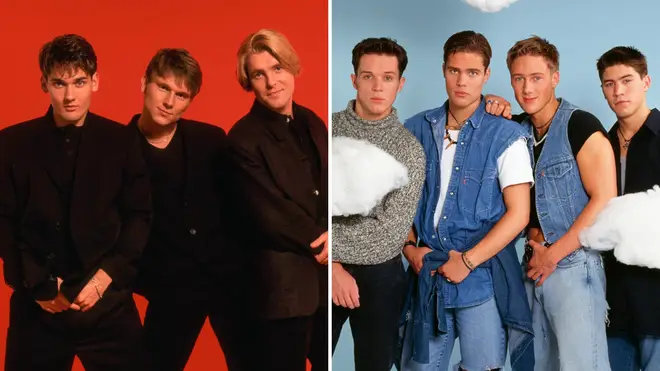 Let Loose are back back back, but there's been a change in personnel.
Let Loose released one of the very best hits of the 1990s with their number two smash 'Crazy For You', which is still fondly remembered by pop fans of a certain vintage.
The trio went on to release two albums before calling it a day in 1996, and although singer/keyboard player Richie Wermerling briefly reunited 15 years ago before Richie released a new album under the Let Loose name, that reunion also didn't last.
The full original threesome, including guitarist Rob Jeffrey, were slated to return for a 1990s package nostalgia tour in 2014, but when that failed to happen it looked like our dreams of a Let Loose reunion were completely over.
But after weeks of teasing, Let Loose have confirmed a full reunion and new music – with single 'If The World Was Ending' coming on September 29 – but there's a twist.
Original singer and 'Crazy For You' songwriter Richie, now a visual artist, won't be returning, but the group have enlisted someone with plenty of experience of the dizzy 1990s as a suitable replacement.
Let Loose - Crazy For You
Fronting the new Let Loose is Matthew James Pateman, who fans will recognise as one quarter of Bad Boys Inc, who scored a half-dozen top 40 hits around the time Let Loose were in the charts.
"I've always had a respect for Let Loose and their music," Matthew told Metro.
"In the industry, they were always 'dumped' into the 'boy band' category – but they're more than that.
"They're great musicians and the craftsmanship of the Let Loose songs have truly stood the test of time.
"I'm excited to work with Lee and Rob on this new venture. We have some great new material lined up and the new single is sounding awesome.
"It's such an honour to be part of the lineup. We can't wait to get out there and play live.'
In a statement on the band's new Instagram page, they wrote after the announcement : "We can't thank you enough for all the amazing messages of support over the last 24 hours.
We feel the love from you all and we're excited for the future. Every message means a great deal to us all.
"Let's enjoy the ride. News like this happens once in a Blue Moon! We even had one of those last night! Big love to you all. Lee, Rob and Matthew #letloose #newbeginnings #newmusic #thankyou #grateful"