What happened to Let Loose? What the 'Crazy for You' band did next
2 June 2023, 13:45 | Updated: 15 September 2023, 19:48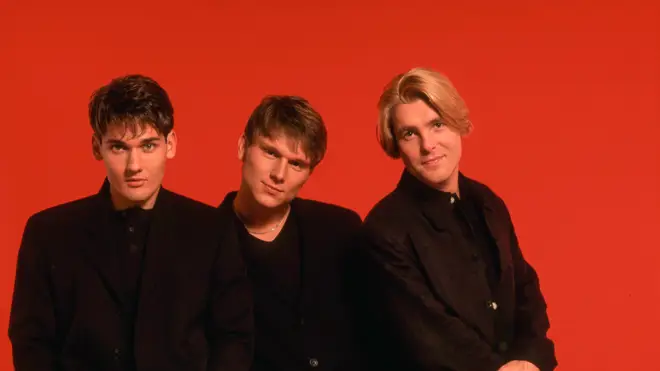 Let Loose scored one of the biggest hits of the 1990s with 'Crazy for You'.
The British group were a brilliant mix of pop and rock, and separated themselves away from the other brand of boybands ruling the charts in 1994.
While marketed in the pop world alongside the likes of Take That and Boyzone, they played their own instruments and wrote their own songs, and were closer in style to Del Amitri or Hanson than 911.
Let Loose - Crazy For You
Their biggest hit was 'Crazy for You', an infectious pop anthem that deserves to have a bigger legacy than it does. It was one of several songs kept off the top spot by Wet Wet Wet's 'Love is All Around' that summer.
But what did they do next and are they still together?
Who were Let Loose?

Let Loose in 1995. Picture: Getty

Let Loose were a British trio, consisting of Richard John 'Richie' Wermerling (lead vocals and keyboards), Robert George Edward 'Rob' Jeffrey (guitars and backing vocals), and Lee J Murray (drums, percussion and backing vocals).

The band had minor success in the UK with two of their first three singles, 'Crazy for You' and 'Seventeen', both reaching number 44.

'Crazy for You' was then re-released and climbed to number 2 in the UK.

Their debut self-titled album reached number 20 and sold over 100,000 copies.

Let Loose's other hits included 'Seventeen' (number 11), 'Best in Me' (8), 'One Night Stand' (12), 'Make it With You' (7) and 'Take It Easy' (25).

The band split up shortly after the release of their second album Rollercoaster in 1996.

Where are they now?

Let Loose (Lee, Richie and Rich) in 2014 before their aborted reunion.

Picture: Let Loose

In 2006, Richie Wermerling released his first solo album, Lost. The album was released and funded by himself, and was available for download and as a CD, but failed to make the chart.

Richie had also joined the band Bottlefly, while Rob Jeffrey continued playing guitar in other projects, and Lee Murray became a DJ and session drummer. Lee has worked in management for the likes of Holly Valance, Kelly Brook and Keeley Hazell.

In 2008, Richie and Lee reunited to write and record under the Let Loose name. Rob is said to have been contacted but declined to be involved.

Four songs were added to their Myspace page at the time, but the project stalled. Lee left, with Richie recruiting other members and an album was released called Paint it in Gold.

In 2014, it was announced that the original line-up trio were reforming for an arena tour called 'Another Time, Another Place', alongside other 1990s and 2000s acts: All Saints, Atomic Kitten, East 17, Big Brovaz and Jenny Berggren from Ace of Base.

Richie Wermerling.

Picture: Richie Wermerling/Fine Art America

However, just two weeks after the tickets went on sale, the tour was cancelled.

Since then, Let Loose have been quiet on the reunion front, and their website no longer works.

Richie is now an artist and painter, showcasing his art on Instagram, and lives with his wife and two children.

Update: The great news for 2023, is... Let Loose are back!

Rob and Lee have reunited, alongside former Bad Boys Inc singer Matthew James Pateman for a new single and album.

Watch this space for brand new music from the '90s legends.