Mike and the Mechanics announce new album, with acoustic versions of their classic hits
20 February 2019, 12:10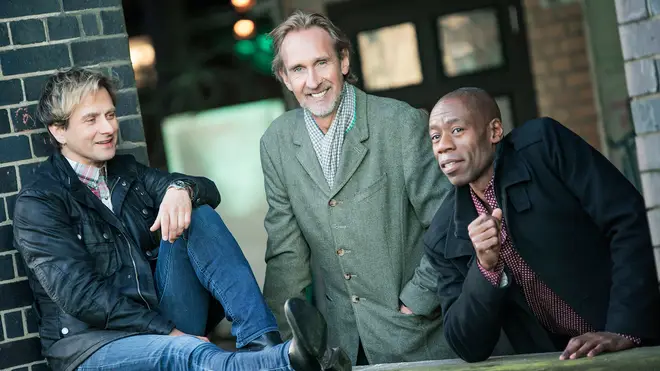 Mike and the Mechanics have announced a brand new album, and it's a nostalgic affair.
Out of the Blue will be their ninth studio album, and features some of their most famous hits alongside three brand new songs: 'One Way', 'What Would You Do' and the album's title track.
Released on Friday, April 5, the album will be available on CD and LP, and will contain six newly recorded 'as-live' acoustic versions of 'Don't Know What Came Over Me', 'The Best Is Yet To Come', 'The Living Years', 'Beggar On A Beach Of Gold', Another Cup Of Coffee' and 'Over My Shoulder'.
Listen to their new song via Spotify below:
Mike Rutherford said of the album: "Having toured with the Mechanics over the last 10 years, I have heard the old songs change a bit each year with Andrew and Tim singing and the same band playing.
"In some cases they have been extended and developed - so it seemed a good idea to record these versions in the studio.
"Anyone who has seen us live will I'm sure like to hear the old ones in this form as they show how the two singers work so well together. Especially on a song like 'Get Up' which has become a double lead vocal.
"Recording the unplugged version was like in the old days - down the stairs into a basement studio not fifty yards away from Trident Studios where we recorded Genesis' second and third albums.
"We recorded these live and Tim and Andrew led the songs with great vocal performances, and we mixed it as we recorded it - like in the past. No wonder albums took a maximum of three weeks to complete then! We have also written and recorded three new songs which show the Mechanics next stage - I hope!"
Mike and the Mechanics formed in 1985, and originally featured Mike Rutherford, Paul Young of Sad Café and Paul Carrack of Ace.
After Paul Young's sudden death in 2000, the band released one more album before deciding to part ways. However, eventually Mike invited singers Andrew Roachford and Tim Howar to work on new material with him.
Together, the new line-up released The Road in 2011, and enjoyed a successful tour. They will once again head out on tour later this year.