Sir Paul McCartney pays tribute to John Lennon at anti-gun rally
25 March 2018, 13:50 | Updated: 25 March 2018, 14:09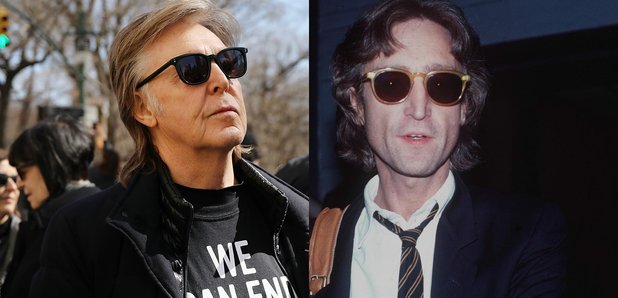 Sir Paul McCartney joined protestors at the March For Our Lives event in New York yesterday (March 24).
The former Beatles member paid tribute to his bandmate John Lennon at the demonstration, wearing a T-shirt with the words: 'We Can End Gun Violence'.
Paul McCartney was appearing on the streets of New York, near to where his friend Lennon was shot dead in 1980, to show support for the introduction of stricter gun laws in the US.
Joined by his wife Nancy Shevell, he told CNN: "One of my best friends was killed in gun violence right around here, so it's important to me."
Demonstrations were staged all across America on Saturday, in support of the movement.
Sir Paul added: "This is what we can do, so I'm here to do it."
John Lennon was killed outside his Dakota apartment building in Manhattan by gunman Mark Chapman.
Last year, Sir Paul spoke about how he loved the "competitive" relationship with his former bandmate.
He explained: "It was quite competitive because if I wrote something he'd try and better it and then I'd try and better that, so it's a good system.
"It means you're going up a staircase and each time you're trying to make it better, so if that works it can make the song very good ... and in our case memorable.
"That was the trick because we couldn't put it down, we couldn't put it on a recording like today, you just had to remember it. So that was a good restriction too, it meant if you forgot it, too bad.
"So, it had to have a hook and nearly always, even if you forgot it in the evening, you'd go out for a drink and say, 'what was that bloody song'. You'd wake up in the morning an go 'oh yeah, I remember!' It would just come back."