Record Store Day 2019: 14 releases we can't wait to hear
10 April 2019, 12:38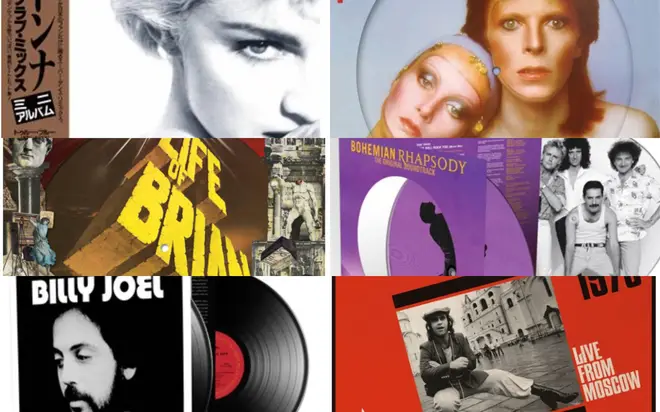 Record Store Day is back for 2019, and there's hundreds of special albums and singles on offer.
Taking place this year on Saturday April 13, Record Store Day 2019 will see many vinyl and cassette releases, sold exclusively through independent record shops for one day only.
You can find out a full list of participating stores right here, and below are our favourite picks from the lot:
John Lennon - 'Imagine (Raw Studio Mixes)'

Picture: UMe

Imagine — Raw Studio Mixes will be pressed on audiophile grade 180 gram black vinyl.

The mixes, which were previously available only as part of the super deluxe edition of his classic 1971 album, were created by engineer Rob Stevens, under the supervision of Yoko Ono.

Queen - 'Bohemian Rhapsody'

Picture: Virgin EMI

Celebrating the success of the Bohemian Rhapsody movie, this limited edition picture disc set includes original Queen and Smile songs from the soundtrack.

The album also includes the never before released set from Live Aid.

Meanwhile, you can also get a special edition of 'Bohemian Rhapsody' as a single, alongside 'I'm In Love With My Car'.

David Bowie - 'Pin Ups'

Picture: Parlophone

One of Bowie's classic albums is being re-released as a special picture disc.

The covers album was influenced by the songs David was listening to during the 1960s.

You can also get new copies of The World of David Bowie compilation, and a 7-inch single of his 'Revolutionary Song / Just A Gigolo' collaboration with Marlene Dietrich.

Elton John - 'Live from Moscow'

Picture: UMC/Mercury UK

2019 marks the 40th anniversary of Elton John's historic first tour of Russia, when he became the first Western pop star to ever perform in the country.

The show from Moscow on May 28, 1979, also features Ray Cooper. The special double LP has been remastered and cut at Abbey Road.

Billy Joel - 'Live at Carnegie Hall 1977'

Picture: CMG/Legacy

On June 3, 1977, Billy Joel finished a tour with a brilliant performance at New York's iconic Carnegie Hall.

The audience witnessed a set with some surprises, including the newly-written 'Scenes From An Italian Restaurant' and the love song 'Just The Way You Are'.

This marks the first time the historic show is available on vinyl.

Elvis Presley - 'Live At The International Hotel, Las Vegas, NV August 23, 1969'

Picture: CMG/Legacy

After his incredible comeback special in 1968, Elvis Presley made a major return to live performance in 1969, including an exclusive engagement at The International Hotel in Las Vegas.

Elvis gave fans a raucous set inspired by his recent sessions for the album From Elvis In Memphis, backed by The Imperials and The Sweet Inspirations.

Monty Python's 'Life of Brian'

Picture: UMC/Virgin

To mark the 40th anniversary of the classic comedy film, Monty Python are releasing a special, limited edition vinyl picture disc version of its soundtrack.

Remastered at Abbey Road Studios, it comes with new artwork, overseen by Terry Gilliam himself, along with unseen material from the Monty Python archive.

Madness - 'One Step Beyond'

Picture: BMG

2019 is 40th anniversary of ska legends Madness. To celebrate, they are reissuing their first Top 10 hit, 'One Step Beyond' .

As well as the original 7" single and 2009 remastered version of the album track, this also contains both the Italian and the Spanish versions of the song. The single is a special limited-edition shaped picture disc.

'Lost in Translation' soundtrack

Picture: Rhino

The fantastic soundtrack to the 2003 Academy Award nominated film starring Bill Murray and Scarlett Johansson.

It features songs by My Bloody Valentine, Air, Roxy Music and The Jesus and Mary Chain among others.

Madonna - 'True Blue' / 'La Isla Bonita' (Super Club Mix)

Picture: Rhino

Madonna is releasing two replicas of Japanese versions of her classic '80s tracks - 'True Blue and 'La Isla Bonita', both containing special remixes and on colour vinyls.

Prince - 'The Versace Experience'

Picture: CMG/Legacy

Ahead of the release of The Gold Experience, the first album credited to Prince's iconic unpronounceable symbol, Prince brought out The Versace Experience as a gift to attendees of the famous designer's collection at Fashion Week in Paris in 1995.

The cassette featured remixed versions of 'Gold' and 'Eye Hate U', as well as rare and unreleased songs The New Power Generation and Prince's jazz project Madhouse.

It was among the rarest Prince albums ever until now, when it will finally be recreated just for Record Store Day 2019.

A-Ha - 'Hunting High And Low / The Early Alternate Mixes'

Picture: Rhino

A-ha's classic debut album Hunting High and Low will be re-issued featuring special demos and remastered tracks on vinyl.

Culture Club & Gladys Knight - 'Runaway Train'

Picture: BMG

This will be an exclusive picture disc 10" vinyl, including the new track 'Runaway Train' featuring the legendary Gladys Knight.

Duran Duran - 'As The Lights Go Down (Live '84)'

Duran Duran.

Picture: Rhino

This double Duran Duran pink and blue LP (which is actually 3-sided, as the 4th side is etched) is a special live recording from The Oakland Coliseum from April 1984.