Watch Stevie Nicks perform with Harry Styles (but gets him confused for a member of NSYNC)
1 April 2019, 12:33
Stevie Nicks accidentally called Harry Styles a 'member of NSYNC' after performing together at the 2019 Rock and Roll Hall of Fame induction.
The singer, who was talking about Harry Styles in front of reporters after their live performance, joked she would "never live that one down' after the faux pas.
Stevie - who is already a member of the Hall of Fame with Fleetwood Mac and is the first ever woman to be inducted twice - was praising the 25-year-old singer for his solo career after leaving One Direction.
2019 Rock & Roll Hall of Fame STEVIE NICKS/HARRY STYLES Complete Duet STOP DRAGGIN' MY HEART AROUND
"What I really loved about Harry was that when he decided to make a solo record from NSYNC," she said, before correcting herself: "Sorry. I'm never going to live that one down, I know,"

"One Direction. Well, I liked One Direction too, so..."
Stevie went on to praise the former boy band member for "taking a risk" with his solo career and reflected Harry's old-beyond-his-years music.
"He could have gone one or two ways: he could have made a serious pop record, which would have been less of a risk, or he could have made a rock and roll record and take a risk, and he did," she reflected.
Stevie previously told Rolling Stone: "He's Mick [Fleetwood]'s and my love child," she said.
"When Harry came into our lives, I said, 'Oh my God, this is the son I never had.' So I adopted him."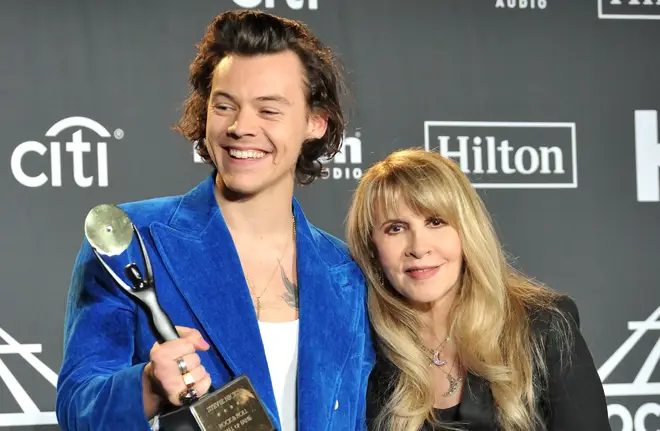 Upon seeing Harry perform live, she said: "This beautiful child should have been born in 1948 too, because he just fits in with all of us."
Harry, who has previously spoken of his admiration for the female singer, introduced the Fleetwood Mac star on stage at the Barclay's Centre earlier in the evening.
"She's so wise and serene," he said. "She sees all the romance and drama in the world and she celebrates it."
The duo joined forces to perform a cover of her duet with the late Heartbreakers frontman, Tom Petty's 'Stop Dragging My Heart Around'.
Speaking about Stevie ahead of her receiving the award he said: "Stevie Nicks is the first female artist to be inducted into the Rock and Roll Hall of Fame a second time. First, with Fleetwood Mac, and now for her unforgettable solo work.
"She is the magical gypsy godmother who occupies the in-between. It's a space that can and will only ever be hers. She's a lot like a rock 'n' roll Nina Simone — finding the notes that only she can. And by being so unapologetically herself, she gives others permission to do the same. That is true Stevie."
Stevie kicked off the live event with renditions of her best hits including 'Stand Back' and 'Edge of Seventeen,' before Harry joined her on stage to sing and present her with her Hall of Frame award.
Harry and Stevie, who first met in 2015, have a history of performing together.
The duo have previously collaborated on stage in may 2017 at The Troubadour in LA and with Fleetwood Mac in January 2018.
Fleetwood Mac will be on stage at Wembley Arena this summer on June 16 and 18.