Billy Joel plays discarded piano on New York street and asks why it's being thrown away - video
17 July 2020, 12:30 | Updated: 17 July 2020, 18:17
Billy Joel is proving that he is still The Piano Man.
Footage has emerged of Billy Joel giving passerby's a special performance as he plays a piano he found discarded on the street.
The Piano Man, 71, can be seen wearing a motorbike helmet as he stops to examine the piano in Long Island, New York.
The singing star then plays a rag-time style song on the instrument to test if it's in tune, and declares to his companion it's a 'perfectly good piano'.
Billy Joel: Impromptu Piano in Huntington, LI 6/26/20
The five-time Grammy Award winner was clearly saddened that the piano had been thrown away, saying it should be donated to a local charity shop.
"It's a shame to throw it out, it should at least be donated to St. Vincent de Paul or something," he says
Testing the keys, he adds: "The action is good. It just needs tuning. And the finish is beat."
"These are laminated keys, the pedals work, the action is great," Billy Joel marvels. "The mechanics are perfect."
Billy Joel was reportedly riding his motorbike in Huntington, Long Island when he spotted the piano on the street and parked up to take a closer look.
Despite wearing a helmet, Billy Joel's representatives confirmed to People that it is indeed The Piano Man in the footage.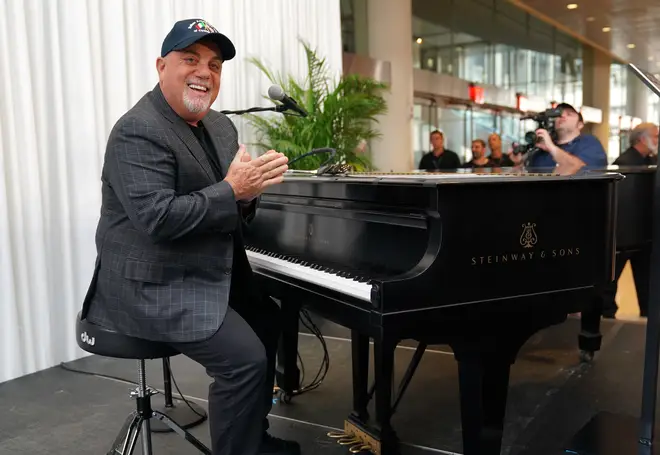 A fan of the star has identified the tune Billy Joel plays on the piano as Shelton Brooks' 'Darktown Strutters' Ball'.
Last year the star told Billboard that he is 'semi-retired' now and gets to spend more time with his wife and family.
"We used to do five, six gigs a week," Billy Joel said. "When you're first starting out and you're with your buddies going around the world, you're like a teenage gang. Very exciting. After a couple of years, you're Willy Loman in Death of a Salesman."
"It's not good for a relationship [with his wife] to be gone for that long," he added. "So I became a homey."