A guide to David Bowie's underrated songs from Labyrinth
28 June 2021, 10:49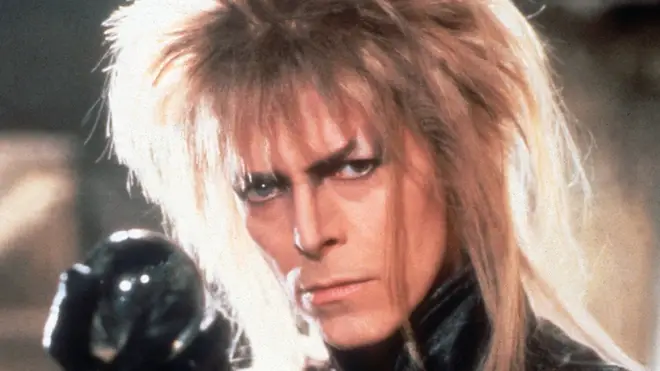 David Bowie had undoubtedly one of the most incredible back catalogues in pop music history.
But there's one area of his music which we reckon always goes underappreciated: his soundtrack to the 1986 movie Labyrinth.
Michael Jackson and Sting were also considered for the role of Jareth the Goblin King, but David Bowie took on the Jim Henson with amazing results.
Along with starring as the suave Jareth, Bowie also wrote and performed the main songs for the film, while Trevor Jones wrote the score.
With Labyrinth now getting a sequel, here is a look back at the brilliant songs:
'Underground'

Labyrinth | Underground (David Bowie) Remastered Version

"Don't tell me truth hurts, little girl, 'cause it hurts like hell"

David Bowie wrote the lyrics for this main theme for Labyrinth.

There are two versions of the song - one which opens the movie, with the music coming the film's composer Trevor Jones. Bowie also recorded a longer, poppier version for the film's end credits, which came out as a single in some countries in late 1986.

'As the World Falls Down'

David Bowie - As The World Falls Down (Official Video)

"Every thrill is gone, wasn't too much fun at all"

This is a beautiful ballad and deserves to be considered amongst Bowie's finest ever songs. Honestly!

The song appears when Sarah (Jennifer Connelly) has a dream where Jareth appears at a masquerade ball and proclaims his love for her. There were initially plans to release the song as a single, but it was scrapped. Why?!

'Magic Dance'

"You remind me of the babe..."

If there was one song that most people think of when they remember Labyrinth, it's probably this super fun tune.

It's rather surreal seeing Bowie dance about with a load of puppet goblins while a baby looks on in utter confusion, but hey, it was the 1980s.

It was a limited single in some countries at the time, and it reached number 63 in the UK in the week after Bowie's death in 2016.

'Within You'

"I move the stars for no-one"

This track features towards the end of the film, in which Jareth attempts to seduce Sarah into joining him forever.

The scene occurs in a room modelled after several Escher staircases, and it's rather hauntingly beautiful.

'Chilly Down'

"Chilly down with the fire gang"

The only song Bowie didn't perform lead vocals on is this quirky tune, which was instead performed by the 'Fire Gang' creatures who try to capture Sarah.

The creatures were voiced by Richard Bodkin, Kevin Clash (the man behind Elmo), Charles Augins and Danny John-Jules (star of Red Dwarf and Death in Paradise).