David Bowie's 20 greatest ever songs, ranked
11 January 2023, 09:23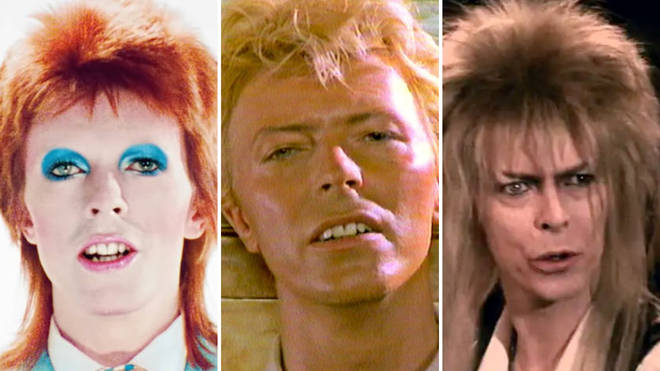 David Bowie was one of the world's most celebrated and talented artists of all time, from his Ziggy Stardust persona to his Berlin Trilogy of albums to his Labyrinth mid-80s pomp.
He was a true one-off and perfectly made music from various genres, from glam rock to jazz-funk to minimalist electronica.
We've picked 20 of his greatest-ever songs to make for a perfect David Bowie playlist. Is your favourite in there?
'Peace on Earth/Little Drummer Boy' (with Bing Crosby)

This song was an early form of a mash-up of sorts, featuring the 1941 Christmas song 'The Little Drummer Boy' and the new composition 'Peace on Earth'.

David Bowie performed the song with Bing Crosby for the latter's 1977 TV special, filmed just five weeks before his death. The song was preceded by a short skit in which the pair exchanged scripted dialogue about what they each do for their family Christmases.

Bowie admitted to having only appeared on the show because "I just knew my mother liked him".

'Rebel Rebel'

The lead single from Diamond Dogs, this song is based around a distinctive guitar riff similar to that of the Rolling Stones.

Listed as his most-covered track, it has also been described as Bowie's farewell to the glam rock movement that he had helped create.

'Fashion'

Released in 1980 and featuring a lavish music video, Bowie said that the song was a way to "move on a little from that Ray Davies concept of fashion, to suggest more of a gritted teeth determination and an unsureness about why one's doing it".

Biographer David Buckley believed the song "poked fun at the banality of the dance floor and the style fascists" of the New Romantic movement.

'Absolute Beginners'

This was the theme song to the 1986 film of the same name, starring David Bowie.

Although the film was not a success, the song was a big hit, and reached number two in the UK.

'The Jean Genie'

According to Bowie, this song from Aladdin Sane was "a smorgasbord of imagined Americana", with the song's character inspired by Iggy Pop, and the title alluding to author Jean Genet.

One of Bowie's most famous tracks, it was promoted with a film featuring Andy Warhol associate Cyrinda Foxe, and peaked at number two in the UK.

'Underground'

David Bowie wrote the lyrics for the main theme of Jim Henson's 1986 movie Labyrinth. There are two versions of the song: a shorter one which opens the movie, with the music coming from the film's composer Trevor Jones.

Bowie also recorded a longer, poppier version for the film's end credits, which came out as a single in some countries in late 1986.

'Lazarus'

This song, complete with a powerful and poignant music video, was the final single released in Bowie's lifetime, taken from his final album Blackstar.

According to Bowie's producer Tony Visconti, the lyrics and video of the song, and other songs on the album, were intended to be a self-epitaph and a commentary on Bowie's own impending death.

'Golden Years'

This was the lead single from Bowie's Station to Station album in 1975.

The track was supposedly written for Elvis Presley to cover, who turned it down. Bowie said that he had "adored" Presley and would have loved to work with him.

Although the artists' offices contacted each other, nothing came of it. Presley sent a note to Bowie saying: 'All the best, and have a great tour'. Bowie kept the note for the rest of his life.

'China Girl'

Written by Bowie with Iggy Pop, this was first recorded by the latter in 1977, but it was Bowie's 1983 version that became more famous.

Produced by Nile Rodgers, the song was inspired by Iggy Pop's infatuation with Kuelan Nguyen, a Vietnamese woman, as a metaphor for his Stooges career.

'As the World Falls Down'

David Bowie wrote this underrated ballad for the movie Labyrinth, in which he starred as Goblin King Jareth.

The song appears when Sarah has a dream where Jareth appears at a masquerade ball and proclaims his love for her. There were initially plans to release the song as a single, but it was scrapped.

'Sound and Vision'

Co-produced by Tony Visconti, David Bowie originally recorded this track as an instrumental, bar the backing vocal (performed by Visconti's wife, Mary Hopkin).

Bowie then recorded his vocal after the rest of the band had left the studio, before trimming verses off the lyrics, and leaving a relatively lengthy instrumental intro on the finished song.

'Changes'

This song from Hunky Dory has been seen as a manifesto for Bowie's chameleonic personality and the frequent changes of the world around him.

It has been cited as Bowie's official US debut, and was the last song Bowie performed live on stage before his retirement from live performances in 2006.

'Ziggy Stardust'

Taken from Bowie's concept album Ziggy Stardust and the Spiders from Mars, this song is about Ziggy Stardust, a bisexual alien rock star who acts as a messenger for extraterrestrial beings.

This song is the centrepiece of the album, presenting the rise and fall of Ziggy. A glam rock classic, it was based around a guitar riff from band member Mick Ronson.

'Ashes to Ashes'

This track revisits David Bowie's Major Tom character from 1969's 'Space Oddity' in a darker theme, which he referenced once again in 1995 with 'Hallo Spaceboy'.

He described the song as "wrapping up the seventies really" for himself, which "seemed a good enough epitaph for it".

Its music video cost £250,000, making it the most expensive ever at the time. He later said: "It really is an ode to childhood, if you like, a popular nursery rhyme. It's about space men becoming junkies."

'Starman'

This was the lead single from Bowie's iconic Ziggy Stardust album, this was a last-minute addition to the LP. It was also the moment Bowie made glam more than just flare trousers and platform shoes.

The lyrics describe Ziggy bringing a message of hope to Earth's youth through the radio. The story is told from the point of view of one of the youths who hears Ziggy for the first time.

According to Bowie, Ziggy is not the Starman but merely his earthly messenger.

'Space Oddity'

This track is about the launch of Major Tom, a fictional astronaut, and was released during a period of great interest in space flight.

The United States' Apollo 11 mission would launch five days later. The lyrics have also been seen to lampoon the British space programme, which was and still is an unmanned project.

David Bowie would later revisit his Major Tom character in the songs 'Ashes to Ashes', 'Hallo Spaceboy' and possibly the music video for 'Blackstar'. It reached number one in the UK when re-released in 1975.

'Under Pressure' (with Queen)

Queen had been working on a song called 'Feel Like', but was not yet satisfied with the result. David Bowie had originally come to sing backup vocals on another song, but his vocals were removed because he also was not satisfied.

The final version of the song, evolved from a jam session that Bowie had with the band. Brian May later said: "It was hard, because you had four very precocious boys and David, who was precocious enough for all of us. Looking back, it's a great song but it should have been mixed differently."

'Let's Dance'

In 1982, Nile Rodgers met David Bowie in the New York club Continental, where the two shared a conversation about their musical interests. Bowie later invited Rodgers to his house in Switzerland, which Rodgers assumed was an audition.

The pair then worked together on this track and the album of the same name, giving Bowie one of the biggest hits of his career.

'Life on Mars?'

In 1968, David Bowie wrote 'Even a Fool Learns to Love', set to the music of 'Comme d'habitude', by Claude François and Jacques Revaux. Bowie's version was never released, but Paul Anka bought the rights to the French version and rewrote it as 'My Way'.

The success of the song prompted Bowie to write this as a parody of Frank Sinatra's recording. With Rick Wakeman on piano, the song was the backdrop for BBC TV drama Life on Mars, which used both the name and the song itself as its basis.

'Heroes'

While not a huge hit at the time, it went on to become one of Bowie's signature songs.

Inspired by the sight of Bowie's producer Tony Visconti embracing his lover by the Berlin Wall, the song tells the story of two lovers, one from East and one from West Berlin.

His performance of 'Heroes' on June 6, 1987, at the German Reichstag in West Berlin, has been considered a catalyst to the fall of the Berlin Wall. After his death in 2016, the German government thanked Bowie for "helping to bring down the Wall".