The greatest songs about space, from David Bowie to Chris de Burgh
12 July 2023, 10:34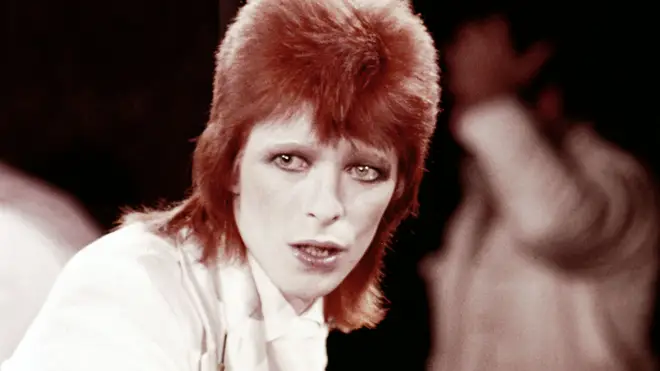 2023 marks the 54th anniversary of the iconic Apollo 11 moon landing, and Neil Armstrong's famous giant leap for mankind.
To mark the special occasion, we've collected some of the best (and weirdest) songs about space exploration and general timey-wimey sci-fi stuff.
David Bowie - 'Space Oddity'

David Bowie – Space Oddity (Official Video)

The absolute pinnacle when it comes to songs about space, it has to be David Bowie's first true hit single, which also marks its 50th anniversary this year.

In fact, Apollo 11 launched just five days after the song was released, helping it become the unofficial soundtrack to 1969's space-obsessed folk.

The song introduced the world to his character Major Tom, who would later return in 'Ashes to Ashes' and 'Hallo Spaceboy'.

Capping it all off, actual astronaut Chris Hadfield later recorded his own great version, in space!

Elton John - 'Rocket Man'

Elton John - Rocket Man (Official Music Video)

This Elton John song was inspired by the short story 'The Rocket Man' by Ray Bradbury, as well as songwriter Bernie Taupin's sighting of either a shooting star or a far-away aeroplane.

It describes a Mars-bound astronaut's mixed feelings about leaving his family for a long amount of time.

It has actually been used numerous times to wake up real-life NASA astronauts, and was played during the 40th and 45th anniversaries of the Apollo 11 Moon Landing.

Carpenters - 'Calling Occupants of Interplanetary Craft'

Carpenters - Calling Occupants Of Interplanetary Craft (Full Version)

This was originally by psychedelic group Klaatu, and it ended up being used to open night transmission of the pirate radio station Radio Caroline.

A year later, the Carpenters covered the song, using a crew of 160 musicians. Their version opens with a radio DJ on a request show. When the DJ asks caller Mike for his song request, an alien-sounding voice responds. The DJ is voiced by Carpenters' guitarist Tony Peluso.

Chris de Burgh - 'A Spaceman Came Travelling'

Chris de Burgh - A Spaceman Came Travelling

One of the greatest Christmas songs, Chris De Burgh had just signed his first recording contract with A&M Records, and was broke and "staying at a friend's flat" when he read Chariots of the Gods? by Erich von Däniken.

The book made him ponder, "what if the star of Bethlehem was a space craft and what if there is a benevolent being or entity in the universe keeping an eye on the world and our foolish things that we do to each other?".

Already a fan of Irish poet William Butler Yeats, whose work 'The Second Coming' states that every two years or so there would be a major cataclysmic event, de Burgh saw the birth of Christ as "such an event and then 2,000 years later there would be a similar" one.

He imagined "the nativity scene, the thing hovering over and I could see the shepherds in the fields and this weird, ethereal music was drifting into the air and they were 'what the heck is that'?"

David Bowie - 'Starman'

David Bowie - Starman (Top Of The Pops, 1972)

Another of Bowie's many songs about space, this song was at the height of his alter ego Ziggy Stardust era.

The lyrics describe Ziggy bringing a message of hope to Earth's youth through the radio.

The story is told from the point of view of one of the youths who hears Ziggy, and according to Bowie himself, speaking to author William S Burroughs for Rolling Stone magazine in 1973, Ziggy is not the Starman but actually his earthly messenger, quashing the belief that Ziggy is an alien.

The song proved to be a surprisingly accurate prediction of the plot for the film Close Encounters of the Third Kind.

Sarah Brightman - 'I Lost My Heart to a Starship Trooper'

Sarah Brightman & Hot Gossip - I Lost My Heart To A Starship Trooper

Before Sarah Brightman became an internationally renowned classical crossover singer, she had a hit with a disco Star Wars cash-in.

Teaming up with Hot Gossip, this annoyingly catchy song's lyrics include the lines "And evil Darth Vader he's been banished to Mars" and "Or are you like a droid, devoid of emotion".

Other spacey references include: "Flash Gordon's left me, he's gone to the stars", "What my body needs is close encounter three", "Static on the comm – it's Starfleet Command" and "Fighting for the Federation". Amazing.

Stu Stevens - 'I'm from Outer Space'

Movie Man From Outer Space - Stu Stevens

What do you mean, you've never heard of this British country song about an alien?

British singers didn't do American-style country often, but Stu Stevens gave it a good go for over four decades. This was his best known song, after Terry Wogan played it on air.

It tells the story of a man who is actually an alien 'coming out' to his friends before leaving Earth. Stevens passed away at the age of 69 in 2016.

The best line has to be: "When you think you've shook my hand, you've really slapped my face".