The Story of... 'Rocket Man' by Elton John
23 March 2023, 09:59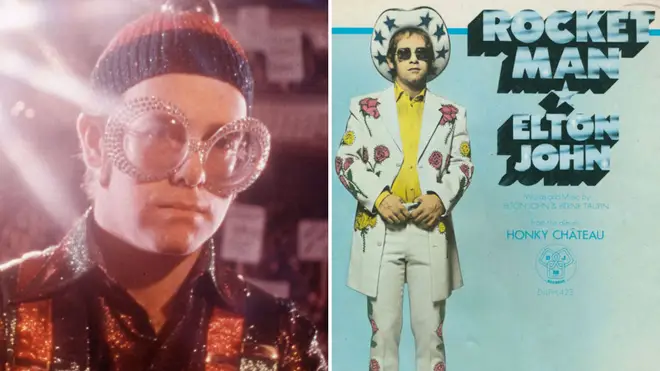 It's Elton John's signature song.
'Rocket Man' has since become the song Elton John is widely known by after it was originally released.
The title of the space age ballad became Elton's default nickname, and his fantastical 2019 biopic even adopted the song's title as its own.
It's now considered one of the 1970s definitive songs, and becomes more poignant with every lap around the sun.
Elton will soon to call time on his live touring career after "burnin' out his fuse" over fifty years on the road.
But what inspired the song that launched his career? Who wrote it? Has anyone else covered the track? Is it a rip-off of David Bowie's 'Space Oddity?'
Here's all you need to know about 'Rocket Man':
Who wrote 'Rocket Man'?
Like the majority of Elton John's songs throughout his earlier career, both he and his long-term songwriting collaborator Bernie Taupin wrote 'Rocket Man'.
Whilst Elton created the music, it was Bernie that penned the song's now iconic lyrics.
The song's opening lyrics "she packed my bags last night, pre-flight. Zero hour, 9 a.m., and I'm gonna be high as a kite by then" popped into Bernie's head whilst he was driving to his parents' house in Lincolnshire, England.
Like most of his ideas, he writes the words down as soon as they enter his head so he doesn't forget them, but in this case he was nowhere near a pen and paper so had to sing the lyrics to himself for two hours before being able to write them down.
Spurred on by the opening lyrics, Bernie continued with the science-fiction-themed narrative that underpinned the song.
What was the inspiration behind the song?
The idea of space exploration was enormously popular throughout the late 1960s and early 1970s, so was present in most pop culture at the time.
That's often why 'Rocket Man' was considered a rip-off of David Bowie's 'Space Oddity' initially - because of the shared themes of space and isolation, both being sung by budding British artists, as well as them being produced by the same person, Gus Dudgeon - which both Elton and Bernie strongly deny.
What in fact inspired 'Rocket Man' was the short story The Rocket Man, written by Ray Bradbury which was published as part of his 1951 anthology The Illustrated Man.
The short story is written from the perspective of a child whose father is an astronaut that expresses mixed feelings about having to leave his family to go to work in outer space.
Bradbury's story also inspired another song called 'Rocket Man' by folk group Pearls Before Swine in 1970, about a child who can no longer look at the stars after his father perishes whilst doing his day job.
This encouraged Bernie to write his own idea who later said: "It's common knowledge that songwriters are great thieves, and this is a perfect example."
It was only recently however that Elton found out about the song's inspiration, who said in an interview discussing the song's beginnings that "you learn something new every day".
How was the meaning of 'Rocket Man' interpreted?
Elton John - Rocket Man (Official Music Video)
Even though 'Rocket Man' was inspired by a science-fiction story, the meanings of the lyrics have been interpreted in many ways over the year, namely in line with the 'rock star isolation' theory.
Parallels have been drawn between the isolation of an astronaut alone in space to the isolation a rock star feels from their friends, family, and the real world after achieving astronomical fame.
"Burnin' out his fuse up here alone" is seen as a metaphor for a rock star reaching new heights on stage.
"Higher than a kite" being the rush musicians feel being in the limelight and out of touch with reality below them.
"Mars ain't the kind of place to raise your kids" touches upon the idea of raising children whilst being a rock star, living an unconventional lifestyle which is often consumed by addiction, late nights, and being away from home for long periods of time.
When was 'Rocket Man' released and how did it perform in the charts?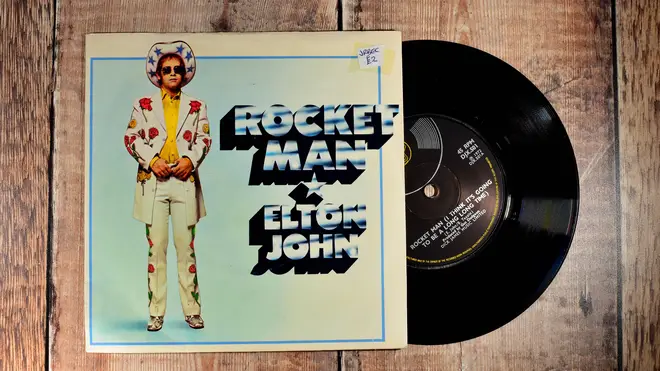 'Rocket Man' was released on April 17, 1972 with 'Susie (Dramas)' on the B-side.
In the UK the song reached No.20 in the charts so was a moderate success, whilst it peaked at No.6 in the US on the Billboard Hot 100, launching Elton's career in the process.
'Rocket Man' was the lead single from Elton's fifth studio and breakthrough album Honky Château which topped the Billboard 200 in the US and reached No.2 in the UK charts.
It went on to sell three million copies across the pond, achieving certified triple platinum status in the US, and eventually going platinum in the UK in 2019.
What is the legacy of 'Rocket Man'?
Rocketman (2019) - Official Trailer - Paramount Pictures
'Rocket Man' is now synonymous with Elton John, becoming the title of his critically acclaimed 2019 biopic as well as helping to shape his dazzling stage persona.
It was the ballad that helped him break through to the mainstream, which shone a light on previous releases such as 'Your Song' and launched him to the top of the charts.
In a recent UK poll conducted by Ispos, 'Rocket Man' ranked first as the nation's favourite Elton John song.
The song's intergalactic theme and sentiment of loneliness and longing made a huge impact on future artists, namely Kate Bush who in return influenced Elton.
Kate Bush later told NME that 'Rocket Man' was one of her favourite songs of all time, saying: "I remember buying this when it came out as a single by Elton John. I couldn't stop playing it – I loved it so much."
"Most artists in the mid-seventies played guitar but Elton played piano and I dreamed of being able to play like him."
Who has covered 'Rocket Man'?
Kate Bush - Rocket Man - Official Music Video
William Shatner "Sings" 'Rocket Man' (1978) - BEST QUALITY!
Because of its impact, a swathe of artists have covered 'Rocket Man' ranging from the sublime to the downright silly.
Kate Bush herself was asked personally by Elton and Bernie to cover the song for Two Rooms: Celebrating the Songs of Elton John & Bernie Taupin, their 1991 album which featured interpretations of their songs by Bush, Sinéad O'Connor, Tina Turner, Rod Stewart, George Michael, Eric Clapton, Sting, and other music legends.
Neil Diamond, Hank Marvin, Heaven 17, Starsailor, and Taron Egerton (who played Elton in his biopic Rocketman) have also covered the song.
One of the most notable cover versions however is William Shatner's rendition at The Science Fiction Film Awards in 1978, which has been widely parodied in the years since.