Neil Diamond facts: Singer's age, wife, children, net worth and more revealed
26 November 2020, 12:57 | Updated: 8 February 2022, 17:00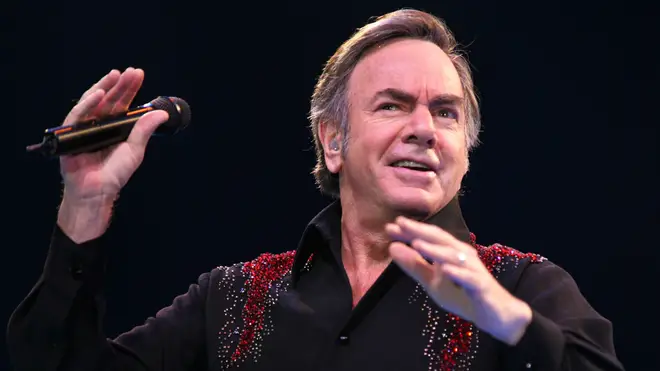 Neil Diamond is one of the world's most popular singer-songwriters, and has entertained millions around the world since he burst onto the scene in the late 1960s.
With hits including 'Sweet Caroline', 'I Am I Said' and 'Forever in Blue Jeans', Neil Diamond is a true one-off, and a guaranteed crowd-pleaser.
He's back with a new album of orchestral updates of his classic hits - Classic Diamonds - and it's always a joy to hear him belt out our favourite tunes.
But where is Neil from and who is his wife? Here's all the important facts you need to know:
How old is Neil Diamond and where is he from?

Neil Diamond was born on January 24, 1941. He celebrated his 80th birthday in 2021.

He was born in Brooklyn, New York, to a Jewish family that descended from Russian and Polish immigrants.

Neil's parents were Rose and Akeeba 'Kieve' Diamond, a dry-goods merchant.

He grew up in Brooklyn, but also spent four years in Cheyenne, Wyoming, where his father was stationed in the army.

How did he get his start in music?

Neil Diamond And Barbra Streisand Duet At The Grammys

In Brooklyn, he attended Erasmus Hall High School and was a member of the Freshman Chorus and Choral Club, alongside classmate Barbra Streisand.

However, they were not close friends at the time: "We were two poor kids in Brooklyn. We hung out in the front of Erasmus High and smoked cigarettes."

For his 16th birthday, Neil received his first guitar. After seeing folk singer Pete Seeger perform at a summer camp, he immediately realised he wanted to be a singer.

"And the next thing, I got a guitar when we got back to Brooklyn, started to take lessons and almost immediately began to write songs," he said.

At this time, he also began writing poems for girls he was attracted to in school. His male classmates began asking him to write poems for them, which they would sing to their crushes.

Neil soon began skipping school classes, taking the train Tin Pan Alley, where he tried to get some of his songs heard by local music publishers. Later, Sunbeam Music Publishing offered him a 16-week job writing songs for $50 a week (around $423 per week in 2019), and he dropped out of college.

Who is Neil Diamond's wife and does he have children?

Neil Diamond and second wife Marcia in 1986. Picture: Getty

Neil Diamond has been married three times in total.

In 1963, he married his high-school girlfriend, Jaye Posner, who was a schoolteacher. They had two daughters: Marjorie and Elyn. However, they separated in 1967.

In 1969, Neil married production assistant Marcia Murphey. They had two sons: Jesse and Micah. Their marriage lasted 25 years, ending in the mid-1990s.

In 1996, Neil Diamond started a live-in relationship with Australian Rae Farley, after they met in Brisbane, Australia.

In 2011, a 70-year-old Neil Diamond tweeted of his engagement to 41-year-old Katie McNeil. The couple married in Los Angeles in 2012.

Neil Diamond and wife Katie McNeil in 2017. Picture: Getty

What is Neil Diamond's net worth?

According to Celebrity Net Worth, Neil Diamond has a net worth fortune of around $200 million (£149m).

When and why did Neil Diamond retire?

Neil Diamond gives coronavirus advice while playing 'Sweet Caroline'

In January 2018, Neil Diamond announced that he would immediately retire from live touring, due to having been diagnosed with Parkinson's disease.

However, he later confirmed that he was not retiring from music altogether, and would "continue his writing, recording and development of new projects."