Neil Diamond's 10 greatest songs, ranked
1 July 2020, 17:14 | Updated: 26 November 2020, 12:58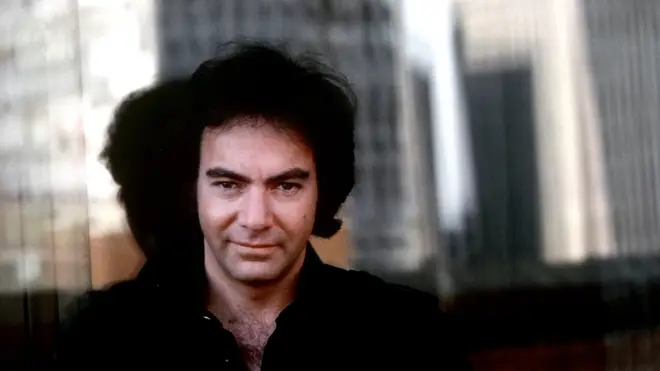 Veteran singer-songwriter Neil Diamond has a career spanning over 50 years and over 100 million albums sold, which is frankly amazing.
To celebrate his stellar career, we've picked out just a handful of Neil's best ever songs. Is yours in there?
Love on the Rocks

Neil Diamond - Love On The Rocks (Official Video)

Almost 30 years after he started, and Neil Diamond was still scoring hits.

This song from the film The Jazz Singer climbed to number 2 in the US charts, and was later covered by Gladys Knight among others.

Cracklin' Rosie

Neil Diamond Cracklin Rosie 1970

This rocking tune helped Neil to break through in the UK, where it charted at number 3, his highest position to that point.

Oh, and "who's Cracklin' Rosie?", you ask - it's actually a type of wine. Neil heard a story about a native Canadian tribe while doing an interview in Toronto, in Canada.

The tribe had more men than women, so the lonely men would sit around the fire and drink wine together, inspiring him to write the song.

Girl, You'll Be a Woman Soon

Girl, You'll Be A Woman Soon

This intense, yearning song had some success when it first came out in 1967, but when a cover by Urge Overkill was featured in Quentin Tarantino's Pulp Fiction in 1994, it enjoyed a much deserved second wind.

It has also been covered by Cliff Richard among others.

You Don't Bring Me Flowers (with Barbra Streisand)

Neil Diamond And Barbra Streisand Duet At The Grammys

This duet is about two lovers who have drifted apart over time, while they "go through the motions" and heartache of life together.

It was intended as theme tune for the short-lived TV show All That Glitters, and was later recorded as two separate solo versions by Neil and Barbara.

After an early form of 'mashup' featuring the two versions gained popularity, an official duet was recorded by the pair, and it became a huge hit.

Hello Again

"Hello Again" ― Neil Diamond 1980

'Hello Again' featured in the 1980 movie, The Jazz Singer.

It performed well in the US, but not so much in the UK Singles Chart - reaching only number 51.

A beautiful ballad with those gorgeous soaring strings, it has since been covered by several artists and orchestras, including Celtic Thunder, Donny Osmond and Steve Cherelle.

Delirious Love

Neil Diamond began work on one of his most acclaimed albums when temporarily snowed in his Colorado cabin.

Produced by Rick Rubin, the album featured many of the same musicians he had used for Johnny Cash's American releases. The sessions were also the last ever performances by Billy Preston.

This song about the euphoria of falling in love was featured in an episode of Scrubs in 2006.

Play Me

Neil Diamond and Shirley Bassey - Play Me

This acoustic ballad became a must-play song during his live shows to this date, with one critic noting that it has a "bizarre aphrodisiac effect" on certain audience members.

However, certain academics weren't fond of his use of the English language on the line: "Song she sang to me, song she brang to me".

I Am... I Said

Neil Diamond "I Am... I Said"

The catchy, perky melody gets you every time, and it compliments the very personal lyrics beautifully, which Neil says leave him struggling to gather himself after singing live.

Neil later told Mojo: "It was consciously an attempt on my part to express what my dreams were about, what my aspirations were about and what I was about. And without any question, it came from my sessions with the analyst."

Forever in Blue Jeans

Neil Diamond - Forever in Blue Jeans (Stereo!)

This uptempo pop classic had a resounding effect in the sales of jeans in the late 1970s.

According to Cotton Incorporated: "Neil Diamond might have been right when he named his 1979 #1 hit 'Forever in Blue Jeans': 81% of women are planning their next jeans purchase to be some shade of blue." 

Sweet Caroline

Neil Diamond - Sweet Caroline High Quality neildiamond

Neil wrote this classic, soaring ballad for his wife Marsha, but her name didn't have enough syllables for him so he used the name Caroline instead.

'Sweet Caroline' reached number four on the Billboard chart and eventually went platinum for sales of one million singles.

In 2007, Neil revealed that the inspiration for his song was John F Kennedy's daughter, Caroline, who was 11 years old at the time it was released. He later sang the song to her at her 50th birthday celebration in 2007.