The 20 greatest Super Bowl National Anthem performances, ranked
6 February 2023, 15:30 | Updated: 7 February 2023, 10:26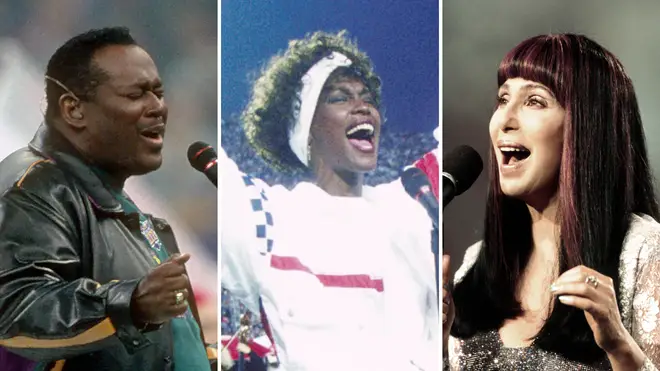 At every Super Bowl, there's a passionate performance of the United States' National Anthem, or the 'Star Spangled Banner'.
An intriguing list of stars have been handed this daunting responsibility over the years. Some are remembered for perhaps overdoing it (we're looking at you Christina Aguilera), but others go down in history as incredible versions.
Here we've picked the very best (or at least memorable) National Anthem performances at the Super Bowl, of all time.
Aretha Franklin and Aaron Neville (2006)

Aretha Franklin and Aaron Neville, Super Bowl XL. Picture: Getty

As much as we love Aaron Neville, we're not sure he was the right choice to start this performance when you have arguably the greatest voice of all time coming halfway through the song! If Aretha was on her own, this would probably have been a lot higher on this list.

Neil Diamond (1987)

Super Bowl XXI - New York Giants v Denver Broncos. Picture: Getty

This version couldn't sound MORE like a Neil Diamond song!

Neil comes on, smashes it out in just over a minute in his usual style, and the crowd loved it.

Backstreet Boys (2001)

backstreet boys the star spangled banner super bowl 2002

Yes, this actually happened. The Backstreet Boys were the first pop group to perform the anthem.

And it wasn't half bad!

Pink (2018)

P!NK - Super Bowl LII National Anthem performance

A typically powerful and emotional performance from pop queen Pink in Minnesota.

Alicia Keys (2013)

Pepsi Super Bowl XLVII Pregame Show. Picture: Getty

Alicia Keys brought a touch of elegance to her performance, playing the piano as she belted out the anthem.

Gladys Knight (2019)

Super Bowl LIII - New England Patriots v Los Angeles Rams. Picture: Getty

It had been a while since an iconic music veteran had performed the 'Star Spangled Banner' by 2019, and you can't get much more iconic than the Empress of Soul herself.

Garth Brooks (1993)

Deaf actress Marlee Matlin joins country singer Garth Brooks. Picture: Getty

Garth Brooks was the biggest country star of all time by the time he took to the stage, though apparently he was close to quitting at the last minute.

Joined by deaf Oscar-winning actress Marlee Matlin performing sign language alongside him, this was an excellent version.

Kelly Clarkson (2012)

Bridgestone Super Bowl XLVI Pregame Show. Picture: Getty

The year before, Christina Aguilera was mocked by many viewers for perhaps going too far with her version, so Kelly Clarkson didn't want to go down the same path.

Kelly gave the perfect mix of vocal frills and keeping it simple, and it was an excellent performance.

Natalie Cole (1994)

Natalie Cole - The Star-Spangled Banner/America The Beautiful - Super Bowl XXVIII 1994

Natalie Cole did her famous father proud with his triumphant gospel choir-backed performance in 1994.

Cher (1999)

Cher Sings the US National Anthem (Super Bowl XXXIII 1999) - "The Star-Spangled Banner"

Following her fantastic comeback the year before, Cher was on stand to bring her incredible voice for the National Anthem. And she did not disappoint.

Beyoncé (2004)

Super Bowl XXXVIII - Pre-Game Show and National Anthem. Picture: Getty

Still relatively at the early stages of her stellar career, Beyoncé showed how brilliant her voice is in this performance in Houston.

Jennifer Hudson (2009)

Super Bowl XLIII Pre-Game Show. Picture: Getty

Channelling the likes of Aretha and Whitney before her, Jennifer Hudson proved she had one of the best voices around with her rendition.

Diana Ross (1982)

DIANA ROSS The Star Spangled Banner- Super Bowl

It wasn't until 1982 that a proper superstar came to the mic for a Super Bowl performance of the anthem.

Motown icon Diana Ross' version is spellbinding, as she sings purely a cappella, with no backing, allowing the fans to join her in a singalong.

Lady Gaga (2016)

Lady Gaga - Star-Spangled Banner (Live at Super Bowl 50)

Only a handful of artists can say they have performed both the Super Bowl National Anthem and the halftime show, and Lady Gaga is one of them.

Her performance was simple and powerful at the same, with a gorgeous piano backing.

Mariah Carey (2002)

(BEST QUALITY) Mariah Carey- The Star Spangled Banner Live NFL Super Bowl 2002 (Not Fergie)

Taking place only a few months after the horrors of 9/11, America was celebrated by one of pop's greatest voices.

Like Whitney before her, Mariah showcased her stunning voice in a moment of reflection.

The Chicks (2003)

Super Bowl XXXVII PreGame Show. Picture: Getty

Country trio the Chicks (then the Dixie Chicks) performed a stunning version of the anthem, with incredible harmonies that are perhaps unmatched in this list.

Faith Hill (2000)

US singer Faith Hill sings the US National Anthem. Picture: Getty

By 2000, Faith Hill had become one of America's biggest stars, and she proved just why with her version of the anthem.

Backed by the Briarlake Elementary School Signing Choir, Faith gave it a mix of R&B and country, and her voice was on fire.

Luther Vandross (1997)

1997 Super Bowl Halftime Show. Picture: Getty

Luther Vandross brought some serious cool to proceedings in 1997, when he transformed the 'Star Spangled Banner' into an R&B slow jam that deserved to be released as a single.

Billy Joel (2007)

Super Bowl XLI - National Anthem Featuring Billy Joel. Picture: Getty

Billy Joel performed the Super Bowl National Anthem twice, first in 1987 and then again 20 years later.

While his first a cappella attempt was perfectly fine, we just love this version when his voice had matured and he brought his piano with him. Gorgeous.

Whitney Houston (1991)

Whitney Houston - National Anthem (Star Spangled Banner) 4K Remaster

When Whitney Houston walked up to the mic in 1991, joined by the Florida Orchestra, the production value of the Super Bowl's National Anthem went up a notch forever more.

Considering she apparently didn't have much prep time, Whitney gave a ridiculously stunning and perfect rendition that left everyone speechless.